Bussey's Florist
Thanksgiving, one of the favorites among holidays will be here in two weeks. We invite you to shop with Bussey's Florist and create a festive holiday atmosphere in your home with our elegant flowers and gifts. Our world class floral designers have produced some of the most elegant holiday spirited floral products you will find.
The concept of Thanksgiving originated in 1621. As we have learned from our history studies, it was a bitterly cold winter after the Pilgrims first landed in America. They were able to survive by the generosity of the Native Americans that shared food with them. To repay their new friends, the Pilgrims held a three-day feast. The bounty they shared included dried fruits, boiled pumpkin, turkey, venison and other foods. A slightly different menu from what we are accustomed to but no doubt a delightful feast at that time.
Over the many years the theme of a celebration of harvest has continued to be honored. Today we think of Thanksgiving as a time to give thanks for our foundation of this great Nation. Of course, it is also the official start of the holiday season and a special time of fellowship with family and friends. After receiving encouragement from some people, President Lincoln declared Thanksgiving a nationwide holiday in 1863.
As many people will be traveling and or hosting the Thanksgiving Day meal, there are guidelines to contemplate according to the CDC.  Some of their modified guidelines from last year are:
Protect those not yet eligible for vaccination such as young children by getting yourself and other eligible people around them vaccinated.
Wear well-fitting masks over your nose and mouth if you are in public indoor settings if you are not fully vaccinated.

Even those who are fully vaccinated should wear a mask in public indoor settings in communities with substantial to high transmission.
Avoid crowded, poorly ventilated spaces.
If you are sick or have symptoms, do not host or attend a gathering.
Get tested if you have symptoms of COVID-19 or have a close contact with someone who has COVID-19.
If you are considering traveling for a holiday or event, visit CDC's travel page to help you decide what is best for you and your family. CDC still recommends delaying travel until you are fully vaccinated.
If you are not fully vaccinated and must travel, follow CDC's domestic traveler or international travel recommendations for unvaccinated people.
If you will be traveling in a group or family with unvaccinated people, choose safer travel options.
Everyone, even people who are fully vaccinated, is required to wear a mask on public transportation and follow international travel recommendations".
The Bussey's Florist best in class expert floral designers have created spectacular Thanksgiving Flower Centerpieces to make your holiday more festive and colorful!
North Georgia Gold – The North Georgia Gold bouquet features Free Spirit roses, locally grown sunflowers, stunning yellow orchids and more are presented in a stylish wooden ceramic container.
Gourmet Fruit Basket – With all the favorites like fresh fruits, chocolates and cheeses, it's a classic example of just how great a basket can be.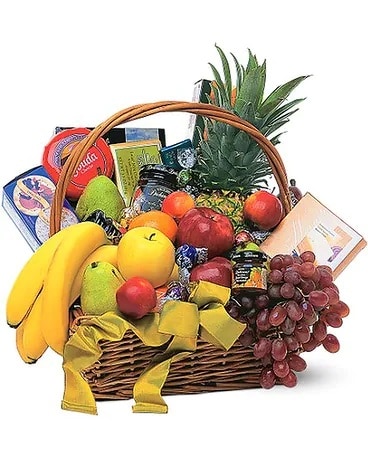 Gourmet Fruit Basket
Thanksgiving Flowers, Plants & Gifts
Table Centerpieces, Cornucopia, Thanksgiving Themed Flowers
Bussey's Florist offers beautiful Thanksgiving themed flower arrangements. We have all the Thanksgiving favorites, including stunning cornucopia and incredible holiday table centerpieces. Looking for a Thanksgiving or Autumn themed plant. We offer a great selection of holiday themed plants and gifts. Thanksgiving is a time of celebration. We gather as families and groups of friends to enjoy wonderful food, the joy of time spent together and to celebrate a great North American tradition that has been going on since the days of the pilgrims. It is a time to give thanks for our blessings and for the great country we live in.
A Thanksgiving themed flower arrangement, table centerpiece or beautiful cornucopia can help to create the perfect ambiance and atmosphere for your holiday celebration. We invite you to shop our website to see many of the Thanksgiving themed arrangements we offer. If you don't see the exact piece, you were looking for, please contact our floral design center. We do offer stunning custom designed table centerpieces that are guaranteed to brighten your home and to serve as the perfect focal point for your holiday decorations.
Bussey's Flowers is a local, family owned and operated floral design firm. We offer the best selection of beautiful, farm fresh flowers in town. We employ an award-winning floral design team. They create luxurious, upscale flower arrangements. Our firm also offers the best selection of green, flowering, and tropical plants in Floyd and Polk counties. We operate 2 flower shops in Cedartown and Rome, Georgia. Our firm provides same day and express flower delivery service 6 days a week to customers in Floyd and Polk counties. If you need to send flower outside of our local delivery area, we can accommodate that request. We provide nationwide same day flower delivery service to cover those situations.
We offer the best selection of beautiful farm fresh flowers in town. Our firm is one of the largest floral design firms operating in Floyd and Polk counties. Our size and capabilities provide great advantages for us and for our customers. One example being this. We purchase many of the flowers we sell direct from flower farms. The award-winning floral design staff at Bussey's is another great advantage our customers enjoy. These floral artisans are truly some of the very best in the industry. We would be remis if we didn't also mention the incredible delivery staff that we have as well. They are extremely professional, and laser focused on ensuring that we maintain our on-time delivery guarantee.
Buying fresh flowers direct from flower farms is a huge advantage. The time between when the flowers are cut at the farm and when they arrive here at our flower shop for use in arrangements is greatly reduced. That means the fresh cut flowers we use in our arrangements are the finest and freshest possible. Fresher flowers translate directly into longer vase life for the people who receive bouquets from us.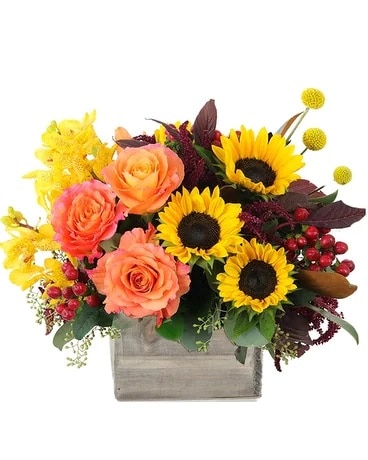 North Georgia Gold
Bussey's Florist & Gifts
250 Broad Street Rome
Rome, GA 30161