Bussey's Florist
Christmas flowers, décor and wreaths offer so much beauty and holiday spirit to the season! Bussey's Florist offers the very best in farm fresh and creative Christmas Centerpieces, Wreaths and flowers. Interestingly, Christmas Centerpieces, Wreaths and decorations are not only festive but they also have a deep symbolism surrounding the Christmas season.
For example, the Christmas Wreath represents eternity. This is because of its circular shape which signifies it has no beginning and no end.  In addition, Christmas Wreaths are traditionally made from evergreen leaves. The evergreen tree does not shed its leaves in the winter thus symbolizing eternal life.
The various colors of Christmas decorations have interesting meanings and are believed to date back to the 15th century. At that time in history in London, it was a custom that homes and parish churches display ivy, holly and other various natural decorations.  People felt that the heart-shaped leaves of ivy symbolized Jesus coming to earth and that holly provided protection against witches. Plus, its thorns and red berries represented the Crown of Thorns worn by Jesus at his crucifixion.
The purposeful selection of red, green and gold decorations is by design also. Gold is one of the first colors associated with Christmas. It symbolizes royalty as it was one of the three gifts of the Wise Men. Red symbolizes the blood of Jesus shed during crucifixion.
In 1839, a Lutheran priest came up with the idea to use a wagon wheel to symbolize the approach of Christmas. Using the wheel, he would use red and white candles to reflect the Advent season. In the Roman Catholic Church, the season of Advent is four Sundays in December each one taking on a different theme:
On the First Sunday, the church looks forward to the Second Coming of Christ.
On the Second Sunday, the church reviews the message that John the Baptist preached. His message was for Christians to "prepare the way of the Lord".
On the Third Sunday, which is referred to as Gaudete Sunday, the theme is again surrounding the joy Christians have by the coming of the Saviour.
On the Fourth Sunday, the theme is about Mary and Joseph and how the events led up to the birth of Jesus.
This holiday season, we invite you to shop in person or online and see the sensational holiday flowers and gifts at Bussey's Florist. Here are a few of our wonderful Christmas themed holiday gifts:
Home For the Holidays – This product is one of our featured Holiday designs. This gorgeous table centerpiece features red roses, seeded eucalyptus, hypericum and fresh seasonal greenery. Our designers add two beautiful holiday candles to finish out the design.
French Country Christmas – The award-winning floral design team at Bussey's Florist created this gorgeous Holiday Table Centerpiece. We call it, French Country Christmas. This stunning centerpiece features red roses, orange protea, holiday accents and tapers.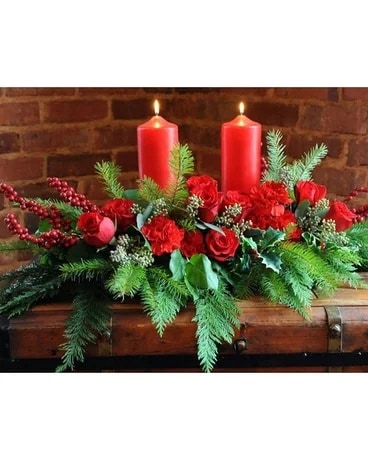 Home for the Holidays Centerpiece
Christmas Flowers & Gifts
Fresh Flowers, Table Centerpieces, Poinsettias, Wreaths & Gifts
Shop at Bussey's Flowers for the best selection of Christmas table centerpieces in town. Our Christmas and Holiday centerpiece collection is absolutely fabulous. Choose from all your Holiday favorites. The award-winning design staff at Bussey's can also custom design a gorgeous Christmas table centerpiece to your exact specifications. December is always one of our floral artisans' favorite months of the year. So many great ways to artistically express the joy of the season with flowers.
Bussey's Flowers is a local, family owned and operated floral design firm. We offer the best selection of beautiful, farm fresh flowers in town. We employ an award-winning floral design team. They create luxurious, upscale flower arrangements. Our firm also offers the best selection of green, flowering, and tropical plants in Floyd and Polk counties. We operate 2 flower shops in Cedartown and Rome, Georgia.
Our firm provides same day and express flower delivery service 6 days a week to customers in Floyd and Polk counties. If you need to send flower outside of our local delivery area, we can accommodate that request. We provide nationwide same day flower delivery service to cover those situations.
We offer the best selection of beautiful farm fresh flowers in town. Our firm is one of the largest floral design firms operating in Floyd and Polk counties. Our size and capabilities provide great advantages for us and for our customers. One example being this. We purchase many of the flowers we sell direct from flower farms. The award-winning floral design staff at Bussey's is another great advantage our customers enjoy.
These floral artisans are truly some of the very best in the industry. We would be remis if we didn't also mention the incredible delivery staff that we have as well. They are extremely professional, and laser focused on ensuring that we maintain our on-time delivery guarantee.
Buying fresh flowers direct from flower farms is a huge advantage. The time between when the flowers are cut at the farm and when they arrive here at our flower shop for use in arrangements is greatly reduced. That means the fresh cut flowers we use in our arrangements are the finest and freshest possible. Fresher flowers translate directly into longer vase life for the people who receive bouquets from us.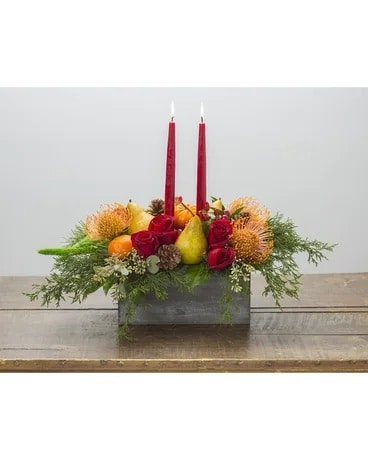 French Country Christmas
Bussey's Florist & Gifts
250 Broad Street Rome
Rome, GA 30161