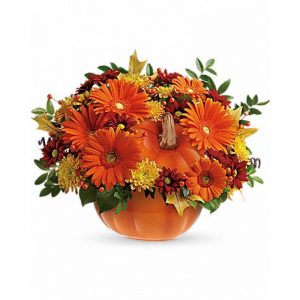 Fall officially arrived on September 22nd, bringing with it an opportunity to change up the colors and decor in our homes and offices here in Cedartown and Rome, Georgia.
Our Rome, Georgia flower shop and Cedartown flower shop are both ready to help you take advantage of the new fall floral trends with a collection of fall flower arrangements, fall centerpieces, and fall bouquets that illustrate the range of fall hues now available. The same goes for our fall plants!
Bright Orange and Soft Peach
The color orange comes to mind in the fall primarily because of pumpkins. We have bold orange flowers, including roses and gerbera daisies. There are also soothing peach florals that are sublime. Other blooming plants provide orange flowers to add a punch of color to your porch, dining table, and more.
Don't forget to display those favorite gourds!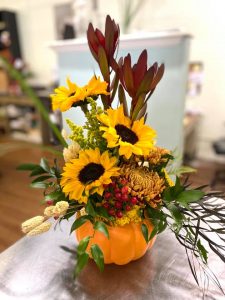 Brilliant Yellow
Yellow flowers bring sunflowers to mind, and we have those ready and waiting for you! You can get a bowl full of sunshine or choose a bouquet that features sunflowers. Ask us about our custom fall floral services and how we can include sunflowers in those. We have floral designs that are rustic with burlap accents or elegant in tall glass vases. The choice is yours!
Cream
Not everything about fall has to be bold. If the rest of your decor includes bright and deep hues, consider some soothing white or cream florals. You can add fall accents like leaves and branches to bring in the fall feel. And, don't forget about those white pumpkins!
Pink and Purple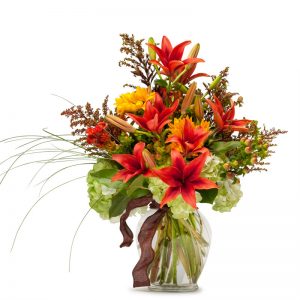 For a touch of whimsy, consider the popular fall 2021 trend toward pinks and purples. You can also make it regal with bold purple hues. This is ideal for fun Halloween floral displays that highlight orange and purple together in all your decorations.
Order Your Fall Decor
You can order in either of our Georgia flower shops located in Rome and Cedartown by stopping by or calling us. We also have an online order form for your fall flowers and plants. Let us know if you plan to pick up your fall flowers or would like contactless delivery. We also partner with other florists around the country to offer nationwide delivery of fall flowers.