Bussey's Florist
The floral artisans at Bussey's Florist offer unparalleled service to ensure your event is an enviable success. At Bussey's we transform your vision into reality. We strive to tailor your wedding to you and your love story. After working with us you will understand why our award-winning team is the preferred standard in Northwest Georgia. At Bussey's, we offer three different levels of service. With all levels of service, we begin with a face-to-face meeting where we listen to your vision and help you achieve it. During the initial consultation we will show you photos of our work and even sample Wedding Flowers to help you visualize the wedding of your dreams. Together we will assess the level of service that you require from Bussey's to achieve your perfect wedding. After a week of preparation, we will share with you your personalized wedding proposal and meet again with you to go through every detail and narrow down your choices to create the wedding of your dreams.
Levels of Service We Offer
Level 1 – Floral Pick Up – Your best option if you only need bouquets, boutonnieres, and maybe a few simple arrangements.
Level 2 – Delivery Only – Your option if you want the convenience of delivery to your venue, but you have friends or family on site that can place your table arrangements or even do a little DIY with stems you purchase from us.
Level 3 – Full Service – With this option we are with you every step of the way, from preparation and design, to set up on site. We worry about all of the details so that you can enjoy every moment on your big day.
To schedule your complimentary consultation, contact Bussey's wedding coordinator. Bussey's Florist has been voted "Best Florist" in both Rome and Cedartown. We employ an award-winning team of wedding and event floral designers whose passion is creating memorable weddings.
Wedding Flowers
Bussey's Florist knows that your wedding day is one of the most important days of your life, which is why we offer a wide variety of services to make it as memorable as possible. Our experienced designers will work with you to create the perfect flower arrangements for your ceremony, reception and other events leading up to the big day. We will also help coordinate all other aspects of your floral needs including transportation and delivery. If you need help planning every last detail from start to finish, we can provide full wedding planning services from start to finish!
Wedding Consultation
Bussey's Florist offers wedding flowers and consultation services to help you realize the wedding day of your dreams. We offer a wide variety of services to make your wedding day as memorable as possible. You can schedule an appointment with us for a consultation by calling or emailing us.
When you schedule an appointment with us for a consultation and during this initial meeting, we will provide you with a variety of arrangements to choose from for things like your bridal bouquet, groom corsages, and ceremony decor in order to help bring your vision to reality. We have worked with many brides and grooms, and we love helping them create the perfect wedding. If you're interested in scheduling an appointment to talk about your big day, please fill out our contact form or give us a call. In the meantime, check out some of our recent work on our website!
We also offer custom-made designs and urns or pedestals for arrangements. We also offer custom-made designs and urns or pedestals for arrangements. An urn or pedestal is a decorative vessel used to hold flowers in a vase, casket, or other display. They can be made of metal or stone, but they are usually made of wood. You can purchase a ready-made pedestal or order one from us if you do not want to go through the trouble of making it yourself!
Conclusion
Bussey's Florist is here to help you realize your wedding plans. We have been recognized as a top florist in our market, and we know that first-hand what it takes to make your wedding day special. If you're looking for the best florist to handle your wedding, you should no further than Bussey's Florist. You can expect great customer service, fresh flower arrangements, beautiful floral designs, plants, gift baskets and much more.
About Bussey's Florist Wedding Flowers
Bouquets – Be it hand-tied, bohemian style, bespoke, nosegay, or cascading, the Bussey's design team will craft the ultimate bridal focal piece especially for you. Focusing on the shape, color, and texture of your vision, our stylish bouquets are the perfect finishing touch to your wedding day look. We select the finest of premium blooms to bring your dream bouquet to life. We offer the custom hand-tied garden style designs whose popularity has been growing for a number of years. These custom hand-tied garden style bouquets are absolutely gorgeous. Brides choose the flowers and color scheme, and our design team does the rest.
Bohemian style bouquets are increasing in popularity and in demand from our brides. These bouquets are characterized by a loose, organic feel, incorporating both wildflowers and traditional blooms.
Bespoke bouquets are quickly becoming a favorite with our brides. This style can best be described as loose and free flowing. This gives the look and feel of a garden bouquet but with a looser feel and more cascading elements.
Another very popular style is our beautiful nosegay, or clutch, bouquets. These petite bouquets are very traditional and still a favorite style for many of our brides.
If you are looking for something truly premium, we can create a stunning cascading style bouquet. Certain flowers, such as orchids, work really well in cascading styles.
Bouquets are certainly a focal point of the wedding flower package. Once the bridal bouquet details and choices are in place, we will mirror the design for the bridesmaid bouquets. The boutonnieres we create will also complement the bouquet design.
Bussey's offers a FREE wedding consultation for all prospective brides. If you are interested in coming in for a wedding consultation, please contact our wedding coordinator. Brides can come into either our Rome, Georgia flower shop or our Cedartown location for the consultation. We can also meet by Zoom if preferred. Generally, we schedule consultations Monday, Tuesday, Thursday, or Friday between the hours of 10:00 AM and 4:00 PM.
Bussey's Florist has been voted "Best Florist" in both Rome and Cedartown. We employ an award-winning team of wedding and event floral designers. They create unique, luxurious, and upscale wedding bouquets.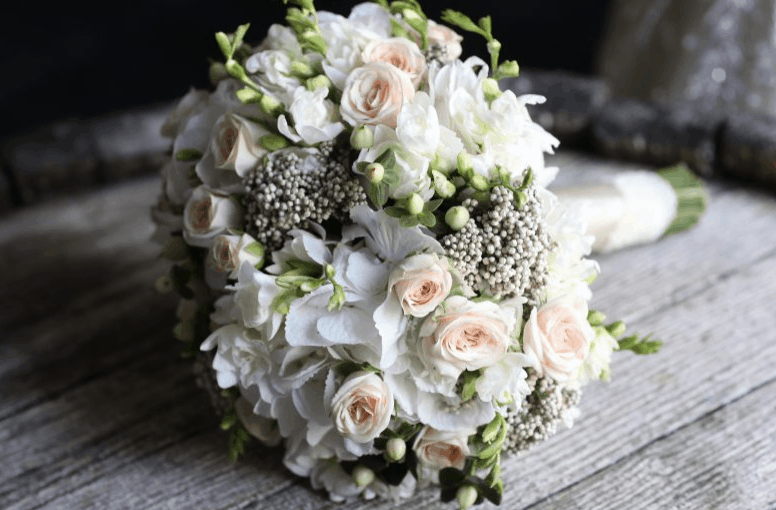 Locations
Bussey's Florist & Gifts Rome
500 East 2nd Avenue Suite 7
Rome, GA 30161
Bussey's Florist & Gifts Cedartown
302 Main Street Cedartown
Cedartown, GA 30125