Bussey's Florist
"16th Annual Rome News Tribune Best of Rome 2023"
Please vote for this great family florist, Bussey's Florist! They are wonderful people who care about their community and bring beauty into life's many occasions. Thank you for helping us support Bussey's Florist!
Summertime is the time for romance, and nothing says romance like a bouquet of flowers. If you are in need of some flower inspiration this summer, consider these four gorgeous varieties of Mid-Summer Romance Flowers:
SPECIAL DISCOUNT OFFERS – USE ON MAIN WEBSITE
Hibiscus flowers
Hibiscus flowers are a great choice for mid-summer romance. The hibiscus flower has long been associated with love and romance, and its vibrant colors make it a perfect flower to send to your sweetheart. Hibiscus plants are also easy to grow, so if you are looking for an affordable gift idea this season, consider giving someone the gift of their own hibiscus plant! Hibiscus plants are beautiful, easy to grow, and will last for years if cared for properly. If you are looking for a gift idea that will not cost much but will add beauty to your loved one's home, consider giving them their own hibiscus plant!
Hibiscus plants are one of the most popular flowering plants for homes around the world. They are easy to grow, but you do need to make sure that your hibiscus plant gets plenty of light and water. If you're looking for an affordable gift idea, consider giving someone their own hibiscus plant! Hibiscus plants are beautiful, easy to grow, and will last years if cared for properly.
Sunflowers
Sunflowers are a traditional symbol of love, and for good reason. They're easy to grow in all kinds of soil, they can be planted in pots or grown in the ground, and they have bright yellow petals that make them an eye-catching addition to any garden. Sunflowers are also great first-time gardeners because they do not need much care: they just need plenty of sun and water!
Sunflowers are one of the easiest plants to grow, and they are a great choice for beginners. They can be grown indoors or outside, but they need lots of sunlight to grow well. Sunflowers do not need much care once they're planted, but they do require regular watering during dry periods.
Calla lilies
Calla lilies are a mid-summer flower and symbolize purity, beauty and romance. Their large white or pinkish blooms have an elegant look that can be used to express your feelings for someone special. Calla lily flowers are also available in other colors such as yellow or purple, although they will still carry the same meaning. The calla lily flower has an exotic look that makes it a popular choice for bouquets and other arrangements. You can buy calla lily flowers from florists or grow your own in your garden or on your balcony. If you're growing them yourself, keep reading to learn how to care for calla lilies so that you can enjoy their beautiful blooms for years to come.
Gerbera daisies
The Gerbera daisy is a symbol of joy and happiness. It is also said to represent friendship, love and royalty. The daisy has been used as a symbol of abundance since ancient times. It is believed that the daisy was used as a crown for Greek gods and goddesses, and later became associated with royalty. The daisy has also been a symbol of friendship since ancient times.
Zinnias
Zinnias are a great choice for summer flowers. They are bright and colorful, making them perfect for bouquets or cutting flowers. They are also easy to grow, making them a good option for beginners. Another thing to consider is whether you want cut or fresh flowers. Cut flowers are a great option if you want to arrange bouquets or give them as gifts. They are also great if you want to add some color to your home. If you are looking for something that will last longer, fresh cut flowers are a good option. They can be used in arrangements or just enjoyed as they are.
Cosmos flowers
If you are looking for a flower that will last through the summer and into fall, cosmos flowers are a great choice. They are easy to grow, and they make excellent mid-summer romance plants. Cosmos flowers are also known as "bouquet cosmos" or "whirling butterflies." These types of cosmos have large blooms with multiple petals in shades of white, yellow and orange. The stems are sturdy enough that they can handle being cut without wilting immediately after being put in water (unlike some other types of flowers).
These plants produce long stems with lots of buds at once–and if you leave them alone for a few days after cutting them from their stems, they will continue opening up into beautiful blossoms! You can arrange these bouquets on your coffee table or on top of your nightstand for easy access when it's time for romance time (or just because).
Cosmos flowers are some of the easiest flowers to grow, and they make excellent cut flowers. If you are just starting out as a gardener, cosmos are a great choice because they're so easy to care for. They can thrive in containers or in your garden bed–just be sure that you have plenty of sun exposure and fertile soil before planting them!
Carnations and Pinks
Carnations and pinks are the perfect flowers to give your significant other this summer. They are easy to grow at home and they add a touch of color to any room. If you are looking for something that will last longer than just a few days, carnations are also great options!
Carnations are one of the most popular flowers around due to their versatility and ability to be used in arrangements with other types of flowers or even alone on their own little stand or vase. They come in many different colors such as reds, pinks (or mauves), whites, yellows etc… Their petals are usually notched which gives them an elegant look when used as part of an arrangement with other kinds of blooms such as roses or daisies for example, however if you want something simple then consider just having one single stem placed directly into water so it can float freely without being weighed down by any additional items like leaves/twigs etc.
The carnation is a type of flower that you may have heard of before. They come in many different colors, but most commonly they are white or pink. Carnations are typically used for weddings because they last longer than some other flowers and they are also very affordable to buy! If you want to give someone a gift of flowers this summer then consider giving them carnations because they're sure to love them.
Roses (Red, Yellow, White)
Roses are a classic romantic flower, often given on birthdays, anniversaries and other important occasions. They are also a symbol of love and beauty. Roses come in many different colors and varieties. Roses are often given as a symbol of love and beauty. They come in many different colors and varieties, including red, white and yellow. Roses have been used throughout history to represent many things, including passion, youthfulness and perfection. Give these mid-summer romance flowers to show your love.
Flowers are one of the most common gifts for Valentine's Day, and they make an excellent choice for any other occasion. You can give flowers to your loved ones on any day of the year, but there are certain times when you should consider giving them even more than usual. If you want to show your love in a big way this summer, here are some great options:
If your significant other has been working hard and you want to show your appreciation, go big with roses or another flower that is associated with romance.
If you are celebrating an anniversary or birthday, choose a bouquet that matches the occasion. You could pick something up from the store and keep it simple, or you can order online and make sure there are extras for future anniversaries or birthdays.
Conclusion
We hope you enjoyed our list of mid-summer romance flowers. If you are looking for something a little more exotic, we also have some great options that are perfect for showing off your love. These include orchids and even roses in different colors! If all else fails, why not try giving some fresh cut flowers from your local florist?
Bussey's Florist Offers Same Day Delivery of Flowers for Mid-Summer Love & Romance
Bussey's Florist offers the best selection of beautiful, farm fresh flowers in town. Our floral designs are luxurious and upscale. The award winning floral designers at Bussey's have created many gorgeous bouquets themed for Love and Romance. Many of those are displayed on our website. If you don't see the exact bouquet you want, we encourage you to call one of our flower shops. We will custom design a gorgeous bouquet for the love of your life.
We purchase many of the flowers we sell direct from flower farms. Buying direct offers many great advantages. By elminating the middlemen, we are able to reduce the time between when the flowers are cut at the farm and when they arrive at our flower shop for use in arrangements. Shortening that time ensures that we are working with the finest, freshest flowers available. Fresher flowers means longer vase life for the people who receive the gorgeous bouquets we create. Buying direct also allows us to reduce cost. We pass along much of that cost savings to our customers.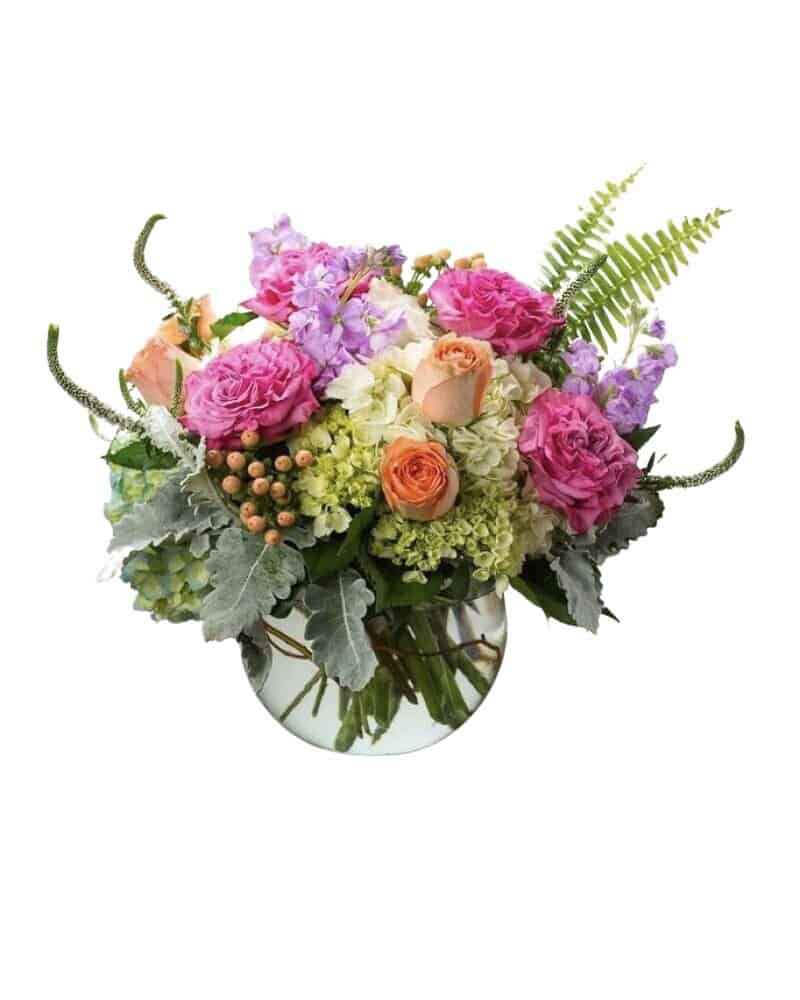 Cottage Garden
Luxurious Upscale Floral Bouquet
Local Same Day and Express Delivery
Inspired by the cottage cutting garden, this bouquet is created from a beautiful assortment of garden blooms. Hybrid garden roses, hydrangea, and stock are beautifully combined in a fresh picked style that is guaranteed to make your recipient feel loved. Bussey's arrangements are custom gifts designed by hand. Mother Nature changes our farm-fresh inventory every morning, to assure your gift is fresh and gorgeous our designers may need to make substitutions but will capture the color & style of your selection to deliver a "WOW" for your recipient.
Locations
Bussey's Florist & Gifts Rome
500 East 2nd Avenue Suite 7
Rome, GA 30161
Bussey's Florist & Gifts Cedartown
302 Main Street Cedartown
Cedartown, GA 30125