Bussey's Florist
One major responsibility of Professional Floral Designers is to ensure their customer's events are a big success. Whether it is an intimate gathering or a grand affair, they will set up the best floral design to compliment your vision and budget. Our team of compassionate and detail minded designers use fresh farm grown flowers and their creative skills to produce the most stunning flower arrangements in the industry.
SPECIAL DISCOUNT OFFERS – USE ON MAIN WEBSITE
Floral Design
Floral design is a creative art form that uses floral materials to produce artistic designs. Floral designers use a variety of mediums, including fresh and dried flowers, foliage, fruits and vegetables as well as other products such as bamboo stalks, grasses or feathers. They often work with an arranger or florist to create finished pieces for customers in the wedding industry or for retail sale at florists' shops.
Floral design can be used in the making of floral arrangements (such as bouquets), corsages/boutonnieres and other creations such as wreaths or centerpieces. The term "floral designer" may also refer more specifically to people who create custom-made wedding bouquets on behalf of clients who are getting married at their own homes rather than having them done professionally by a florist. A person who designs floral arrangements but does not work with live plants (i.e., someone who uses only dried materials) would not normally be considered a "florist".
Floral designers are often trained at trade schools or colleges and may be certified by the American Institute of Floral Designers. Floral designers can also be involved with the design of floral decorations for interiors, such as furniture or walls. Floral design is often used in wedding planning as well as other types of celebrations such as birthday parties and anniversaries.
Floral Design Skills
Floral designer skills are varied, and they can be broken down into five categories: creative, technical, organizational, business and interpersonal. The most important of these is creativity; floral designers must have a natural talent for designing flowers and plants to create beautiful arrangements. They also need to have excellent taste in color schemes and textures so that their designs look attractive from every angle. They must be able to visualize a finished product before starting work on it–and if something doesn't turn out right during construction (which happens often), they must know how to fix it quickly.
Interpersonal skills are important because floral designers often work directly with customers on their projects; this means having patience when explaining what goes into making certain types of arrangements or why certain elements won't work together well visually. Floral artists also need good communication skills so they can relay instructions clearly when working with other employees such as florists or delivery drivers who may not understand exactly what type of arrangement needs delivering where without some guidance!
Floral designers are also responsible for keeping their own work areas clean and organized so that they can quickly find what they need when they need it. They may spend a lot of time on their feet, so this job requires stamina as well as physical strength.
Floral designers must be able to move quickly and perform various tasks that include cutting flowers, arranging them in vases or baskets, and tying them together with ribbons. They may also need to create new arrangements from scratch if an order is very large or requires specific styles not currently on hand at the shop.
Floral Designer Education
The path to becoming a floral designer is not always an easy one. If people are interested in pursuing this career, there are many different educational options available. They can enroll in an accredited florist school or apprenticeship program and learn from industry-experienced instructors. There are also many online courses available that can teach the skills needed to become a successful florist.
Benefits of Professional Floral Design
Floral design is a great career choice for creative people that enjoy working with plants. They use that creativity to create beautiful arrangements, working in a wide variety of settings and industries. Depending on where they work, salary ranges are quite high for florists. The average salary for a florist is $35,000 to $45,000 per year. However, if they have their own shop or work for a high-end company, they could make more than that. Floral designers work with flowers, foliage, and other natural materials to create floral arrangements for customers. They may also design floral displays for weddings or other events. Floral designers can work in many different industries, from boutiques to florists' shops to corporations.
Popularity Floral Design
Why floral design is so popular, and what the benefits are of becoming a Floral Designer. Let us take a look at some of the reasons why this career choice is so appealing:
Floral Designers have the opportunity to work with plants, flowers, and other natural materials in their daily work. This can be very rewarding both physically and emotionally because they get to see how their efforts impact others' lives on a daily basis.
They will also get plenty of opportunities for creativity with florals–and will be able to use imagination on new designs every day! Sometimes people might even find themselves coming up with entirely new types of flower arrangements that no one has ever seen before!
There is always something exciting happening in the world of florals (e.g., new innovations in technology) which means there will always be something new to learn about as well as ways for improving upon what has already been done before by other designers before him/herself."
Flowers are beautiful, and being able to design them can be very rewarding. Designers will get to work with plants and other natural materials, which can be a very fulfilling experience that not many people get to have in their careers. There are plenty of opportunities for creativity.
Floral Design Trade
Floral design is the art of arranging flowers and other botanicals to create a pleasing composition for aesthetic and/or symbolic purposes. The purpose of floral design may be simply to make something beautiful, or it may have a more specific function like creating an arrangement for display or sale. Floral designers must be creative and able to think outside the box. They should also have a good sense of color and be able to create arrangements that look beautiful as well as functional.
Floral designers work in a variety of settings, such as shops that sell cut flowers, florists' shops (where they are known as florists), wedding planners who arrange bouquets for weddings and other special events and private individuals who want help making their home look nicer with fresh flowers around it. There are also opportunities in art galleries where you can display your own arrangements alongside paintings or photographs on display there; this could be done on commission basis or simply as part of an exhibition where artists have been invited by curators from all over North America to display their work.
Conclusion
The floral design trade can be a lucrative one, as it is a service that people need every day. However, it can also be difficult to get started in this industry if individuals do not know where to begin. It takes time and effort to build up a loyal client base, but our professionals keep customers coming back to purchase or all occasions! Contact us today!
Bussey's Florist Employs Amazingly Talented Floral Designers
Bussey's Florist is family owned and operated. We have been serving customers in Coosa, Rome, Cedartown and throughout Floyd and Polk counties since 1976. Our flower shop was voted Best Local Florist in 2018. We have also been voted Best Flower Shop on numerous other occasions.
Our goal is to achieve 100% customer satisfaction with every flower arrangement we create. To that end, we provide a guarantee with every single flower arrangement that we design and delivery. If you receive an arrangement that we created and don't absolutely love the design, just contact one of our floral design centers. We will replace that arrangement with one of equal or greater value. Our deliver staff will bring the arrangement out and deliver it absolutely free of charge.
The Bussey's Flowers delivery team makes daily delivery runs to customers in Coosa, Georgia. The town of Coosa is approximately 11.9 miles from our Rome flower shop location. It takes our delivery drivers approximately 20 minutes to make the drive. Our delivery team is one of the best in North Georgia. We deliver to businesses, residential homes, churches, funeral homes and more.
The Best Flowers in Floyd & Polk County
We purchase many of the flowers we sell direct from the flower farms. Our firm buys from both domestic and international growers. Buying direct offers many great advantages. It allows us to reduce the cost of acquisition for our flowers. We are then able to pass along much of that savings directly to our customers. It reduces the amount of time between when the flowers are cut at the flowers to when they arrive at our flower shops. When you start with fresher flowers, you are going to produce arrangements that deliver long vase life for the recipients. Buying direct also ensures that our customers enjoy a wider variety of floral products to choose from. Better selection, lower price and longer lasting fresh cut flower arrangements. We think those are three really great reasons to shop at Bussey's Florist & Gifts.
100% Customer Satisfaction Guarantee
Bussey's Florist backs every flower purchase with our 100% customer satisfaction guarantee. If you are not happy with the design we have created for you, please contact one of our floral design centers. We will replace that arrangement with one of equal or greater value. Many of the flowers we purchase many of the flowers we sell direct from the farms. That ensures our clients always have access to the highest quality floral products available. We guarantee that your get well flowers will be fresh and beautiful when they arrive.
Get Well Flowers
Our delivery staff makes daily delivery runs to Polk Medical Center, Floyd Medical Center and to Redmond Regional Medical Center. We have years of experience delivering to these facilities. We know the best times to accomplish delivery at each facility. If you would like to send, get well flowers, a plant or gift to one of our area medical facilities, we are the best option for same day and express delivery service.
Local Same Day Flower Delivery
The delivery team at Bussey's arrives each day at around 8:00 am. We make every effort to complete all of our daily deliveries not later than 5:00 pm each day. Included in our daily deliver schedule are delivery runs to all local Cartersville area businesses, homes, schools, hospitals, churches, funeral homes, mortuaries and cemeteries. Customers located in Floyd and Polk County have the option of selecting local same day or express flower delivery service.
Express Flower Flower Delivery
Bussey's Florist & Gifts is one of the very few florists in the area that offer local express flower delivery service. Every express delivery order comes with our 100% on-time arrival guarantee. When you place and order and opt for express delivery, we can normally create the arrangement, and delivery it within approximately 4 hours of the time your placed your order. Express delivery service is only available in Floyd and Polk counties.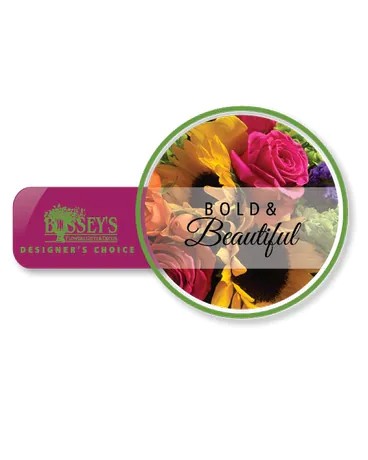 Designers Choice Bold & Beautiful Design Style
Let our award winning floral design team create a Bold and Beautiful fresh flower arrangement for your special someone. Our designers will hand-craft a bouquet from the freshest blossoms available in a sophisticated color palette of the freshest blooms in our inventory. Trust our Award Winning Designers. They are some of the best in the state of Georgia. They will create a stunning floral design for you. We guarantee you and the recipient are going to love it!
Deluxe – Our designer's will even more flowers to create an even more sophisticated look.
Premium – Our designer's will add even more flowers to create a truly luxurious bouquet.
Locations
Bussey's Florist & Gifts Rome
500 East 2nd Avenue Suite 7
Rome, GA 30161
Bussey's Florist & Gifts Cedartown
302 Main Street Cedartown
Cedartown, GA 30125