Bussey's Flowers, Gifts, and Decor
Rome, GA's Favorite Florist for Special Occasions
Bussey's is a family-owned and operated floral design firm. We operate multiple flower shops in Floyd and Polk counties. Our Rome Georgia flower shop is located at 50 Broad Street, Rome, Georgia 30161. The Cedartown Georgia flower shop address is 302 Main Street, Cedartown, Georgia 30125. Our delivery team provides local same day and express flower delivery service throughout the Cedar Valley region. For those times when you need to send flowers, a plant or gift outside of the Floyd and Polk County area, we provide nationwide same-day delivery service. We are able to provide nationwide delivery because we have put together a nationwide network of hand-selected florists. That means that you can send gifts to special people in your life even if they aren't local!
Besides our beautiful flower collection, we also carry indoor and green plants, both of which offer an extraordinary amount of health benefits.
1. Fight cold and flu
Indoor plants clarify the air, thereby reducing the risks of colds and the flu.
2. Prevent airborne diseases
Indoor plants help to remove airborne contaminants that can lead to headaches and other health problem.
3. Cure headaches
Headaches typically occur because the brain lacks oxygen, so indoor plants provide that necessary oxygen that may help to cure headaches.
4. Improve your mood
The green leaves and other colors offered by indoor plants create a positive and happy mood.
5. Contribute to an improvement in your overall mental health
Likewise, if there are indoor plants to enjoy every day, they can contribute to an overall improvement in mental health, helping to combat loneliness and depression.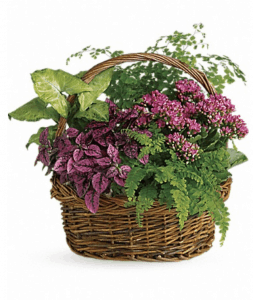 6. Reduce your blood pressure 
Indoor plants can reduce stress, which often can raise your blood pressure.
7. Lower carbon dioxide in the air
Plants are known for their ability to use carbon dioxide w in photosynthesis to produce oxygen.  Therefore, it can remove it from the air, helping us breathe easier.
8. Relieve pain
Some indoor plants have medicinal benefits. For example, aloe vera has been proven to reduce inflammation and decrease skin pain from sunburns, etc.
9. Prevent allergies
Expose children to plants at an early age so they can develop a tolerance to pollen and other plant materials that may cause allergies.
10. Enhance your brain function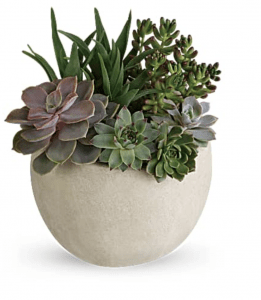 By providing more oxygen, plants can also help improve brain and nerve function. This can sharpen your focus and concentration while you work.
11. Clear congestion
Indoor plants like eucalyptus offer an anti-congestion natural remedy while its phytochemical can help with clearing phlegm
12. Improve sleep quality
Some indoor plants produce oxygen at night time like gerbera daisies, which can contribute to better sleep.
13. Reduce the room temperature
Plants release vapor and increase humidity, which gives them the ability to lower a room's temperature and then help reduce your energy consumption.
18. Lower the noise
Certain green plants can even absorb noise to help reduce that distraction for you.
Order your green plants today for your home or office as well as a gift of health for others in your life.