Bussey's Florist
A great way to celebrate someone is with our lovely Milestone Birthday Flowers. There is nothing more exciting than turning a certain age, and milestones are an important part of life. Whether it is your first year in high school or your fiftieth wedding anniversary, milestone birthdays deserve special recognition. We offer a large selection of milestone birthday flowers that will make your loved one feel extra special on their big day!
SPECIAL DISCOUNT OFFERS – USE ON MAIN WEBSITE
Milestone Birthday Flowers
Milestone birthday flowers are used as a thoughtful gift for loved ones, whether it is your parents, grandparents or even your kids! Milestone birthday flowers will show them how much you care about them and how much they mean to you. Send your love and congratulations with a beautiful bouquet of milestone birthday flowers. Milestone birthday flowers are perfect for any occasion, whether it is the birthdays of your loved ones or their first wedding anniversary. We have a wide selection of flower arrangements to choose from, including vibrant roses and beautiful lilies that will make their day even more special!
Milestone 16 Birthday Flowers
Congratulations on your 16th birthday! You are old enough now to do some pretty cool things. For example, you can:
Get your driver's license in most states.
Vote (in some countries)
Get married (in some countries)
We offer many flower arrangements that are festive and perfect for this special milestone birthday.
Milestone 18 Birthday Flowers
Milestone flowers are a great way to celebrate someone special's birthday or anniversary. They are perfect as a gift for someone's 18th birthday. This is such a transitionary birthday with many young people graduation high school and ready to embark on their college journey! Check out our bestselling collection of flowers and gifts to honor this milestone birthday.
Milestone 21 Birthday Flowers
The 21st birthday is a milestone. You are no longer a teenager and you have officially become an adult. It is time to celebrate! To help you get started, we have created this guide to choosing the perfect flower delivery for your favorite person's big day. Whether they are into roses or sunflowers, we have something that will make their day extra special. With us as your partner, it is easy for you to find the best selection of 21st birthday flowers online at prices that fit any budget. Our team members work hard every day so that when someone orders from us they know they will receive top quality products delivered on time with complete customer satisfaction guaranteed every step along the way — from browsing through our website until after your order arrives at its destination location (and beyond).
Our selection includes a wide range of 21st birthday flowers and plants, including:
Milestone 30 Birthday Flowers
The 30th birthday is a milestone, and it deserves to be celebrated. While there are many ways to celebrate this milestone, we have one suggestion that will definitely make your 30th birthday flowers stand out: Milestone Birthday Flowers! Flowers are such a great gift for any occasion because they add beauty and color to any space. Whether you want something simple or extravagant, we can help! Our floral designers will create an arrangement just right for you using only the freshest flowers available at our local growers' markets. We understand how important it is for every occasion–even ones like birthdays–to look its best. That is why we offer free delivery on many orders. We also offer same-day delivery if needed so that no matter where your recipient lives or works, there will always be someone there waiting with their new bouquet when they get home from work or school each day. You do not need us telling you how amazing this present idea would be; just imagine how happy someone would feel after opening up their front door and seeing these beautiful blooms waiting patiently on their doorstep (or desk) ready for them!
Milestone 40 Birthday Flowers
It is no secret that the 40th birthday is celebrated like no other. It is a milestone, after all! It's the first time in your life when you can truly say that you have lived through at least four whole decades of living. You may have experienced survived childbirth and raised children who are now grown up and have their own families. You have also probably acquired some wisdom along the way, so it is only fitting that this special occasion be acknowledged with flowers on its own merit–not as an afterthought or secondary celebration of another important date (like an anniversary).
Milestone 40th birthday flowers make great gifts for anyone who has reached this point in their lives: parents, grandparents, uncles/aunts–anyone who has been around long enough to be considered an elder statesman or woman by society at large should receive some sort of recognition on their 40th birthday! While there are many ways to celebrate the milestone of turning 40, flowers are always a great way to show someone that they're appreciated. Whether you're buying them for your mom or father on their special day or sending them as a gift from a child (or grandchild), it is important that these blooms send the right message.
Milestone 60 Birthday Flowers
A milestone 60th birthday is a great time to celebrate. It is an important milestone that should be commemorated with flowers, so you can give your loved one the gift of beauty and happiness. Flowers make a great gift for any special occasion, but they are especially appropriate for milestone birthdays because they represent growth and change–two things that are often associated with reaching this age.
Conclusion
Flowers are also an excellent way of saying "thank you" or showing appreciation for someone who has helped you along the way (like a mentor or coach). A milestone flower arrangement is a great way to celebrate someone special's birthday or anniversary. Whether you are looking for something that will make them smile, or if you want something that will last forever, we have a variety of options available. Our team of florists can create an arrangement that is just right for any occasion!
A beautiful and thoughtful gift for someone special.
A unique way to celebrate a birthday, anniversary or any other special occasion.
A lasting reminder of your love and affection.
A beautiful, long-lasting gift.
The perfect way to say thank you or I'm sorry.
Whatever the milestone, we are here to help you send the perfect birthday flowers. Check out our selection of milestone birthday flowers and get inspired today!
Bussey's Florist Offers Festive and Fresh Same Day Delivery Flowers for all Occasions.
Bussey's Florist and Gift is a family owned and operated floral design firm. We offer the best selection of farm fresh flowers, plants and gifts in Floyd and Polk county. Our firm has been serving customers in Kingston since 1976. The award winning floral design team at Bussey's creates unique, luxurious, upscale floral arrangements. We also offer an extensive line of green plants, orchid plants, blooming plant baskets and beautiful high desert succulent gardens. All of our products are available to same day or express delivery in Kingston and throughout Floyd and Polk counties.
Getting ready to begin planning your wedding? Bussey's has years of experience with wedding and event flower design. We offer Free wedding consultations for all perspective brides. When you come in for your wedding consultation, we will begin by listening to your vision for the wedding flower package of your dreams. Once we understand your vision, our expert wedding planner will help you identify the perfect floral varieties, colors, design and presentation styles that best fit the venue you have selected. We will help you create a wedding to be remembered.
The Bussey's Flowers delivery team makes daily delivery runs to customers in Kingston, Georgia. The town of Kingston is approximately 14.5 miles from our Rome flower shop location. It takes our delivery drivers approximately 20 minutes to make the drive. Our delivery team is one of the best in North Georgia. We deliver to businesses, residential homes, churches, funeral homes and more.
Farm Fresh Flowers
Many of the flowers we sell are purchased directly from floral farms. We buy for both domestic and international growers. Buying direct offers great advantages for us and for our customers. There are often significant cost savings when buying from the flower farms. We routinely pass along much of those savings to our customers. Buying direct also reduces the time between when the flowers are cut at the farms and when they arrive here in Rome and Cedartown. By reducing that time frame, we can ensure the flowers arrive fresher. Creating flower arrangements with fresher flowers, means our customers get to enjoy them longer.
100% Customer Satisfaction Guarantee
Bussey's Florist backs every flower purchase with our 100% customer satisfaction guarantee. If you are not happy with the design we have created for you, please contact one of our floral design centers. We will replace that arrangement with one of equal or greater value. Many of the flowers we purchase many of the flowers we sell direct from the farms. That ensures our clients always have access to the highest quality floral products available. We guarantee that your get well flowers will be fresh and beautiful when they arrive.
Get Well Flowers
Our delivery staff makes daily delivery runs to Polk Medical Center, Floyd Medical Center and to Redmond Regional Medical Center. We have years of experience delivering to these facilities. We know the best times to accomplish delivery at each facility. If you would like to send get well flowers, a plant or gift to one of our area medical facilities, we are the best option for same day and express delivery service.
Local Same Day Flower Delivery
The delivery team at Bussey's arrives each day at around 8:00 am. We make every effort to complete all of our daily deliveries not later than 5:00 pm each day. Included in our daily deliver schedule are delivery runs to all local Cedartown area businesses, homes, schools, hospitals, churches, funeral homes, mortuaries and cemeteries. Customers located in Floyd and Polk County have the option of selecting local same day or express flower delivery service.
Express Flower Delivery
For time when you need Get Well flowers to arrive by a specific time of day, we encourage you to select our express flower delivery option. With express delivery, we can usually design and delivery your flowers within approximately 4 hours of the time you order.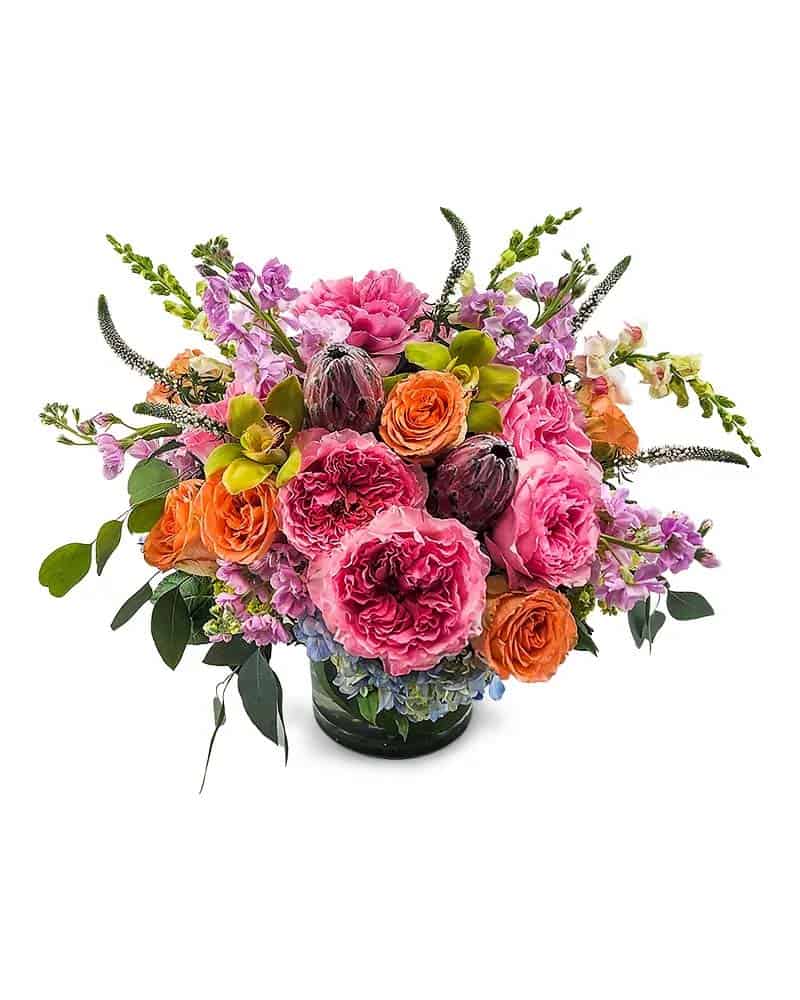 Southern Pastel Elegance
Inspired by southern gardens, this bouquet is created in Bussey's lush signature style from fragrant stock, delicate blue hydrangea, and snapdragons dancing with willows of Veronica in a bed of blush hybrid garden roses, hydrangea and sage eucalyptus. Hand designed in a farm to table gathering vase this arrangement is perfectly presented as a table centerpiece, credenza or coffee table display and is always in good taste.
Bussey's arrangements are custom gifts designed by hand. Mother Nature changes our farm-fresh inventory every morning, to assure your gift is fresh and gorgeous our designers may need to make substitutions but will capture the color & style of your selection to deliver a "WOW" for your recipient.
Locations
Bussey's Florist & Gifts Rome
500 East 2nd Avenue Suite 7
Rome, GA 30161
Bussey's Florist & Gifts Cedartown
302 Main Street Cedartown
Cedartown, GA 30125