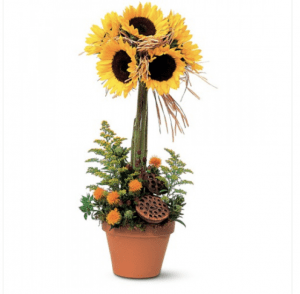 As fall continues and the festivities of Halloween are behind us, it's now time to turn our attention to Thanksgiving, a time to celebrate with friends and family and focus on gratitude.
Although you might have already started to decorate for the fall season, Thanksgiving offers more ways to add to your fall display, including centerpieces for your dining and buffet tables as well as wreaths, garlands, and bouquets.
Since Thanksgiving is so open to creating your own family traditions, you also can work with your local Cedartown flower shop or Rome, Georgia flower shop on putting together Thanksgiving floral displays that reflect those traditions.
Traditional Thanksgiving
If you like the traditional elements of Thanksgiving, then you'll want to add floral elements that include cornucopias, pumpkins, gourds, leaves, wheat, and orange and yellow hues. A cornucopia, also known as a horn of plenty, can be filled with this treasured Thanksgiving motifs and used as a centerpiece.
Rustic Thanksgiving
Similar to the traditional elements, a rustic theme for your Thanksgiving can incorporate pumpkins as well. However, you may also want to use other elements like scarecrows and sunflowers as well as baskets, burlap, hay bales, and wood boxes or crates to showcase your Thanksgiving florals.
One option is a sunflower topiary or floral designs that incorporate terra cotta pots. Those of you who like farmhouse interior design will be sure to like this look for Thanksgiving.
Elegant Thanksgiving
Perhaps you like a more formal look to your Thanksgiving Day festivities. We offer very elegant centerpieces in sophisticated footed bowls as well as ceramic containers filled with flowers like roses, greenery, and taper or pillar candles. Break out the linen tablecloth and napkins for this Thanksgiving display.
Whimsical Thanksgiving
There are also those of you looking for a fun and lighthearted approach to your Thanksgiving decor. Choose bright colors like pinks, purples, and oranges to create a celebratory mood. Although these may not be traditional colors you see for Thanksgiving, it may be the look you need this year to keep it light in the face of so many challenges.
Items to Remember
Besides centerpieces, don't forget floral elements like a wreath, garland, and bouquets for all areas of the home. You can opt to carry the same theme throughout your house or use the above styles in different parts of your home. And, if you are going somewhere else for Thanksgiving this year, don't forget to bring a bouquet of flowers with you for your host!
We are taking orders by phone, in-store, and through our website for curbside pickup or contactless delivery! Order today to ensure your date and delivery time.