Bussey's Florist is a Premier Florist in Cedartown GA
March 20th commences the wonderful Spring season, and it lasts until June 21st. For many people, Spring is a very welcomed season. Bussey's Florist invites you to "Step into Spring", by joining our world class floral designers and purchase a Spring Flower Collection Bouquet. Our collection features a wide array of brightly colored and very fresh springtime floral products. If you would like to surprise someone special, send them a gorgeous Bussey's Florist bouquet. They will be thrilled and fully embrace the Spring spirit.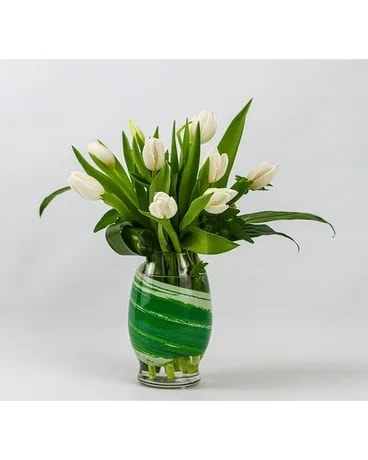 Some of the favorite Spring flowers for Arrangements, Bouquets and Flower Beds.
Lilacs – Found in several varieties, Lilacs are colorful and very fragrant. Despite the old wives' tale that if is bad luck to bring them indoors, their blooms of blue, pink, white and lilac will brighten up any home.
Tulips – These amazing springtime flowers are very low maintenance. You plant the bulbs in late fall or early winter.
Lilies – Trumpet shaped blooms coming in a multitude of colors, Lilies are fragrant and elegant.
Daffodils – Colors of peach, apricot, orange, coral, white and yellow the Daffodil is a frilly delicate flower.
Primrose – These are a native British flower. They have yellow blooms and leaves that appear to be crinkled. Typically, the best time of year for these is March – May.
Snowdrops – This flower starts growing in January in some parts of the country. The plant generates unusual white drooping bell shaped flowers.
Crocus – Purple, yellow and white varieties are very bright and cheery.
Hyacinth – These bloom in purple, pink and white. They are some of the favorites as a pot or vase decoration.
Forget – me – Nots – Usually found as a boarder flower, they are a short blue flower. They can be used as an accent to pots, gardens and arrangements.
Wallflowers – A very popular flower bed plant these dark red and yellow.
Reticulate iris – These are very fragrant and bloom early in the Spring season. They have purple flowers with yellow markings. Many people use them for flowerpots.
Heather – Outdoors these are a favorite for bumblebees. When planted in pots with other flowers, their sweet fragrance makes for a wonderful home decoration.
Grape hyacinth – Another of the great plants for a pot, these have small bright blue flowers. They do have a tendency to spread easily so occasional thinning may be needed.
Bearded iris – Defined by their ruffs and falls which are the outer and inner petals, the hair looking growth in the center gives them the nickname, bearded Iris.
Alliums – These make for fabulous cut flowers in flower bouquets and arrangements. They have fantastic globe shaped purple flowers. Some people also like to keep them for dried flower arrangements as well as fresh.
Dutch Tulips in Cedartown GA
It is Dutch Tulip season! Make someone smile with a bouquet of beautiful, hand-arranged tulips in a wide array of colors. Select from a vase of ten, twenty, or thirty stems. (Color selected by designer)
https://www.busseysflorist.com/flower-arrangement/dutch-tulips/prod10470198?skuId=sku10170496&zipMin=
Bussey's Florist Spring Flower Collection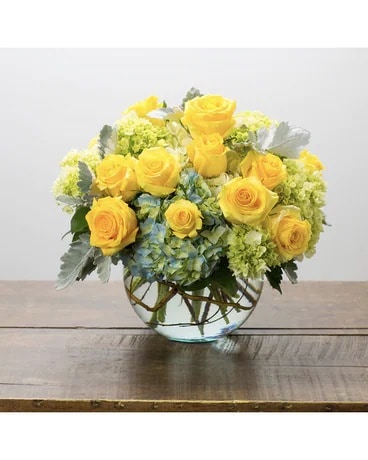 Bussey's Florist & Gifts is the premier florist in Cedartown, Georgia. Our firm was voted Best Local Florist in Floyd and Polk County Georgia. We are family owned and operated. We employ an expert team of delivery drivers. Our delivery staff provides same day and express flower delivery service to the First United Methodist Church in Cedartown. The church is located at 201 Wissahickon Ave, Cedartown, GA 30125.
The main phone number for the church is (770) 748-7862. Our Cedartown floral design center is located at 302 Main Street, Cedartown, GA 30125. The driving distance from our flower shop to the church is literally less than 1 mile. It takes our drivers about 2 – 3 minutes to make the drive to the church. Given that we are so close, our team makes multiple delivery runs to First United Methodist Church each day.
The award-winning floral design staff at Bussey's Florist creates all kinds of seasonal floral designs that we deliver to the church. We offer beautiful flowers for the alter. Tall pedestal flowers are also available. Bussey's also creates stunning holiday table centerpieces. In addition to all the gorgeous seasonal bouquets, we also deliver sympathy flowers to the church as well. Our sympathy flower collection is one of the best in Cedartown.
Our company was founded in 1976. We operate flower shops in Rome and Cedartown, Georgia. Our delivery staff provides local same day and express flower delivery service to our customers in Floyd and Polk counties. Bussey's Florist is the premier floral design center in Rome. We were voted Best Local Florist, by readers of the Rome News Tribune and the Journal-Standard.
Farm Fresh Flowers
Many of the flowers we sell are purchased directly from floral farms. We buy for both domestic and international growers. Buying direct offers great advantages for us and for our customers. There are often significant cost savings when buying from the flower farms.
We routinely pass along much of those savings to our customers. Buying direct also reduces the time between when the flowers are cut at the farms and when they arrive here in Rome and Cedartown. By reducing that time frame, we can ensure the flowers arrive fresher. Creating flower arrangements with fresher flowers, means our customers get to enjoy them longer.
Gorgeous Yellow Ecuadorian Roses
Bright and sunny yellow roses are perfectly paired with southern hydrangea – a stunning bouquet that will brighten any day! The standard arrangement features six beautiful Ecuadorian roses. *Deluxe Arrangement Featured* Bussey's arrangements are custom gifts designed by hand. Mother Nature changes our farm-fresh inventory every morning. To assure your gift is fresh and gorgeous our designers may need to make substitutions but will capture the color & style of your selection to deliver a "WOW" for your recipient.
Bussey's Florist & Gifts Spring Flower Collection
250 Broad Street Rome
Rome, GA 30161