Bussey's Florist
The best-in-class floral designers at Bussey's Florist have prepared amazing and heartfelt flower arrangements for Christmas. Such a cheerful holiday, Christmas is recognized by many as the season of joy for children and the spirit of giving to others.  It is also the perfect holiday occasion to shop with Bussey's Florist and see firsthand some of the most creative Christmas arrangements in Rome Georgia and beyond. Our professional floral designers are standing by and excited to help you find the most caring and exquisite Christmas Flower Bouquets and other Floral Products.
Bussey's Florist keeps our flower coolers stocked with farm fresh, Christmas Bouquets and Holiday Table Centerpieces. We create amazing Christmas flower arrangements and have a number of great options displayed on our website. If you are unable to locate the exact Christmas arrangement you are looking for on our website, we encourage you to contact us so we can address the issue to your satisfaction.
At Bussey's Florist, we will work hard to custom design the exact arrangement that you need. As you shop for Christmas Flowers, below is a helpful list of a few of the most popular flowers to purchase as gifts this Christmas holiday.
Mistletoe – Everyone knows the symbolism of Mistletoe. Great gift for someone who may be hosting a holiday gathering.
Phalaenopsis Orchid – Often this plant is called the moth orchid as it has long curved branches with bright flowers.
Rosemary – People decorate this plant with glittering decorations and let the sweet smell of Rosemary fill the home.
Christmas Cactus – A beautiful flowering plant that is easy to care for and your recipient will love.
Poinsettia – Arguably the most recognized holiday flower, people love the Poinsettia.
Amaryllis – This perfect holiday flower has red and white flowers much like a peppermint candy cane.
Holly – One of the best wreath decorations the Holly with its crimson berries and glossy leaves is a super gift.
Paperwhites – These elegant flowers have white petals and tall stems.
Croton – This is plant is an evergreen with multicolored leaves and interesting and shapes.
You will always find a beautiful selection of farm fresh flowers at Bussey's Florist. We invite you to please shop online or in person and find that perfect gift you are seeking. Here are a few of our great selections:
A Grinchy Christmas – Make their season with Bussey's Grinch Tree. Evergreens are molded into a whimsical tree adorned with festive ornaments and based with flowers and foliage. When you want to bring a smile to someone's face, this is a fantastic selection!
Christmas Cheer – The Christmas Cheer fresh flower bouquet was created by the award-winning design staff at Bussey's Florist. It features roses and full bloom hydrangea, mixed with beautiful holiday accents.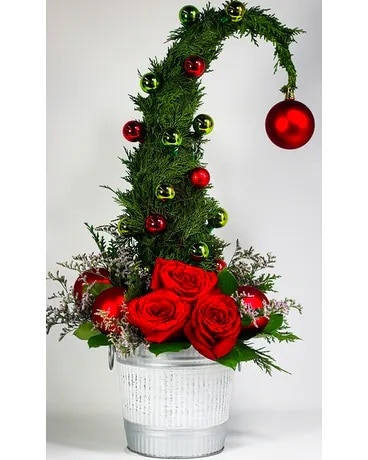 A Grinchy Christmas in Cedartown
KINGSTON FLOWER DELIVERY
LOCAL SAME DAY & EXPRESS DELIVERY
Bussey's Florist and Gift is a family owned and operated floral design firm. We offer the best selection of farm fresh flowers, plants and gifts in Floyd and Polk County. Our firm has been serving customers in Kingston since 1976. The award-winning floral design team at Bussey's creates unique, luxurious, upscale floral arrangements. We also offer an extensive line of green plants, orchid plants, blooming plant baskets and beautiful high desert succulent gardens. All of our products are available to same day or express delivery in Kingston and throughout Floyd and Polk counties.
Getting ready to begin planning your wedding? Bussey's has years of experience with wedding and event flower design. We offer Free wedding consultations for all perspective brides. When you come in for your wedding consultation, we will begin by listening to your vision for the wedding flower package of your dreams. Once we understand your vision, our expert wedding planner will help you identify the perfect floral varieties, colors, design and presentation styles that best fit the venue you have selected. We will help you create a wedding to be remembered.
The Bussey's Flowers delivery team makes daily delivery runs to customers in Kingston, Georgia. The town of Kingston is approximately 14.5 miles from our Rome flower shop location. It takes our delivery drivers approximately 20 minutes to make the drive. Our delivery team is one of the best in North Georgia. We deliver to businesses, residential homes, churches, funeral homes and more.
Farm Fresh Flowers
Many of the flowers we sell are purchased directly from floral farms. We buy for both domestic and international growers. Buying direct offers great advantages for us and for our customers. There are often significant cost savings when buying from the flower farms. We routinely pass along much of those savings to our customers. Buying direct also reduces the time between when the flowers are cut at the farms and when they arrive here in Rome and Cedartown. By reducing that time frame, we can ensure the flowers arrive fresher. Creating flower arrangements with fresher flowers, means our customers get to enjoy them longer.
100% Customer Satisfaction Guarantee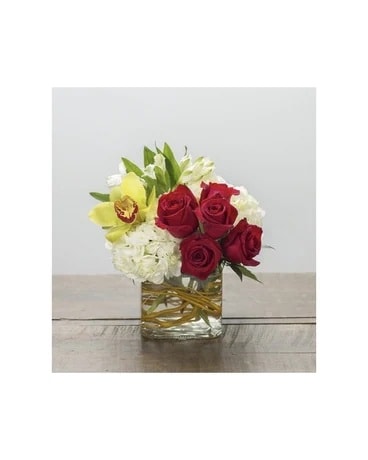 Christmas Cheer
Bussey's Florist & Gifts
250 Broad Street Rome
Rome, GA 30161