Bussey's Florist
With the summer heat finally behind us, we can start to think about fall floral décor. As a professional florist, we like to recommend certain plants and flowers that look great with their colors and textures. Autumn is a great time to add some color to your home with these stylish fall flowers. They are perfect for adding pops of color to your décor, so you can enjoy them all season long! In this article we discuss our favorite options for Fashionable Fall Floral Products.
SPECIAL DISCOUNT OFFERS – USE ON MAIN WEBSITE
Fall Fashionable Plants: These plants look beautiful year-round, but they are especially gorgeous during autumn when their leaves change colors from green to shades of red or yellow. They are also really easy to care for, so you do not have to worry about them getting too much or too little water.
Burro's tail: This pretty succulent has green leaves that grow on tall, thin stems with red tips. It makes a great houseplant because it does not need much water or sunlight and can survive in almost any environment.
Rosemary (Rosmarinus officinalis)
Sage (Salvia officinalis) – also known as garden sage, this herb can be used in cooking and has fragrant foliage with blue flowers on it during the summer months.
Chrysanthemum – this perennial flower comes in many different varieties including single-flowered types, which bloom from May through November; double varieties with large flowers that have a bright yellow center surrounded by white petals; or "dwarf" mums that grow no higher than 2 feet tall. There are also several hybrids available at nurseries today such as 'Helen Traubel' which combines several colors into one plant!
Shasta Daisies – these perennials have bright yellow daisy-like flowers on them that are 2-3 feet in diameter. They grow best in full sun and can tolerate some shade, but need a lot of water to thrive Hollyhocks (Alcea rose) – these plants are known for their tall stalks of colorful flowers that are available in white, pink, purple or red. They grow best in full sun and need plenty of water throughout the growing season.
Fall Fragrant Flowers
Fall is the perfect time to use fragrant flowers in your home décor. The following are some of our favorites:
Lilies
Roses (especially red)
Orchids and other tropical flowers, such as geraniums, lavender, violets and jasmine
Peacock feathers and other ornamental Bird Ornamental feathers are a great way to add texture and color. They can be used in vases or as part of an arrangement.
Ferns are a great way to add texture and color. They can be used in vases or as part of an arrangement.
Fall Fragrant Plants
Alyssum -This annual flower is a great way to add fall color to your home. It grows best in full sun and well-drained soil, and its blooming period lasts from late spring through early summer. It can be planted in containers or beds for an easy way to bring some freshness into your home during this time of year!
Chrysanthemum (mums) -Mums are commonly used as fall decor because they come in many different sizes, shapes and colors–each one unique in its own way! They are also easy to maintain just water them regularly until they die back in Winter (about 6 months).
When you are picking out a mum, try to choose one that has a strong stem and lots of leaves. Mums will last longer if they are in full bloom, so make sure that is the case. When you are ready to plant your mums, choose a location that has full sun and well-drained soil. Water them regularly until they die back in late fall (about 6 months).
Fall is the perfect time to add some crisp color and fragrance to your home. You can decorate with flowers, or you can use them as part of a bouquet. Here are some of the best fall flower options for any style Pumpkins – These orange-colored flowers have a sweet scent that will make your home smell like fall.
Fall Favorite Houseplants
If you are looking for a little something to bring that extra touch of warmth and fall spirit into your home, then consider adding some plants.
If you are not sure where to start, here are some easy-to-grow favorites:
Ficus trees
Bromeliads (also known as air plants)
Dracaena (both the Janet Craig variety and the Madagascar Dragon Tree)
Aloe Vera plants
Philodendrons (both the standard variety and the snake plant)
Pohtos vines
Fall Season Floral Arrangements
Fall Season Floral Arrangements are one of the most popular floral arrangements. They are also one of the most popular gifts during the fall season. These flowers are available in many different colors and styles, making them perfect for any occasion or event. The fall season is a great time of year to send flowers. It is when most people think about sending seasonal arrangements, and it is also when people are looking for gifts for their friends, family members, and other loved ones. These flowers make perfect presents for anyone because they are beautiful to look at and can last for many months after being placed in water The fall season floral arrangements are available in many different colors and styles. They can be made up of a variety of flowers, including roses, carnations, chrysanthemums and more.
Options for fall floral décor
You may have heard that fall is a great time to decorate your home with flowers. This is true, but it is not just because of the warm colors of leaves and pumpkins. Fall flowers are also beautiful, available in a variety of colors, shapes and sizes–and they come in many fragrances!
You can use them to make bouquets for yourself or as gifts for family members who live far away from you. You could even make them into centerpieces for parties like Thanksgiving dinner (or any other kind). The options are endless when it comes to fall floral décor–so let's get started!
You may know that there are many different types of flowers in the world. Some are small and delicate; others are large and showy. Some have beautiful colors like reds, purples and oranges; others are white or greenish white.
Some flowers are fragrant, while others are not. Most of the time, you can find a variety of flowers that work well together in one arrangement or bouquet. For example, if you are making an arrangement with carnations and chrysanthemums, both of which have a long vase life (meaning they will last for several days without wilting), then you might also want to add some other type of flower such as roses or daisies so that the arrangement does not look too plain or boring.
Conclusion
There are many options for fall floral décor, and the best part about it is that you can use any of these ideas to create a beautiful centerpiece for your table. The best thing about fall flowers is that they will last longer than other types of flowers because they have thicker stems and leaves which protect them from dying quickly like roses do in summertime heat. So, if you are looking for something special this season, please shop with us in store our online!
Bussey's Florist Offers Fashionable Fall Flower Products for Home or Office
Bussey's Florist & Gifts was voted Best Florist in Rome, Georgia. We are family owned and operated. Our firm provides local same day and express flower delivery service to Georgia Northwestern Technical College. The college is located at 1 Maurice Culberson Dr SW, Rome, GA 30161. The main phone number for the college is (866) 983-4682. Our Rome floral design center is located at 500 East 2nd Avenue, Suite 6, Rome, GA 30161. The driving distance from our flower shop to Georgia Northwestern Technical College is approximately 1.9 miles. It only takes our delivery staff about 6 minutes to make the drive to the school. Given that we are so close, our delivery staff is generally able to make multiple delivery runs to Georgia Northwestern Technical College each day. Georgia Northwestern Technical College is a public college.
Our company was founded in 1976. We operate flower shops in Rome and Cedartown, Georgia. Our delivery staff provides local same day and express flower delivery service to our customers in Floyd and Polk counties. Bussey's Florist is the premier floral design center in Rome. We were voted Best Local Florist, by readers of the Rome News Tribune and the Journal-Standard.
Farm Fresh Flowers
Many of the flowers we sell are purchased directly from floral farms. We buy for both domestic and international growers. Buying direct offers great advantages for us and for our customers. There are often significant cost savings when buying from the flower farms. We routinely pass along much of those savings to our customers. Buying direct also reduces the time between when the flowers are cut at the farms and when they arrive here in Rome and Cedartown. By reducing that time frame, we can ensure the flowers arrive fresher. Creating flower arrangements with fresher flowers, means our customers get to enjoy them longer.
100% Customer Satisfaction Guarantee
Bussey's Florist backs every flower purchase with our 100% customer satisfaction guarantee. If you are not happy with the design we have created for you, please contact one of our floral design centers. We will replace that arrangement with one of equal or greater value. Many of the flowers we purchase many of the flowers we sell direct from the farms. That ensures our clients always have access to the highest quality floral products available. We guarantee that your get well flowers will be fresh and beautiful when they arrive.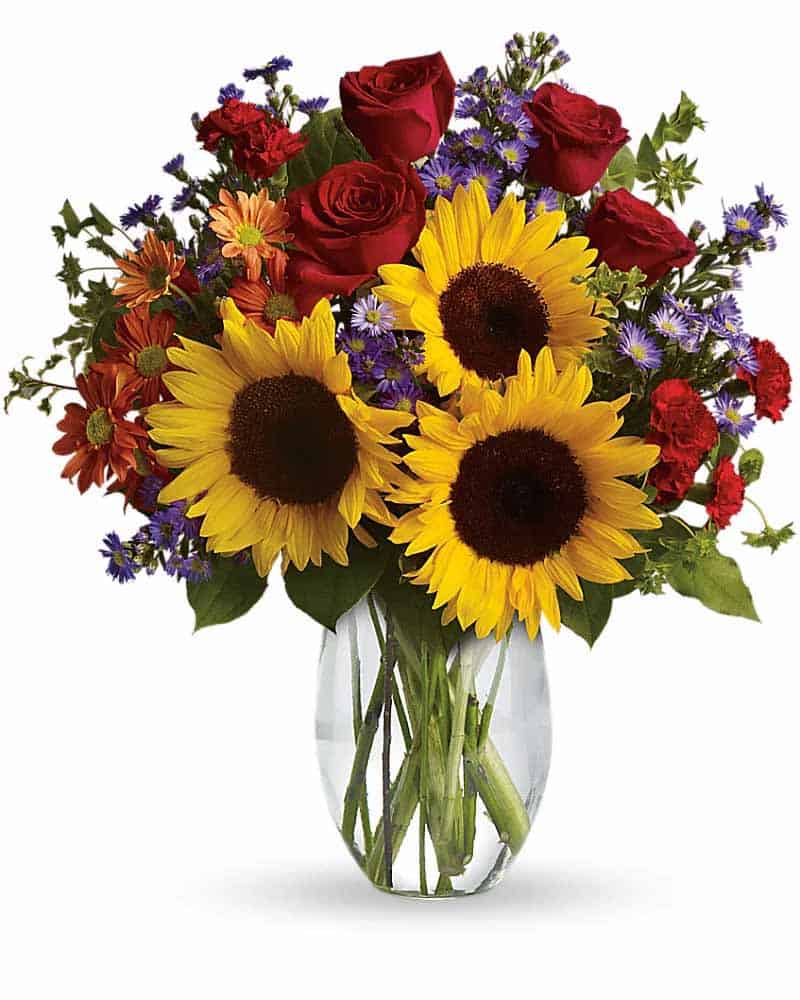 Pure Happiness
Pure happiness is what this pretty bouquet delivers – whether you're sending it for a fall birthday, Thanksgiving, thank you, or simply just because. Surely, no one can be in the presence of something so inherently happy and not smile. Sunny sunflowers, red roses and miniature carnations, bronze daisy spray chrysanthemums, large lavender monte cassino asters and autumn greens are beautifully arranged in a clear glass vase.
Locations
Bussey's Florist & Gifts Rome
500 East 2nd Avenue Suite 7
Rome, GA 30161
Bussey's Florist & Gifts Cedartown
302 Main Street Cedartown
Cedartown, GA 30125