Bussey's Florist
Celebrate the hard work of all Americans this Labor Day with fresh and thoughtful Labor Day Flowers and Plants. Flowers and Plants are the perfect Labor Day gift, and our Floral Designers are ready to prepare an arrangement they will love:
SPECIAL DISCOUNT OFFERS – USE ON MAIN WEBSITE
Labor Day Flowers and Plants
Flowers and plants are always a great choice because they can brighten up any room. Plus, they will be able to enjoy them long after Labor Day passes by. Plan an outing where everyone brings their favorite plant or flower as part of the festivities — it will be fun for everyone involved! If you are feeling extra ambitious, you can even consider hosting a Labor Day party. Have everyone bring their favorite plant or flower and have it can be the theme of the day! There is nothing like fresh flowers to brighten up any room — and they will last for a long time after Labor Day passes by.
Here are a few flower and plant ideas for how you can celebrate this holiday with your favorite hardworking people:
Calla Lilies
Calla lilies are an excellent choice for Labor Day flowers and plants. They're a great gift for your loved ones, easy to grow and maintain, available in a variety of colors and they look stunning when you bring them indoors during the colder months. Calla lilies bloom from mid-summer until early fall so there's no need to worry about them dying out before you've had enough time with them!
They are also excellent for indoor arrangements and can be used to create beautiful centerpieces that will last all year long. The only downside is that they don't like to be moved around too much so if you want to move them from one room to another, make sure you do it while they're still in bloom.
Chrysanthemums
Chrysanthemums are a traditional flower for Labor Day. They are also the official flower of Hawaii, where they are traditionally used in leis and as part of a celebration called "Aloha Week." Chrysanthemums are easy to grow and maintain and can be purchased at most garden centers or home improvement stores. They are a hardy flower that can be planted in your garden or in pots on your patio.
Roses
Roses are a classic flower and make an excellent gift for any occasion. Roses come in a variety of colors, sizes, and even shapes. Depending on where you live and what time of year it is, roses may be available locally or shipped from elsewhere. Roses can be used as centerpieces or bouquets for parties or dinners with friends and family members. The rose can be used as a symbol of love and beauty, but it also has other meanings. The most common meaning is that roses represent romance or passion. In this sense, they are often given as tokens of affection to someone you are romantically interested in.
Carnations
Carnations are the most popular flower in the world, and for good reason. They come in a wide range of colors and sizes, ranging from petite to large blooms. Carnations are also easy to grow and maintain, making them a great choice for anyone who wants to have beautiful flowers without having to spend too much time caring for them. Carnations make excellent choices for weddings–especially if you want something simple but elegant that does not involve any complicated arrangements or designs (or if your budget is limited). They are also an excellent choice if you are looking for something inexpensive yet still memorable on birthdays or other special occasions like Mother's Day or Valentine's Day!
Carnations are also extremely long-lasting, making them great gifts for anyone who has to travel. You can find carnations in a wide range of colors and designs, making it easy to find something that will match any occasion or style. Carnations are also very easy to grow. In fact, they are often referred to as "the poor man's rose" because they are so low maintenance that even someone with a limited amount of gardening experience can easily take care of them without any problems. This makes them an excellent option for anyone who wants beautiful flowers but does not have a lot of time or money to spend on gardening!
Gerberas
Gerberas. are a popular flower for Labor Day, gerberas are easy to grow and available in a variety of colors. Plant them outdoors or indoors and enjoy their bright blooms for weeks on end.
Zinnias
Zinnias make excellent cut flowers, but they can also be planted as annuals if you live in a warm climate where they will thrive year-round! They come in a wide range of colors from red to yellow to orange–the perfect way to add some color to your home this fall!
Lavender
Lavender is a perennial plant with fragrant, purple flowers. It can be grown in pots and will bloom from summer to fall if you keep it well watered. Lavender grows best in full sun to partial shade but can tolerate some shade as long as there are at least six hours of direct sunlight each day. Lavender plants require regular watering and plenty of sunlight, but you should also be careful not to over-water them. If your plant starts wilting in the heat of summer, it's probably time to give it some relief from the heat by moving it into an area with less direct sunlight. Lavender plants are easy to maintain, but they do have some specific needs that should be considered before you plant them.
Succulents (Indoor & Outdoor)
Succulents are an easy and beautiful choice for your home this Labor Day. Succulents are drought tolerant plants that need little care, making them ideal for busy people who want to add greenery to their homes without having to spend a lot of time tending to it. If you are looking for something that requires less maintenance than other plants, succulents are the way to go! They are also easy to propagate through cuttings or division, so if one of your existing plants dies or fails after several years in your home (a common occurrence with many types of houseplants), there is no need to throw it out; simply take some cuttings from another healthy plant and start over again!
Succulents survive outdoors in many regions. You can plant them in containers and keep them on your porch or patio, or you can place them directly into the ground at home. If you live in a region with cold winters and freeze temperatures, you'll need to bring your succulents inside during the cold months (or simply replace them with other types of plants).
Sunflowers (Indoor & Outdoor)
Sunflowers are a great choice for Labor Day, and they can be used as a centerpiece or bedding plant. They are easy to grow, making them perfect for beginners. Sunflowers will grow in almost any environment, so you can plant them indoors or out! They are also easy to care for, making them perfect for busy gardeners. Sunflowers grow best in full sun and soil that is rich in nutrients. If you do not have a green thumb, don't worry! Sunflowers are easy. In addition, they are also a great choice for beginners, as they are easy to grow and care for. In fact, sunflowers are so easy to grow that many people say they are virtually foolproof plants! They will thrive in almost any environment, including indoors or out.
Conclusion
Labor Day Flowers and Plants are the perfect gift for anyone in your life who appreciates fresh, beautiful flowers. With so many options available, you will be sure to find something that fits their tastes and needs perfectly. Whether they are looking for something simple like sunflowers or something more exotic like succulents, these gifts will brighten up any room in their house!
Bussey's Florist Offers Fresh Labor Day Flowers and Plants for Same Day Delivery
Bussey's Florist and Gift is a family owned and operated floral design firm. We offer the best selection of farm fresh flowers, plants and gifts in Floyd and Polk county. Our firm has been serving customers in Kingston since 1976. The award winning floral design team at Bussey's creates unique, luxurious, upscale floral arrangements. We also offer an extensive line of green plants, orchid plants, blooming plant baskets and beautiful high desert succulent gardens. All of our products are available to same day or express delivery in Kingston and throughout Floyd and Polk counties.
Getting ready to begin planning your wedding? Bussey's has years of experience with wedding and event flower design. We offer Free wedding consultations for all perspective brides. When you come in for your wedding consultation, we will begin by listening to your vision for the wedding flower package of your dreams. Once we understand your vision, our expert wedding planner will help you identify the perfect floral varieties, colors, design and presentation styles that best fit the venue you have selected. We will help you create a wedding to be remembered.
The Bussey's Flowers delivery team makes daily delivery runs to customers in Kingston, Georgia. The town of Kingston is approximately 14.5 miles from our Rome flower shop location. It takes our delivery drivers approximately 20 minutes to make the drive. Our delivery team is one of the best in North Georgia. We deliver to businesses, residential homes, churches, funeral homes and more.
Farm Fresh Flowers
Many of the flowers we sell are purchased directly from floral farms. We buy for both domestic and international growers. Buying direct offers great advantages for us and for our customers. There are often significant cost savings when buying from the flower farms. We routinely pass along much of those savings to our customers. Buying direct also reduces the time between when the flowers are cut at the farms and when they arrive here in Rome and Cedartown. By reducing that time frame, we can ensure the flowers arrive fresher. Creating flower arrangements with fresher flowers, means our customers get to enjoy them longer.
100% Customer Satisfaction Guarantee
Bussey's Florist backs every flower purchase with our 100% customer satisfaction guarantee. If you are not happy with the design we have created for you, please contact one of our floral design centers. We will replace that arrangement with one of equal or greater value. Many of the flowers we purchase many of the flowers we sell direct from the farms. That ensures our clients always have access to the highest quality floral products available. We guarantee that your get well flowers will be fresh and beautiful when they arrive.
Get Well Flowers
Our delivery staff makes daily delivery runs to Polk Medical Center, Floyd Medical Center and to Redmond Regional Medical Center. We have years of experience delivering to these facilities. We know the best times to accomplish delivery at each facility. If you would like to send get well flowers, a plant or gift to one of our area medical facilities, we are the best option for same day and express delivery service.
Local Same Day Flower Delivery
The delivery team at Bussey's arrives each day at around 8:00 am. We make every effort to complete all of our daily deliveries not later than 5:00 pm each day. Included in our daily deliver schedule are delivery runs to all local Cedartown area businesses, homes, schools, hospitals, churches, funeral homes, mortuaries and cemeteries. Customers located in Floyd and Polk County have the option of selecting local same day or express flower delivery service.
Express Flower Delivery
For time when you need Get Well flowers to arrive by a specific time of day, we encourage you to select our express flower delivery option. With express delivery, we can usually design and delivery your flowers within approximately 4 hours of the time you order.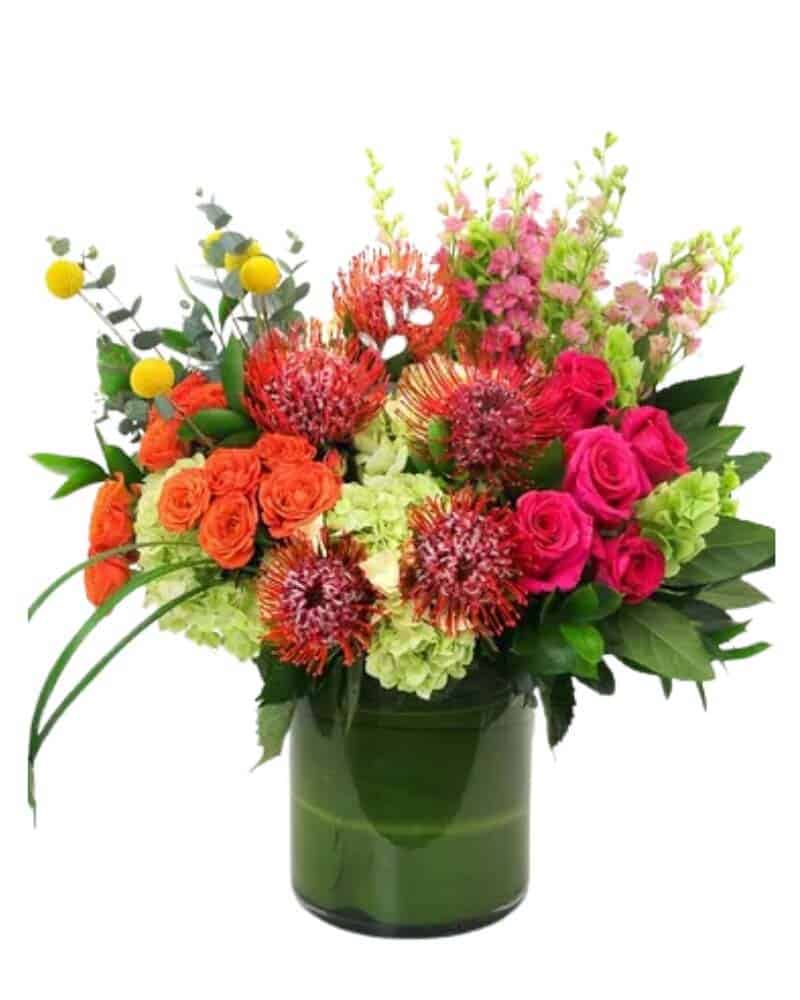 Floyd County Sensation
The award winning floral design staff at Bussey's Florist creates the best fresh flower bouquets in Floyd County. This is one of Floyd Counties favorite designs. We call it Floyd County Sensation. This fresh flower bouquet features pincushion protea, bells of Ireland, larkspur, craspedia, long stem roses, spray roses and full bloom hydrangea, artfully arranged in a leaf lined vase. A stunning bouquet that is guaranteed to leave a lasting impression. Bussey's arrangements are unique, custom gifts designed by hand. Mother Nature changes our farm-fresh inventory every morning. To ensure your gift is fresh and gorgeous, our artists may need to make substitutions but will capture the color & style of your selection to deliver a "WOW" for your recipient.
Locations
Bussey's Florist & Gifts Rome
500 East 2nd Avenue Suite 7
Rome, GA 30161
Bussey's Florist & Gifts Cedartown
302 Main Street Cedartown
Cedartown, GA 30125