Bussey's Florist
Fall arrives on September 23rd, and it is time to start thinking about Fall holiday gifts! Flowers and plants make the perfect gift for any occasion. With so many varieties available, you are sure to find something that fits your needs. Our Professional Floral Designers have created some of most beautiful and Fall Themed Bouquets and Arrangements you will find.
SPECIAL DISCOUNT OFFERS – USE ON MAIN WEBSITE
Flower Gifts
Fall flower gifts are a great way to send a message. Fall flowers are beautiful and fragrant, adding color and beauty to your home. Flower gift varieties include chrysanthemums, dahlias and roses. The beauty of fall flowers is that they are not only beautiful and fragrant, but also long-lasting. When you send a gift of flowers in the fall, it will bring joy to the recipient for weeks to come. The variety of fall flower arrangements is wonderful. You can find bouquets that are perfect for any occasion, from birthdays to anniversaries and more. If you have a special person in mind, consider sending them a beautiful fall bouquet to let them know how much they mean to you.
Fall Flower Gift Varieties
The fall flower and plant gifts below are from our selection of the best-selling items on our site. They are sure to please any recipient, no matter what their interests or preferences may be:
Asters are a classic fall flower that can be used in bouquets and centerpieces at weddings, parties and more.
Sunflowers are another popular choice for fall flowers because they add an element of cheerfulness to any setting (especially if you choose one with bright yellow petals).
Roses are also perfect for adding beauty to your home or office space during this season.
Our selection of houseplant gifts includes popular choices such as fiddle leaf fig trees, spider plants and more. These beautiful plants will add a touch of greenery to any room while requiring minimal care.
Our selection of succulent plants is another popular gift option, especially for those who want to add a touch of nature to their home or office space. They're easy to care for and will last for years if you follow our simple instructions:
Fragrances of Fall
Fall fragrances are a great way to capture the essence of autumn. Whether you're looking for a new scent or just want something to wear while you walk through the woods, there are many scents available that will remind you of this beautiful time of year. There are many scents available in fall perfumes, which can be worn by both men and women alike. If your loved one prefers not to wear perfume or cologne because they don't like how strong it can be on their skin, it may be best for them instead try out an oil diffuser with a scent like apple cider or cinnamon sticks (which also doubles as a great home decor item!).
The best part about fall fragrances is that they are available year-round. If you like the smell of pumpkin spice, but do not want to wear it in the summertime, try out some scented candles instead! You can also purchase air fresheners or sprays to use around your home or office during this time of year.
Fall Season
The fall season is a time for change and transition. As we move from summer into autumn, we can feel the shift in energy as we begin harvesting and planting seeds for winter's food supply. The leaves on trees start to change color, indicating that they are ready to let go of their old selves in order to make way for new growth when spring comes around again. The harvest moon rises earlier each night until it reaches its fullness, signaling another cycle complete!
The harvest moon is the full moon of September, which occurs on or near September 24th each year. The name comes from the fact that it rises at a time when farmers are harvesting their crops and preparing them for storage over winter.
The harvest moon is also known as the corn moon and sometimes the blood moon. As it rises, it appears red or orange due to dust particles in our atmosphere that reflect light back at us. The harvest moon is a time when we can feel a shift in energy as we move from summer into autumn. There are so many things to do during this period of time—harvesting crops, preparing food for winter, and storing away what we don't need right away.
Seasonal Fragrances
Citrus Fragrances Floral Fragrances Fruit Fragrances Herbal Fragrances Minty Fragrances Ocean & Beach Fragrances Oriental & Spicy Fragrances Woody & Musky Fragrance
Spicy Fragrances Vanilla Fragrances Woodsy & Tobacco Fragrance Other Fragrances
Fruity Fragrances Citrus Fragrances Floral Fragrances Fruit Fragrances Herbal Fragrances Minty Fragrances Ocean & Beach Fragrances Oriental & Spicy fragrances Woody & Musky fragrances Spicey fragrances Vanilla fragrances Woodsy & Tobacco fragrances.
Plant Gifts
Potted Plants
There are a number of potted plant varieties that are perfect for fall. Here are a few favorites:
Marigolds (Calendula) – these bright and cheery flowers come in a variety of colors, including yellow, orange and red. They are easy to grow from seed and can be planted indoors or out.
Geraniums – also known as cranesbills, geraniums come in many different colors such as pink, purple and white with red tips on their petals. These plants thrive during cooler weather so they are perfect for the fall months when temperatures start to drop off from summer heat waves! If you live in an area where winters get cold enough (-10 degrees Celsius), geraniums may even survive outside year-round if given protection by mulching around them with straw or hay once winter arrives (if possible).
Butterfly Bushes (Buddleia) – these shrubs feature beautiful purple flowers that attract butterflies and bees. In fact, butterfly bushes are so popular with pollinators that many gardeners plant them as an alternative to using pesticides or other harmful chemicals on their property! Butterfly bushes are easy to care for and can be planted in full sun or partial shade. They are best grown from seed, but you can also purchase small plants from nurseries.
Fall Plant Gift Varieties
Fall plant gifts are a great way to celebrate the fall season. Pumpkins, sunflowers, and mums are popular fall plant gifts. Fall plant gift varieties include kale, chard, and lettuce. The fall season is the perfect time to give flowers and plants as gifts. With so many varieties available, you can find something for everyone on your list! If you are looking for an idea for the person who has everything, consider one of these beautiful blooms:
Chrysanthemum – These bright yellow flowers have been used as symbols of happiness since ancient times. They also make excellent cutting material because they last longer than most other flowers when cut from their stems.
Gladiolus – These exotic-looking flowers come in many colors including reds, pinks and whites–and even some bi-colored varieties that feature two different hues on each petal (for example purple tips with white centers). They are easy to grow indoors or outside if given enough sunlight; however, they prefer rich soil with plenty of moisture so keep them watered regularly while growing them indoors. This is a good flower to give to someone who has just moved into their first home or is having a housewarming party.
Gerbera Daisy – Often called the "sunshine" daisy, these flowers are incredibly popular because they come in so many vibrant colors and last for several days when cut from their stems. They are easy to grow indoors or outside if given enough sunlight; however, they also prefer rich soil with plenty of moisture so keep them watered regularly while growing them indoors. This is a good flower to give to someone who has just moved into their first home or is having a housewarming party.
Conclusion
We hope that you enjoyed learning about the different types of fall flower and plant gifts. These are perfect for the holidays or any time of year, really!  If you are looking for something special, we recommend checking out our selection at our website. We know how important it is to send a meaningful gift–and we think are floral gift selection will make an impact on whoever receives them (even if just by smelling good).
Bussey's Florist Offers Fresh and Creative Autumn & Fall Themed Floral Designs
Table Centerpieces, Autumn Plants & Fall Decorations
Bussey's Florist offers the best selection of Fall & Autumn themed flowers in Rome Georgia and surrounding markets. We provide nationwide same day flower delivery service. Our design team loves designing during the Fall and Autumn season. They create many luxurious, upscale Fall and Autumn themed bouquets. Every arrangement they create is guaranteed to be filled with beautiful, farm fresh flowers and professionally designed.
If you are in the area, please stop by the flower shop. The award-winning floral design team at Bussey's Florist is one of the best in the industry. They create beautiful floral designs, themed to celebrate the arrival of Autumn and the Fall season. We offer nationwide same day flower delivery. In addition to gorgeous flowers, we also offer a nice selection of beautiful, affordably priced gift options. Every flower arrangement we create and deliver comes with our 100% customer satisfaction guarantee.
We offer local same day & express delivery of fresh flowers, roses, planters, gifts, and special occasion flowers. There are many different ways to contact our flower shop. You can use the contact form included on the Contact Us page. We will generally respond within 24 hours of any contact request. We love it when customers come into the shop. Allows customers to see all of the incredible flowers and floral gift options we offer. Plus, we get to meet and serve you in person. When customers call in, that also provides us with a great chance to connect and talk flowers.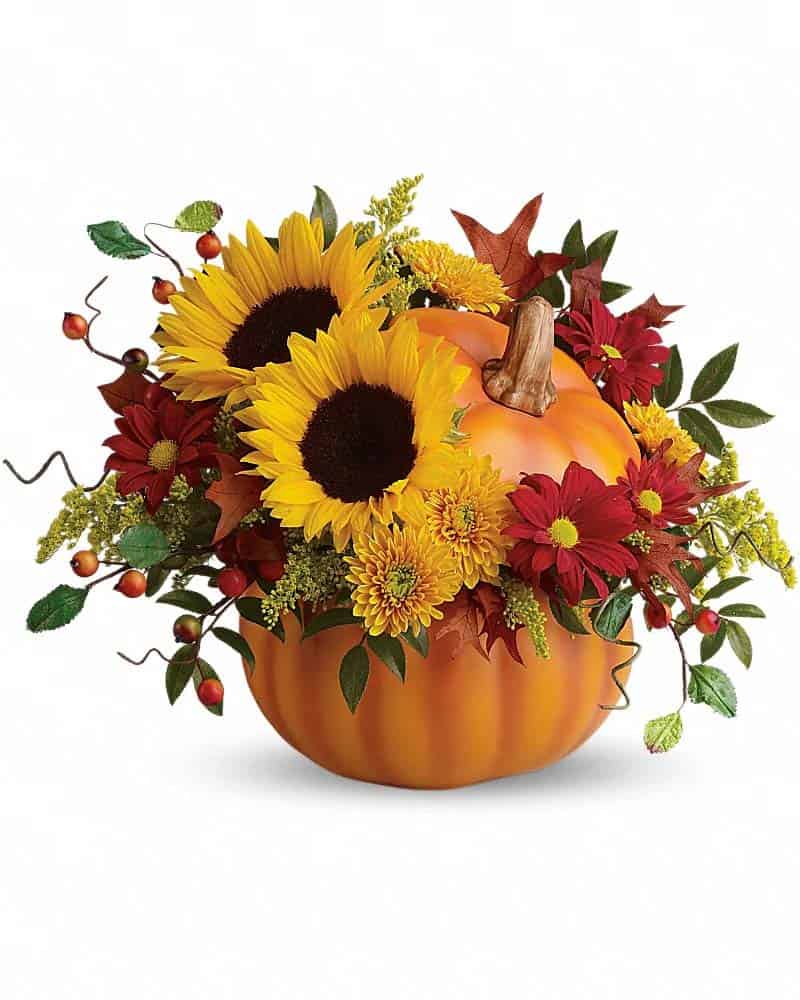 Pretty Pumpkin Bouquet
Radiantly rustic sunflowers and other beautiful blooms in a hand-painted ceramic pumpkin that is truly the pick of the patch. This delightful gift will keep on giving for years – as a vase, candy dish, or objet d'art. The radiant bouquet includes yellow sunflowers, yellow cushion spray chrysanthemums, red daisy spray chrysanthemums, solidago, huckleberry and oak leaves. We believe you deserve the best. Should an item not be available in our daily changing inventory, we will substitute an item of equal or greater value.
Locations
Bussey's Florist & Gifts Rome
500 East 2nd Avenue Suite 7
Rome, GA 30161
Bussey's Florist & Gifts Cedartown
302 Main Street Cedartown
Cedartown, GA 30125