Bussey's Florist
The expert Floral Designers at Bussey's Florist specialize in unique, beautiful and high-end floral designs. We offer fresh and lovely flower arrangements for all occasions including New Baby Flowers and Valentine's Day Flowers. Bussey's Florist is family owned and operated. We operate two flower shops that serve local customers in Floyd and Polk counties. Our firm offers local same day flower delivery and express flower delivery service to our customers in Armuchee, Cartersville, Cedartown, Coosa, Kingston, Lindale, Rockmart and Rome. If you would like to send roses to someone outside of our local delivery zone, we can handle that for you. Our firm provides nationwide same day flower delivery service through our network of hand selected floral design partners.
New Baby Flowers and Plants
If you are looking to celebrate the arrival of a new baby, sending a congratulations bouquet is a thoughtful way to let them know how happy you are for them. While traditional flowers like yellow and blue are always a good choice, there are plenty of modern options as well! From gift baskets filled with all sorts of novelties that both parents and newborn alike can use and enjoy, to small but significant arrangements intended only for momma—there are many ways to congratulate someone on their newest family member.
Welcoming a new baby into the world is an exciting time, and you're sure to know someone who recently has or will soon. New baby flowers are a great way to celebrate the arrival of a new baby. If you are looking for something special for your friend's new little one (or yourself), here are some ideas:
Baby's breath – This delicate white flower is often used as filler in bouquets because it looks great with other flowers and can help keep costs down. It also symbolizes innocence and purity of heart–perfect for welcoming this precious little one!
Tulips – Tulips are known for their beauty but also have another meaning behind them: they represent love at first sight when given as a gift between two people who fall deeply in love with each other immediately upon meeting each other like a mother and her newborn baby.
Whether friends or family members are celebrating the arrival of their little one, sending congratulations flowers for a new baby is a great way to let them know how happy you are for them. It's also important to remember that this can be an exciting time for you too! Whether you have had your own bundle of joy arrive recently or have been waiting on pins and needles to meet your friend's newborn, sending congratulation flowers may feel like an obvious choice but don't underestimate their impact–they're sure to bring happiness into someone's life!
Bussey's Florist Same Day Flower Delivery to Flowers for Newborns and Valentine's Day
Bussey's Florist offers local same day and express hospital flower delivery. We offer the best selection of newborn themed floral arrangements in Rome. When we accept a flower order for hospital delivery, we guarantee that arrangement for on-time delivery. We sell flower arrangements themed for either a boy or a girl. Many of the newborn baby flower arrangements we offer come in beautiful designer and keepsake vases.  We have flower arrangements that are themed to celebrate the birth of a newborn girl or boy. These arrangements are available for same day delivery. We make daily deliveries to many area hospitals. Congratulations flowers are in order for the family, whether it's the first baby or the fifth, a celebration is in order.
Whether you choose traditional pink and blue for a new baby, or send something unique, Bussey's Florist has you covered. We offer the best selection of flowers, plants and gifts themed for newborns in Rome, Georgia. We offer same day delivery service to all hospitals and medical centers.  Our floral design centers are open to customers for in-store shopping. We have a wonderful get well floral collection that is particularly popular for customers wanting to send an arrangement to a friend or family member being treated at a local hospital. We provide local same-day and express flower delivery service to all hospitals and medical centers. We provide flower, plant and gift delivery service to them six days a week. The only day we do not provide get well flower delivery is on Sunday.
All deliveries are guaranteed for on-time delivery. If you need your get well flowers to arrive at the hospital or medical facility by a specific time, please contact our flower shop. Depending upon the time of day you call, we may be able to provide express flower delivery service for your order. Most hospitals in the area are open early. They usually allow flower delivery to begin by approximately 9:00 a.m. each day. Our staff makes every effort to have all deliveries to hospitals completed not later than 5 pm every afternoon.
We offer both local same day and express flower delivery service to most hospitals. Generally, our same day delivery option works well for most get well deliveries. Our website features many great get well themed floral bouquets, plants and gifts. If you don't see the exact get well bouquet you need on the site, contact our flower shop. The award winning floral design team at Bussey's Florist will custom design the exact arrangement you need.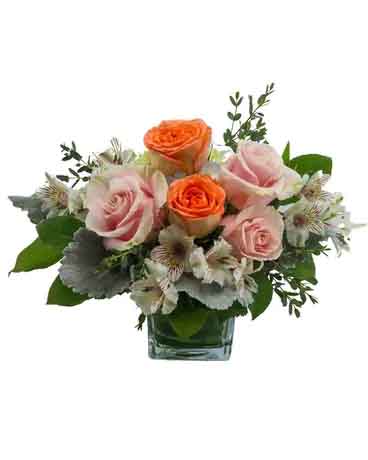 Petite Pastel
A sweet and petite bouquet created from customer favorites including southern hydrangea and roses. A perfect gift for any occasion! Bussey's arrangements are custom gifts designed by hand. Mother Nature changes our farm-fresh inventory every morning. To assure your gift is fresh and gorgeous, our designers may need to make substitutions but will capture the color & style of your selection to deliver a "WOW" for your recipient.
Locations
Bussey's Florist & Gifts Rome
500 East 2nd Avenue Suite 7
Rome, GA 30161
Bussey's Florist & Gifts Cedartown
302 Main Street Cedartown
Cedartown, GA 30125