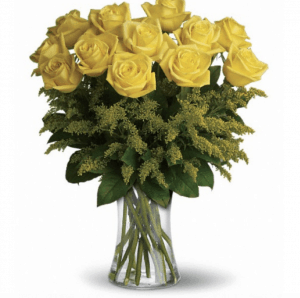 August is a month focused on ways that you can show those around you just how much you care. In a world that could do better with kindness and concern for others, these special occasions are a good way to get started on thinking of others.
The second week of August is known as National Smile Week. It's a good time to smile more at others (in some places, this may mean smiling with your eyes or emojis in case you have to wear a mask. And, it's a good opportunity to do things for others that are bound to make them smile. After all, smiling is known to put those who do it and experience it in a more positive frame of mind.
August is also National Romance Awareness Month, which is an opportunity to focus on romance despite having hectic lives and lots of responsibilities that take you away from focusing on your loved one as much as you'd like.
If you celebrate one or both, our Cedartown and Rome, Georgia flower shops and website are here to help you with thoughtful gifts. Here are some ideas to consider:
Roses are a stunning flower to give for either occasion. Consider a bouquet of yellow roses to symbolize your friendship or give a traditional romantic gift of a dozen or more red roses.
Select a bright and cheerful arrangement with many bold colors amongst a variety of flowers to delight your recipient. Our Vibrant Beauty bouquet is a good example.
Choose one of our gift packages or gift baskets to shower your loved one or friend with many gifts in one. For example, our Vibrant Garden Gift Collection comes in three sizes of bouquets along with a candle and gourmet chocolates.  Our gift baskets include gourmet food items and/or fresh fruit.
If you know your friend or partner loves plants and gardening, then select a gift from our plant collection so they can enjoy their green thumb and what Nature offers all of us. It's also a thoughtful gift because plants do so much to purify the air around us.
We also have balloons and balloon bouquets as well as greeting cards so you can also send cheerful thoughts and love that way, too, on their own or as part of a gift of flowers or plants.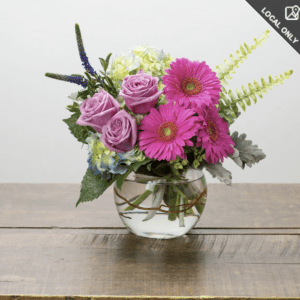 Place your order today by phone, in-person, or through our website for National Smile Week and National Romance Awareness Month.