Bussey's Florist
May is such beautiful time of year and a favorite month for many. The weather is getting warmer, and flowers are blooming all around us. It is also the month where many people celebrate their birthday. If you are looking for a way to celebrate your May birthday, why not do it with May Birthday Flowers? Although there are plenty of options for flowers in this month, here are some suggestions for how you can make your May birthday extra special:
SPECIAL DISCOUNT OFFERS – USE ON MAIN WEBSITE
Tulips
Tulips are a classic May birthday flower. According to legend, the tulip was the first flower to bloom in Holland and thus became the national flower of that country. The red, orange and yellow colors of this spring bloom symbolize love, beauty and purity–all traits that make it a perfect choice for someone celebrating their birthday during this month!
The tulip is also said to be a symbol of enduring love, which makes it a great gift for someone who has recently gotten married or had a baby. In addition, the tulip represents beauty and purity–two traits that anyone would love to have on their birthday!
Pink Rhododendron (Rhododendron 'Maiden Pink')
Pink rhododendrons are a popular choice for gardeners who want to add color to their yard in spring and summer. They are also called azaleas, so if you know someone who loves this type of flower, it is a great gift idea! The plant has large leaves that can range from dark green to purple or red depending on the variety. The flowers are usually pink but sometimes white or yellow as well. This plant grows well in full sun or partial shade and prefers moist soil with good drainage. Propagate plants by dividing them after they have finished blooming for best results: dig up each clump with its roots still intact and replant each section separately into separate pots filled with potting soil before replanting them back into the ground again once they have grown large enough to be moved.
Rose
Roses are the most popular flower for May birthdays. They come in a variety of colors, sizes and shapes. Also, Roses are a great gift because they last a long time. You can give them to your friend or loved one on their birthday and they will remember you every time they look at the rose flower. It is also easy to grow at home if you have some space outside where there is good sunlight!
Daisies
Another popular flower for May birthdays is the daisy. These flowers are commonly used to represent innocence, happiness and purity. They make a great gift because they last a long time and come in a variety of colors and sizes.
Daffodils
If you are looking for a May birthday flower gift, daffodils are a popular choice. They come in a variety of colors and sizes, so you can find the perfect daffodil to fit your budget and taste. These spring blooms are also very easy to grow, making them ideal for beginners or those with limited space.
Daffodils can be planted directly into the ground or in pots indoors or out–the only thing that matters is how long they have been dormant (or "dormant"). If you purchase bulbs from an online retailer who ships them directly from Holland (like Dutch Bulbs), then they will arrive ready-to-plant; however, if you buy locally at a garden center then there may be some waiting involved before you can plant them outside after the last frost passes.
The bulbs may have been dormant for up to a year before they arrive at your local garden center. Once they are planted in the ground, they will begin to grow and flower in about 2-3 months depending on how long they were dormant and how cold it was outside during that time.
Hyacinths
Hyacinths are a popular spring flower that come in many colors and varieties. They are easy to grow and can be planted in pots or in your garden. The hyacinth is also a symbol of spring, so if you want to send someone a message about how much you appreciate them, this is an excellent choice!
The hyacinth is a bulbous plant that produces beautiful flowers. It can be planted in the garden or grown in pots, depending on your preference and where you live. The hyacinth is one of the first signs of spring and will bloom right around Easter time, making it an excellent choice if you want to send someone a message about how much they mean to you.
Gardenia
Gardenia is the birth flower for May, which means that if you were born in May, you will find this flower to be extra meaningful. Gardenias are beautiful and fragrant flowers that come in a variety of colors including white, pink and purple. They can be grown indoors or outdoors depending on where you live: gardenias prefer warm climates but will survive colder temperatures as long as they're protected from freezing weather conditions.
Sweet Peas
Sweet Peas are a popular choice for May Birthdays Sweet Peas make an excellent gift for someone with a May Birthday.
May Birthdays
May birthdays are a beautiful time of year, but you do not have to be at work or out of town to celebrate. Sometimes the best gift is one you can enjoy together! May is a great time of year to be alive. The weather is warm, the flowers are blooming and new life is everywhere! May birthdays are also an excellent excuse to celebrate with your loved ones over dinner or drinks–you do not have to be out of town for that either.
If you are looking for a unique gift idea this month, check out our selection of May birthday flowers. We can deliver fresh roses or other beautiful farm fresh blooms directly from our growers right to your door! Just place your order online or in store and pick up when convenient for you (and them). We have a wide variety of flowers available for delivery in May, including roses, carnations and lilies. Browse our selection to find the perfect gift for your loved one's special day.
Conclusion
We hope this list of May birthday flowers has been helpful! Whether you are looking for a gift or just want to make someone's day a little more special, we think these options are great. If you have any questions about our selection, please do not hesitate to contact us.
Bussey's Florist Same Day Delivery Birthday Flowers & Gifts
Bussey's Florist has been designing and delivering gorgeous birthday flowers in Floyd and Polk counties for many years. We were voted Best Local Florist and are one of the premier florists operating in North Georgia. Our firm offers the best selection of birthday themed floral bouquets in town. Choose from all your favorites. We operate multiple floral design centers, covering Cartersville, Cedartown, Rockmart and Rome, Georgia. Our Cedartown flower shop is located at 302 Main Street, Cedartown, GA 30125. The Rome lower shop is located at 500 East 2nd Avenue, Suite 6, Rome, GA 30161. Both of these floral design centers are open to the public for in-store shopping. Each is equipped with a big, beautiful walk-in cooler. The award winning floral design staff at Bussey's ensures that these walk-in coolers are always full of gorgeous, birthday themed floral bouquets each day.
Birthdays are a special time of year. They're the one day when you can celebrate yourself and all the great things you've done in your life so far. Birthdays are a great excuse to spend time with family and friends, exchange gifts, and make memories. If you are celebrating a birthday for a family member or friend this year, there's no better way to do it than by sending them a gorgeous floral bouquet, plant or gift from Bussey's Florist. Always great to deliver the flowers, plant or gift before the big celebration event. Then when you get together, you get to see the joy that the gift brought to the recipient. Birthdays will always be different from other holidays or occasions. They're unique because they only happen once a year? You have just the one opportunity each year to show that special person just how much they mean to you.
We have birthday themed floral bouquets made with many different floral varieties. Did you know that the most popular flower for birthdays is the rose? People send more than one billion roses to their loved ones on their birthdays, which is more than any other flower. So if you're looking for a way to make your loved one feel extra special on their birthday, send them some roses.
Some of our top flower options for birthdays:
The first is the classic rose—it's a go-to for any occasion, and it's no different when you're sending birthday wishes. Roses are a classic choice because they're pretty, but also because they're versatile. You can get roses in just about any color or size, so no matter what kind of personality your recipient has, there's a rose that'll fit them perfectly. The most popular variety of rose is the Hybrid Tea Rose. This type of rose is long-stemmed and has a large, full head. They are used in floral designs to create lush bouquets.
The Hybrid Tea Rose is also one of the most popular varieties because it is easy to grow and maintain, making it an ideal choice for gardeners who are just starting out. The long stems make them great for arranging in vases or as centerpieces at parties or events. Long stem roses can be used to create a variety of different floral arrangements, including bouquets, boutonnieres (also known as corsages), and even centerpieces for weddings or other special occasions.
Next up is daisies. Daisies are another classic choice for birthdays—they're easy to find and affordable, making them an easy choice for most people who want to send flowers for someone's birthday. They come in all sorts of colors and sizes, so you can mix and match with other options if you want to go wild with it. Gerbera daisies are a classic flower for floral arrangements, but they come in a surprising variety of colors. Their bright petals and large size make them a great choice for bouquets—but they're also perfect for arrangements that you want to make a statement.
Next up is tulips—these beauties are known for their beautiful colors (and they smell amazing). Tulips are perfect for any time of year, but they really shine during spring and summer months when they have bright colors like reds, yellows and oranges that really pop against green grasses or green leaves from trees overhead!
The delivery staff at Bussey's Florist arrives early each morning. Normally by 8:45 am, our flower delivery vans are loaded a ready to make their first deliveries of the day. We provide local same day and express flower delivery service anywhere in Floyd or Polk county. If you need to send flowers outside of our local delivery area, we encourage you to opt for our nationwide same day flower delivery option when you check out.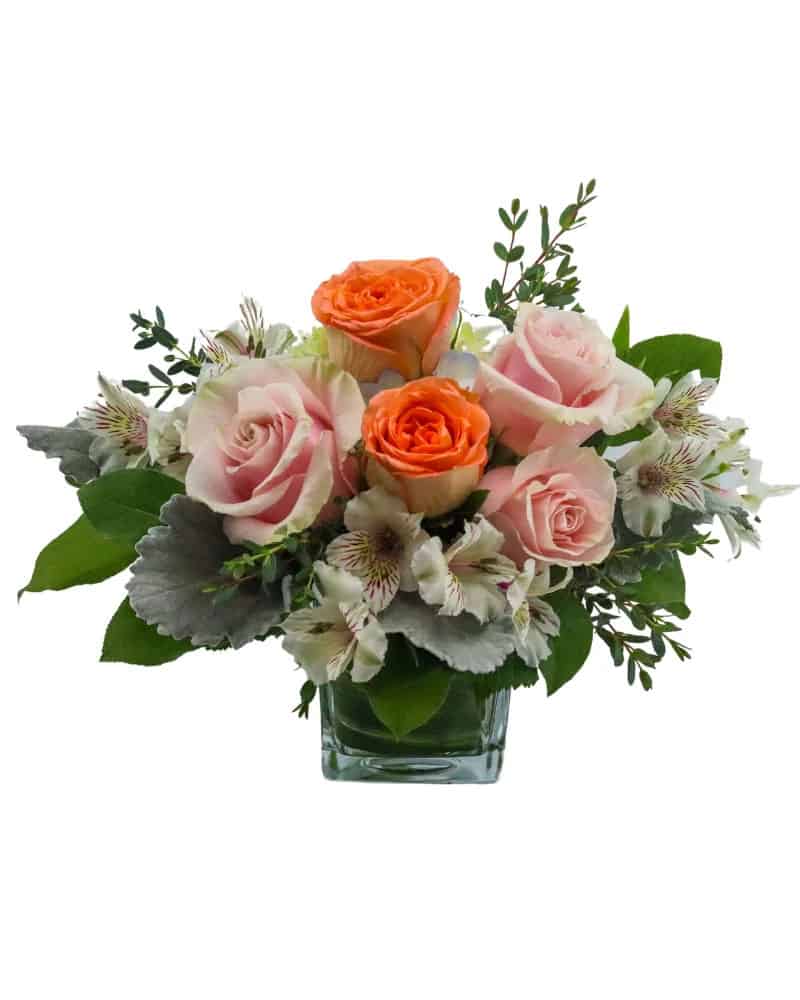 Petite Pastel
A sweet and petite bouquet created from customer favorites including southern hydrangea and roses. A perfect gift for any occasion! Bussey's arrangements are custom gifts designed by hand. Mother Nature changes our farm-fresh inventory every morning. To assure your gift is fresh and gorgeous, our designers may need to make substitutions but will capture the color & style of your selection to deliver a "WOW" for your recipient.
Locations
Bussey's Florist & Gifts Rome
500 East 2nd Avenue Suite 7
Rome, GA 30161
Bussey's Florist & Gifts Cedartown
302 Main Street Cedartown
Cedartown, GA 30125