Bussey's Florist
Bussey's Florist has been serving customers in Rockmart, Georgia since 1976. We offer the highest quality floral products. Many of the flowers and plants we sell are purchased direct from the flower farms. We buy for both U.S. based and international growers. Our fresh cut flower collection is the best in Floyd and Polk counties.
The Bussey's Flowers delivery team makes daily delivery runs to customers in Rockmart, Georgia. The town of Rockmart is approximately 13.4 miles from our Cedartown flower shop location. It takes our delivery drivers approximately 17 minutes to make the drive. Our delivery team is one of the best in North Georgia. We deliver to businesses, residential homes, churches, funeral homes and more.
Have an anniversary coming up soon? If so, we have some wonderful anniversary flower, plant and gift ideas for you. Take a look at the beautiful arrangement pictured to the right. We call it Floyd Country Sunrise. This luxurious floral design features orange Ecuadorian roses, full bloom hydrangea, gorgeous exotic cymbidium orchids, ferns, leaves and seasonal greenery. The award winning design team at Bussey's is known for creating unique, luxurious arrangements and this one really fits the reputation.
Bussey's Florist backs every flower purchase with our 100% customer satisfaction guarantee. If you are not happy with the design we have created for you, please contact one of our floral design centers. We will replace that arrangement with one of equal or greater value. Many of the flowers we purchase many of the flowers we sell direct from the farms. That ensures our clients always have access to the highest quality floral products available. We guarantee that your get well flowers will be fresh and beautiful when they arrive.
Our delivery staff makes daily delivery runs to Polk Medical Center, Floyd Medical Center and to Redmond Regional Medical Center. We have years of experience delivering to these facilities. We know the best times to accomplish delivery at each facility. If you would like to send get well flowers, a plant or gift to one of our area medical facilities, we are the best option for same day and express delivery service.
The delivery team at Bussey's arrives each day at around 8:00 am. We make every effort to complete all of our daily deliveries not later than 5:00 pm each day. Included in our daily deliver schedule are delivery runs to all local Armuchee area businesses, homes, schools, hospitals, churches, funeral homes, mortuaries and cemeteries. Customers located in Floyd and Polk County have the option of selecting local same day or express flower delivery service.
For time when you need Get Well flowers to arrive by a specific time of day, we encourage you to select our express flower delivery option. With express delivery, we can usually design and delivery your flowers within approximately 4 hours of the time you order.
Amaryllis Christmas Centerpiece
A strikingly beautiful Christmas centerpiece created with Dutch amaryllis, roses, berries, and evergreens. Perfect to display on the dining table, this arrangement is guaranteed to delight its recipient!
Bussey's Florist offers Elegant Holiday Centerpieces
Holiday centerpieces are a vital part of holiday celebrations. A beautiful table centerpiece will add warmth and a festive ambiance to any dinner table or home. The professional and "best of the best" floral designers at Bussey's Florist have created thoughtful and dazzling Christmas and Hannukah centerpieces to make your holiday dinner table and home very charming. We invite you to visit us conveniently online or in person and see our fabulous Holiday centerpieces.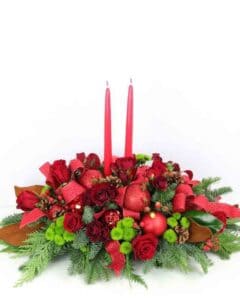 Decorating Christmas dinner tables with a centerpiece is a tradition dating back for many generations. Our professional staff will help you find the right centerpiece to fit your table. There are many age-old reasons people use centerpieces ranging from displaying wealth, power, prosperity and to ensure good fortune for those we love. Whatever your reason may be, our floral design team is eager to assist. Components of the centerpiece have symbolic meaning also. For example, the evergreen, which is so common as a decoration, represents eternal life for those of the Christian faith. Evergreens are hardy and grow year-round even in the dead of winter. This representation is associated with the strength of Jesus and all that he endured.
Often Christmas centerpieces are adorned with colorful decorations as well as evergreen and candles. The traditional selection of red, green and gold decorations is purposeful also. Gold is one of the first colors associated with Christmas. It symbolizes royalty as it was one of the three gifts of the Wise Men. Red symbolizes the blood of Jesus shed during crucifixion. When you shop for that perfect Christmas centerpiece to add holiday spirit and beauty to your holiday dinner table, please be sure to visit us conveniently online or in person to see the best centerpieces in town. Your family and friends will be in awe as they gather at your table for that wonderful holiday meal.
Holiday Spirit Centerpiece
offers the best selection of Christmas and Holiday themed table centerpieces in town. This gorgeous table centerpiece features beautiful red roses, mixed with gorgeous holiday greens, ornaments, pinecones and other seasonal accents. The design includes 2 candles.
250 Broad Street Rome
Rome, GA 30161