Bussey's Florist
Rome, Georgia Flower Shop Overflows with Poinsettia Plants
Bussey's Florist is a family owned and operated flower shop with locations in Rome, Georgia and Cedartown,  Georgia. We offer award-winning floral design combined with personalized service, unique gifts, variety, high-quality flowers and plants, and good value for local and national delivery during the holiday season. Our Rome flower shop and Cedartown flower shop, along with our website, offer dazzling holiday decor and Christmas gifts, including the most recognized Christmas symbol known as the poinsettia plant.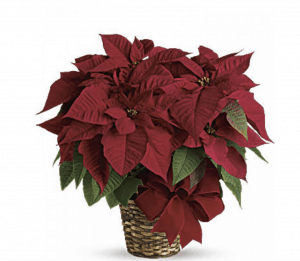 Poinsettia Day is December 12th, which is the perfect time to order your poinsettia plants from Bussey's Florist! You can decorate your home or office with this boldly colored plant.
The broad leaves make it easy to cover a lot of space with just a few containers of this blooming plant.
You can also think about sending a poinsettia plant as a gift to a colleague, client, neighbor, or service personnel.
The easy-to-care for, long-lasting poinsettia plant comes in red or white. You can also order a garden basket with seasonal plants that includes a poinsettia plant.
If you get poinsettia plants, here are instructions on how to care for them so they last long after the holidays have passed. When the poinsettia plants are in full bloom over the holiday season, keep them in a semi-cool, humid location with right, indirect light and plenty of moisture.
Poinsettia plants need to be watered thoroughly, but don't let the plants sit in water-filled saucers, which can cause root rot. Add plants nearby to enhance humidity levels in dry rooms or use humidifiers.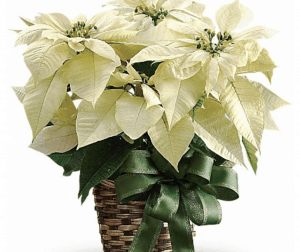 Once the flower bracts have fallen off, you can discard the plant or keep it an additional year. If you plan on keeping the Christmas plant, then decrease regular watering so it can dry out some.  Also, relocate the poinsettia plant to a cool, dark area until spring when you can return it to well-lit areas.
Order your poinsettias today!