Bussey's Florist offers beautiful Valentine's Flower Bouquets
Providing loved ones with flowers for Valentine's Day has dated back for centuries. That is to say, this tradition actually began in the 1700s. Bussey's Florist offers beautiful Valentine's Flower Bouquets. There are numerous options for flower varieties. Certainly, Roses and Chocolate are not the only favorites. For instance, here are some additional choices of flowers that are popular for Valentine's Day.
Lilies
 These lovely flowers have a great fragrance that most people love. Subsequently, there are numerous varieties of Lilies.
Candidum or Madonna Lilie is pure white and one of the most popular. They are a difficult plant for growers as the soil has to be neutral to alkaline.
Martagon referred to as Turk's cap lilies, have purple to pink petals. The plant appears to be very delicate but is actually quite hardy.
Regale lilies have purple to pink petals with a slight amount of yellow on the inside of the flower. Similarly, they are one of the easiest lilies to grow.
Album is another of the white variety. In addition, this flower has some yellowish green on the petals.
Pink Perfection Group is a purple and pink trumpet lily. Similarly, to the Regale variety, it is easy to grow.
Lankon is one of the favorite varieties due to its unique coloring. In addition, the white petals are spattered with a deep purple.
Tulips
A great choice for a bouquet, Tulips are very fresh and continue to grow after they are cut. That is to say, this makes them perfect for a vase. You have to rotate the arrangement as the flowers tend to grow toward the light. Similarly, to other flower groups, there are several different types of Tulips.
Multiheaded has 2-5 flower heads per stem. Even though they are shorter than most other varieties, they still look great in bouquets. One of the favorite colors is the blood red "Estatic".
Parrot group Tulips have a feathery and ruffled appearance. Consequently, they inherited the name of Parrot group. Some of the colors are nicknamed "Black Parrot", "James Last" and "Negrita Parrot".
Lily Flowered Group has mauve colored petals that have a white edge. In addition, they have longer petals than other types of Tulips. Their petals often curve outwards.
Viridiflora, the "China Town" variety, is a soft pink with green streaks.
Tulips In Love
Tell someone, "I love you!" with two of nature's most beautiful blooms – fragrant crimson roses for romance, and delicate pink tulips to signify friendship and devotion. Accented with a big pink bow, this magnificent floral gift will create a sensation. A dozen red roses – mixed with 10 red tulips and 10 pink tulips. In addition, it is delivered in a glass cylinder vase accented with a pink satin ribbon.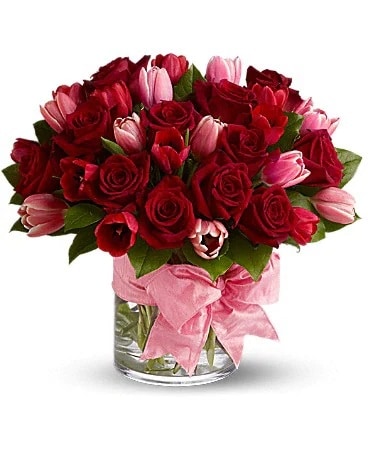 Tulips In Love
New Sensations
Upscale and uptown. This fantastic arrangement is a beauty and a half to behold. Overflowing with gorgeous blossoms and delivered in a leaf-lined cylinder vase, it's truly a floral fantasy.
Green and pink hydrangeas, green cymbidium orchids, hot pink and lavender roses, tulips and more are beautifully arranged in a large clear glass cylinder vase.
Valentine's Flower Bouquets
Bussey's Flowers is a local, family owned and operated floral design firm. We offer the best selection of beautiful, Valentine's Day themed flowers, plants and gifts in town. We employ an award-winning floral design team. They create luxurious, upscale flower arrangements. Our firm also offers the best selection of green, flowering, and tropical plants in Floyd and Polk counties. We operate 2 flower shops in Cedartown and Rome, Georgia.
Our firm provides same day and express flower delivery service 6 days a week to customers in Floyd and Polk counties. If you need to send flower outside of our local delivery area, we can accommodate that request. We provide nationwide same day flower delivery service to cover those situations.
We offer the best selection of beautiful farm fresh flowers in town. Our firm is one of the largest floral design firms operating in Floyd and Polk counties. Our size and capabilities provide great advantages for us and for our customers. One example being this. We purchase many of the flowers we sell direct from flower farms. The award-winning floral design staff at Bussey's is another great advantage our customers enjoy.
These floral artisans are truly some of the very best in the industry. Similarly, we would be remis if we didn't also mention the incredible delivery staff that we have as well. They are extremely professional, and laser focused on ensuring that we maintain our on-time delivery guarantee.
Ecuadorian Roses, Full Bloom Hydrangea, Gourmet Chocolates
Buying fresh flowers direct from flower farms is a huge advantage. The time between when the flowers are cut at the farm and when they arrive here at our flower shop for use in arrangements is greatly reduced. That means the fresh cut flowers we use in our arrangements are the finest and freshest possible. Fresher flowers translate directly into longer vase life for the people who receive bouquets from us.

New Sensations
Bussey's Florist & Gifts
250 Broad Street Rome
Rome, GA 30161