Bussey's Florist
Rome, Georgia's Patriotic Florist For Veteran's Day
Bussey's Florist is a family owned and operated flower shop with locations in Rome, Georgia and Cedartown,  Georgia. We offer award-winning floral design combined with personalized service, unique gifts, variety, high-quality flowers and plants, and good value for local and national delivery. Make us your choice for the upcoming Veteran's Day on November 11th for patriotic flower arrangements, bouquets, and wreaths.
It's time to honor our veterans from the armed forces who protected us and served our country. Numerous events are planned in local cemeteries and towns to celebrate these brave men and women. Whether it is a Veteran's Day parade, memorial service, or flag service at a cemetery, this is a good time to show your respect with patriotic flowers.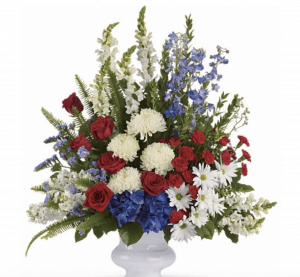 Here are some floral design ideas from our Veteran's Day collection:
With Distinction
This special patriotic flower arrangement for Veteran's Day includes white carnations, red roses, gladiolus, and more. It is a beautiful addition to a grave site or as a centerpiece for a Veteran's Day commemoration service.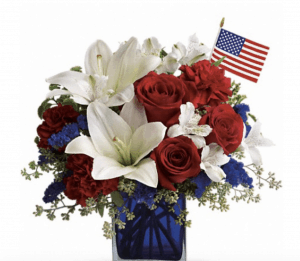 Rome Celebrates
Wreaths and More
We have numerous patriotic wreaths that are ideal as part of a cemetery service on Veteran's Day or as part of a special remembrance event. We also have floral blankets and other special floral displays that can be made for this celebration. Contact us today to learn more about custom flower designs for your Veteran's Day event or gift.