It's Valentine's Week! On Sunday, February 14th, this special day of love arrives to celebrate your friendship, love, and connection you share with your partner.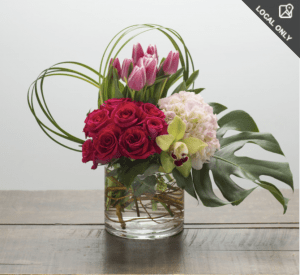 Your favorite flower shop in Cedartown and Rome, Georgia is here to help you make this Valentine's Day as special as possible.   From fresh roses and floral bouquets to gifts and plants, we can make it easy to spoil your own Valentine.
For those of you looking to go all out this Valentine's Day, we have a luxury flower line to amaze your special someone. This includes bouquets that have multiple dozens of flowers, such as our Ecuadorian red rose bouquet with 50 or even 100 red roses! It's absolutely breathtaking! Our premium Valentine's Day flower arrangements also contain floral designs that include all types of flowers, such as those that stand nearly two feet tall.
All of our Valentine's Day flowers provide a way to find something that fits your loved one and your budget. We have petite bouquets and floral designs that come in multiple sizes. There are many new floral designs just for Valentine's Day to choose from!
Another option is our Valentine's Day plant collection. Blooming plants include azalea plants, hydrangea, bromeliads, orchids, and more. Plus, you can choose from European dish and basket gardens with a mix of green plants as well as succulents and succulent gardens.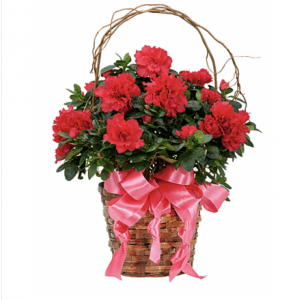 If you are running out of time for your Valentine's Day shopping, consider one of our Valentine's Day packages that include everything you might need — a bouquet of roses or flowers, candle or balloon, and chocolates.
You can also opt for one of our Designer Choice arrangements that gives you a custom floral message. We become your one-stop-shop here in Cedartown or Rome, Georgia so you can make Valentine's Day special and convenient.
Please place your Valentine's Day order as soon as possible as we are experiencing a high volume of orders and want to make sure we can accommodate everything you want to do for this holiday of love.
We also may be running low on certain flowers and colors, so please ask us what's available when placing your order.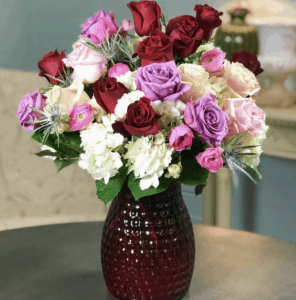 We continue to offer contactless delivery, which somewhat limits how many deliveries we can get done each day. It's also possible to do curbside pickup if you prefer to come get your Valentine's Day orders. Thank you for selecting us as your trusted partner for Valentine's Day!