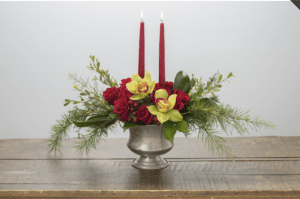 This holiday season, may a statement that really shines with Bussey's flowers and centerpieces for Christmas and New Year's! With the likelihood of having to celebrate all these special occasions from the safety of our homes, this is the year to add more decor than ever before.
A centerpiece is a good place to start with decorating as it tends to be a focal point because of its position on the holiday table. However, centerpieces can also be placed on other tables throughout your home — in a four or a social space like a gathering room.
While you may prefer a holiday centerpiece with candles for the dining table to provide some mood lighting, your other holiday centerpieces can provide a rustic or elegant look without candles. For example, you may want to add a unique centerpiece for the living room or foyer that has a botanic flair with fruit and a lot of greenery.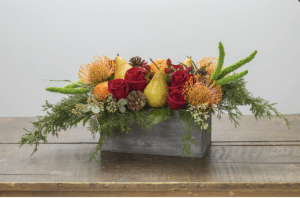 Our other holiday floral displays also brighten a home, including compact cube vase arrangements that can be lined up on a long dining table or used for various smaller tables. For example,  we have many stunning white flower arrangements perfect for a New Year's celebration.
These cargo from elegant in bubble bowls to down-home rustic in handmade wood boxes. These flower arrangements also work well from Christmas through the New Year's holiday.
Many of our customers have asked us if we are still offering custom holiday flower designs, and the answer is "yes." We understand that you may want to customize or personalize your floral display for the holidays. We are here to help. Just call us and you can meet with one or more of our floral design team to create custom Christmas centerpieces or custom New Year's bouquets.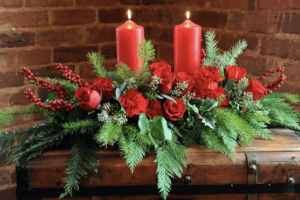 We are open at both our Cedartown flower shop and Rome, Georgia flower shop to fill your holiday orders and offer you local contactless delivery to make sure you and any of your recipients receive all of their holiday floral bouquet in tim to enjoy them throughout the holiday season!
We wish you a merry Christmas and a happy and healthy New Year!