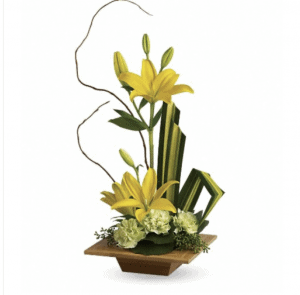 Labor Day weekend is here from September 5-7! It's a time to recognize the hard work ethic that defines our country by taking a few days off and spending time enjoying family and friends.
Whether you can get together in-person to celebrate or you want to let others know you are thinking of them, our Rome, Georgia or Cedartown, Georgia flower shops can help make it a special weekend.
Here are some ideas to make it a festive Labor Day weekend:
Send a gourmet food, junk food, or fresh fruit basket that overflows with delicious delights for your gathering or someone close to you. We offer a wide range of options that can be delivered through contactless methods or offered through curbside pickup.
Make the most of summer by ordering a summer floral display to brighten your home and outdoor entertaining area. We have so many stunning designs to choose from or you can order a custom flower arrangement or custom bouquet.
Add some long-lasting green plants, blooming plants, or succulents to your home to enjoy through Labor Day and into the fall and winter seasons.
Check out our bestseller flowers to see what everyone else is buying and enjoying for this Labor Day and into the new season.
Although this Labor Day may be different than any one that has come before it, you can still safely enjoy it in small groups.
Now more than ever, it's a good time to appreciate those around you and what you have while taking a break from work. Enjoy those barbecues and outdoor time!