Bussey's Florist 
Shopping with Bussey's Florist will ensure that you are selecting beautiful Saint Patrick's Day Flowers to celebrate this enjoyable holiday.  Saint Patrick's Day on March 17th is the last major holiday we celebrate before the long-awaited Spring season commences. In addition, it will also be the first in two years where people will be gathering in larger crowds to celebrate Saint Patrick's Day.    Our staff is made up of a team of extremely talented and passionate floral designers. They create stunning, thoughtful, fresh and upscale flower arrangements and can have them available for local same day flower delivery service.
Did you know that the original theme color for Saint Patrick's Day was blue and not green? If you want to be original, try purchasing some of our blue flower arrangements and tell your guests they are for this special holiday. Some of the favorite flowers and plants to purchase for Saint Patrick's Day are: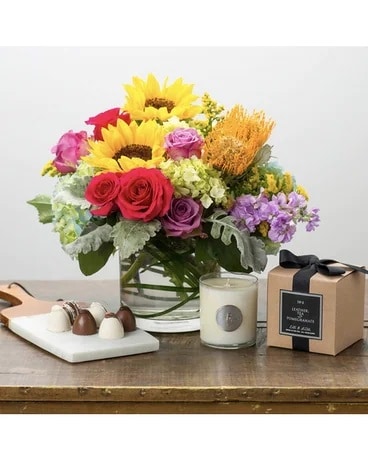 Shamrocks
These are the traditional plants symbolizing Spring's rebirth and were once considered a sacred plant in Ireland.
Bells of Ireland
This plant has tall green spires with bell shaped blooms. Encased in the bells are small delicate white flowers. Most of the time they are used as accents in flower arrangements. However, than can act as an arrangement all by themselves.
Daffodils
The scent of the Daffodil can make any home smell fresh and Spring like. These are a favorite Irish flower but also a favorite in the US. Some of the most adored varieties are the Acropolis, Obdam, Calgary, Thalia, Delnashaugh, Replete, Winston Churchill and Bridal Crown.
Yellow and white roses
Roses are always a favorite. Mixing these with green accents makes the arrangement a very Saint Patrick's Day themed gift.
Cymbidium orchid
The Cymbidium Orchid is lime-green and has a delicate appearance. Their five-pointed blooms have multiple colors. The green is great for Saint Patrick's Day. And the symbolism of beauty and love helps with the celebration as well. Some people like to pair these Orchids with Hydrangea.
Green Carnations
One great way to help someone celebrate Saint Patrick's Day is to send a Bouquet of Green Carnations.  These have been a favorite gift for this holiday. You can also send a Green Carnation Corsage to someone. They can then wear it all day and avoid the dreaded pinch that accompanies not wearing green on March 17th.
White, yellow or green-dyed daisies
A favorite Springtime flower is the Daisy. These are perfect when green-dyed. They symbolize innocence.
Vibrant Garden Gift Collection
This popular bouquet is made even better when paired with a candle and delicious gourmet chocolates. A wonderful gift that will make every occasion special! Bussey's arrangements are custom gifts designed by hand. Mother Nature changes our farm-fresh inventory every morning, to assure your gift is fresh and gorgeous our designers may need to make substitutions but will capture the color & style of your selection to deliver a "WOW" for your recipient.
Deluxe – Our designers will add more flowers to create a fuller bouquet.
Premium – Our designers will add even more flowers to create a more impressive and larger bouquet.
Bussey's Florist Saint Patrick's Day Flowers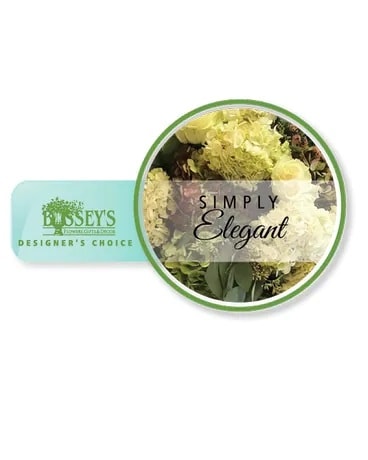 Bussey's Florist & Gifts has been serving customers in Rome, Georgia for many years. We operate flower shops in Rome and Cedartown. Our firm was voted Best Florist in Rome Georgia on numerous occasions. We provide same day and express flower delivery in Floyd and Polk Counties. Busey's Florist is family owned and operated. Our delivery staff provides same day flower delivery service to the Cornerstone Church in Rome, GA. The church is located at 324 Mathis Dr NW, Rome, GA 30165.
The main phone number for the church is (706) 234-1040. Our Rome floral design center is located at 500 East 2nd Avenue, Suite 6 Rome, GA 30161. The driving distance from our flower shop to the church is 5.6 miles. It takes our drivers about 12 minutes to make the drive to the church. Given that we are so close, our team makes multiple delivery runs to Cornerstone Church each day.
The award winning floral design staff at Bussey's Florist creates all kinds of seasonal floral designs that we deliver to the church. We offer beautiful flowers for the alter. Tall pedestal flowers are also available. Bussey's also creates stunning holiday table centerpieces. In addition to all the gorgeous seasonal bouquets, we also deliver sympathy flowers to the church as well. Our sympathy flower collection is one of the best in Rome, Georgia.
Our company was founded in 1976. We operate flower shops in Rome and Cedartown, Georgia. Our delivery staff provides local same day and express flower delivery service to our customers in Floyd and Polk counties. Bussey's Florist is the premier floral design center in Rome. We were voted Best Local Florist, by readers of the Rome News Tribune and the Journal-Standard.
Florist Choice – Simply Elegant
Let our award – winning floral design team create a Simply Elegant fresh flower arrangement for your special someone. Our designers will hand-craft a bouquet from the freshest blossoms available in a sophisticated color palette of white and green. Trust our Award Winning Designers. They are some of the best in the state of Georgia. They will create a stunning floral design for you. We guarantee you and the recipient are going to love it!
Bussey's Florist & Gifts
250 Broad Street Rome
Rome, GA 30161