Bussey's Florist Roses for Valentine's Day
We invite you to Shop with us at Bussey's Florist. You will find the very best selection of fresh and colorful flowers. For instance, our skilled and diligent Floral Designers have created stunning bouquets and flower arrangements using fresh Roses.  Therefore, your special person will be thoroughly impressed with any of the Bussey's Florist flower bouquets you select.  While Red Roses are very common for Valentine's Day, there are numerous varieties and colors.
Red 
Munstead Wood – These have a deep crimson color. In fact, it is sometimes has a purple hue. The blooms are velvety and the fragrance strong and sweet.
Burgundy Ice – This is a hybrid flower. They were created to flower all season. Their blooms are velvety with the color of burgundy.
Hot Chocolate – Similarly, this is another hybrid flower variety. When they first bloom, they are an orange color. As the bloom matures, they turn to a rusty red brown.
Yellow, Orange and Apricot 
Lady of Shallot – This is a climbing variety. The blooms are orange, and the fragrance is mild but lovely.
Lichfield Angel– The flower on this shrub Rose is white and has apricot accents.
Duchess of Cornwall – Tea Rose that is a hybrid. Consequently, these have a very spicy perfume fragrance.
Wollerton Old Hall – Another strong perfume fragrance Rose. This variety has blooms that are cream, apricot and peach in color.
Pink 
Queen of Sweden – These flowers are very pretty with their soft pink color. Similarly, they also have a lighter scent than other varieties.
Yves Piaget – Deep pink color and a strong fragrance. This Rose is a favorite of many people.
Princess Alexandra of Kent – This Rose has a deep cup and a fruity fragrance.
Boscobel – This is another of the shrub Rose variety. The color ranges from some salmon to a deep pink.
Lilac, Silver and White 
Harry Edland – These Roses have what is called a dusky lilac appearance. Their fragrance is described as classic Rose.
Koko Loko – Firstly, As the name indicates, these Roses are individually shaded. They start out as tan and turn to soft lilac.
Tranquility – These are a lightly fragranced shrub, Rose. Their color starts out greenish yellow that matures into a pure white.
Winchester Cathedral – A flower with a very sweet scent this variety produces white blooms. Further, they occasionally have a slightly pink center.
2 Dozen Gorgeous Ecuadorian Roses
Voted Best Local Florist
The floral design team at Bussey's Flowers created this stunning rose arrangement. It features 24 beautiful long stem red roses. Our designers then add in the perfect amount of gorgeous seasonal greenery. They take all these blooms and greens and expertly place them into a stylish glass vase. Every order is hand-crafted and hand-delivered to the recipient. Quality products, outstanding service.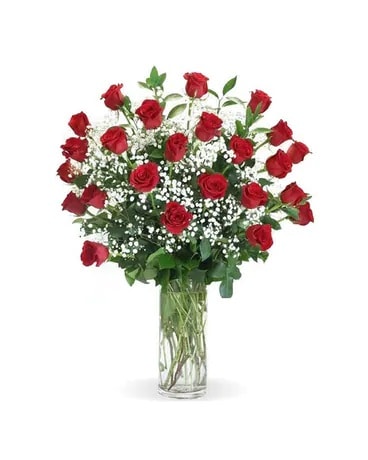 Two Dozen Red Roses
Ecuadorian Red and Pink Roses
Local Same Day & Express Flower Delivery
The design team at Bussey's Florist created this gorgeous rose arrangement using beautiful, farm fresh red and pink Ecuadorian long stem roses with gorgeous seasonal greenery and a beautiful glass vase to finish out the design. These roses are simply stunning!
Beautiful Red Ecuadorian Roses
Shop at Bussey's Flowers for the best selection of beautiful, farm fresh red roses in Rome and Cedartown. We offer long stem red, red spray and beautiful red garden roses. Based on the sales data, roses tend to be the most popular flower in the United States. We use gorgeous roses in many of the fresh flower designs we create. Our firm carries roses in lots of incredible colors. Next time you are in the area, we invite you to stop in at one of our floral design centers. You can see all the wonderful rose options we offer. In addition to roses, we carry the best selection of other floral varieties anywhere in Rome and Cedartown.
Many of the products we sell come directly from flower farms. We buy from from both domestic and international growers. Consequently, buying flowers direct offers many great advantages. Certainly, the cost of acquisition is much lower when you eliminate the wholesalers and middlemen. We can pass along those great savings to our customers. Most importantly, the time between when the farms cut the roses and when they arrive here at our Rome and Cedartown floral design centers is reduced.
Above all, Roses, like other fresh cut flowers, are perishable products. Freshness matters! When our award winning design staff creates an arrangement with roses, we know that those roses are the finest and freshest they can be. That freshness translates directly into longer vase life for the customers who receive the gorgeous flower arrangements we create.
Local Same Day & Express Flower Delivery
Bussey's Florist is family owned and operated. We operate two flower shops that serve local customers in Floyd and Polk counties. Our firm offers local same day flower delivery and express flower delivery service to our customers in Armuchee, Cartersville, Cedartown, Coosa, Kingston, Lindale, Rockmaret and Rome. If you would like to send roses to someone outside of our local delivery zone, we can handle that for you. Our firm provides nationwide same day flower delivery service through our network of hand selected floral design partners.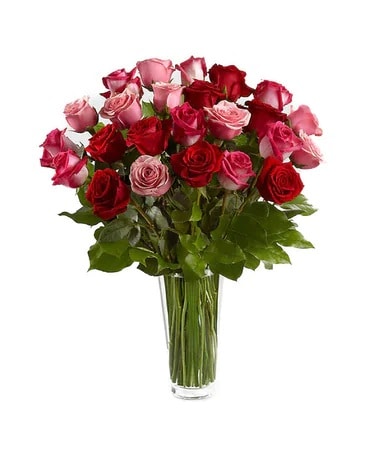 24 Red & Pink Roses
Bussey's Florist & Gifts
250 Broad Street Rome
Rome, GA 30161