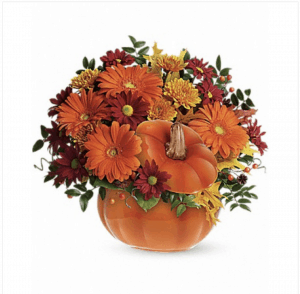 We are so excited that fall has finally arrived. The official first day of Fall was September 22nd, but our floral design team at both our Cedartown flower shop and Rome, Georgia flower shop have been preparing new floral design ideas for weeks.
We can't wait for you to experience them for yourselves by stopping by our florist locations to shop or visiting our website where we have added our fall collection.
You will not only find new bouquets and flower arrangements, but there are also fall plants and seasonal gifts for upcoming holidays like Halloween and Thanksgiving we've prepared for you!
Our fall collection reflects many of the current fall floral trends we've seen as well as offers our own unique take on one our favorite seasons.
Tropical Flair
We all love the traditional fall motifs of pumpkins, branches, and leaves. But, we are loving the appearance of a tropical flair to fall floral design, combining tropical accents with bold fall colors. A good example is our Fields of Autumn that feels both like fall and the tropics.
Traditional Options Abound
From rustic containers made from wood or burlap to pumpkin keepsake holders and fall foliage, we still offer plenty of the traditional fall floral designs so beloved by you, our customers. This includes a wide range of sunflower-themed bouquets and arrangements.
Fall Centerpieces For All
While Thanksgiving is still in the near future, you can still add a fall centerpiece to your dining table, family room coffee table, or foyer to welcome the season. These generous-sized flower arrangements come in many styles and colors.
Some even include tapered candles or pillar candles under a hurricane glass. Plus, we have cornucopias for when you want to set your table with gratitude in mind.
Orders, Deliveries, and Gifts
You can order in our flower shops as well as pick up in-store or at the curb. Other order options include phone orders or our online order form. We continue to offer contactless deliveries to ensure your safety.
Please check back as our fall collection will expand as the holidays near, including many more gift options so you can show your love and good thoughts to everyone in your life.