Bussey's Florist Early Ordering for Valentine's Day
The supply chain problem is far reaching. Not surprising, it has also impacted the Flower industry. Bussey's Florist provides best in the industry service and products to customers.  We work hard to stay ahead of supply issues. Bussey's Florist makes Early Ordering for Valentine's Day very convenient and easy. As we are getting closer to Valentine's Day, please place orders early.
Early Valentine's Flower Ordering
Due to the pandemic, there were fewer than normal plantings at flower farms. What is more, farm owners were forced to shut down because of the need to quarantine. Consequently, they were forced to lay off workers. In some cases, they had to shut down their farms completely.  An estimated 247,717 floral worker jobs were lost between 2019 and 2020.
South America is one of the top countries for flower production. The growing conditions have historically been very good on that continent. However, recent weather pattern changes have caused colder nights and more rain than is required. Therefore, the health of flower plants has been negatively affected. Similarly, U.S. Flower Farms have suffered as well. For example, California is a top flower producer. Drought, wildfire and the unpredicted flooding has caused much damage to flower crops.
Interestingly, Weddings are going through a boom period. According to reports there were 1.3 million weddings in 2020. Then in 2021 that grew to 1.93 million. It is predicted that there could be 2.47 million in 2022. Of course, this will most likely normalize once the back log of delayed weddings is addressed. For this reason, it is easy to see what a strain this has placed on flower shoppes.
 Adjustments to Flower Shortage
Above all, Bussey's Florist has a strong desire to delight customers with service and beautiful flowers. Thus, we have made adjustments to our practices and communications to our customers. Below are some areas we have focused on to make this supply chain issue as easy to embrace as we can.
In our communications to customers, we have told customers about the current flower shortage we are dealing with. As a result, there are some cases where clients need to be more flexible in their flower arrangement selection.
Importantly, earlier ordering is key to help us have the best chance of meeting our customer's specific product needs.
Bussey's Florist has extremely talented floral designers.  Therefore, we are using those talents to create wonderful arrangements. Our mission is to create the most elegant and beautiful bouquets and arrangements working with what we have. For instance, some people do not know that talented designers can make a Rose look like a Peony or a Tulip to look like a Gardenia.
New Sensations
This fantastic arrangement is a beautiful.  For instance, it contains green and pink hydrangeas, green cymbidium orchids, roses and tulips.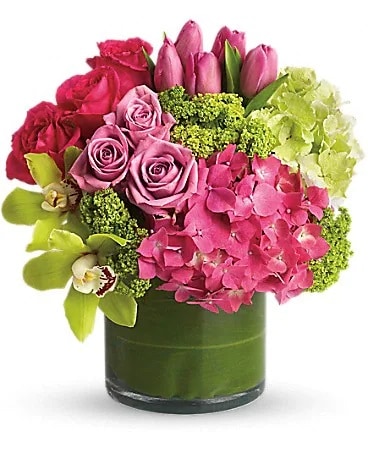 New Sensations
Love Song
We created a Premium arrangement featuring a melody of garden blossoms. This includes roses, hydrangea and ginger in a clear glass vase.
CARTERSVILLE MEDICAL CENTER
LOCAL SAME DAY & EXPRESS DELIVERY
Bussey's Florist is family owned and operated. Our firm serves greater Rome, Georgia. We offer beautiful fresh cut flower arrangements. In addition, we also offer green and flowering plants and gifts. For example, many of the flowers we sell come direct from international and domestic flower farms.
Buying direct lowers the cost to purchase. As a result, this reduces the time between when the flowers are cut and delivered. To clarify, the cost savings are passed along to our customers. Fresher flowers equate to longer vase life, which means the recipient gets to enjoy the fresh flower arrangement a few days longer.
Cartersville Medical is in Cartersville, Georgia. In addition, it is one of the largest hospitals in the area. The facility offers 119 patient rooms. They provide many services. The medical facility includes a Women's Center. The mammography and radiology departments are some of the tops rated in the area.
Local Same Day and Express Delivery
The Bussey's Flowers delivery team makes daily delivery runs to the facilities of Cartersville Medical Center. These deliveries are accomplished between the hours of 9:00 am to 5:00 pm. The hospital is located approximately 24 miles from our closest flower shop. Normally, it takes our delivery team 29 minutes to make a delivery to Cartersville Medical Center.
Bussey's Florist provides local same day and express flower delivery service. The express delivery option is popular with many customers in the Rome area. In addition, we guarantee all express deliveries for on-time arrival.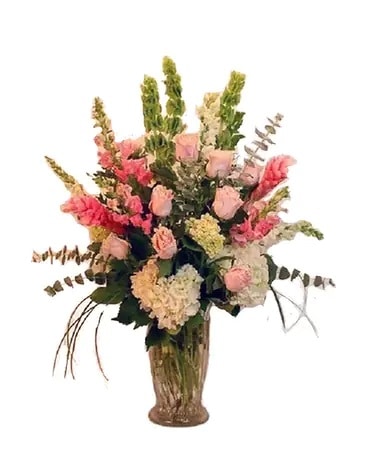 Love Song
Bussey's Florist & Gifts
250 Broad Street Rome
Rome, GA 30161