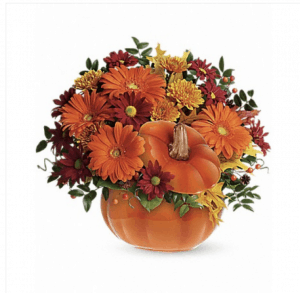 The beauty of fall is that there is such a rich collection of colors that define the season. That gives us many ways to decorate that fit our home and personal style.
Our Rome, Georgia flower shop and Cedartown flower shop both offer a fall collection of flowers that illustrate the range of colors available across our autumn floral products.
Orange and Peach
We equate the color orange with fall primarily because of pumpkins. This popular symbol of fall offers a fun way to decorate your home.
Add pumpkins to your front porch along with other gourds. Or, you can use our ceramic pumpkin containers to display flowers throughout your home, including as a centerpiece.
However, peach has grown in popularity as a fall color for more subdued floral designs, including elegant presentations that combine peach and cream flowers.
Yellow
Yellow is another popular hue for autumn due in large part to the use of sunflowers in rustic fall arrangements. Along with pumpkins, the sunflower is a cheerful way to celebrate the season, adding warmth as the weather changes to cooler temperatures. Of course, we also have other yellow flowers like roses to add sunshine to your fall decor.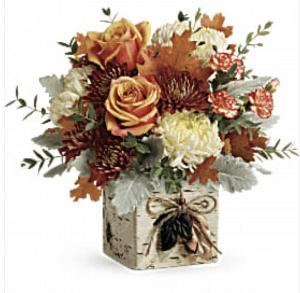 Metallic
This year, we've noticed an increase in the use of metallic colors, including gold, bronze, and silver. This includes using these colors in the flowers, fall accents, and vases. The metallic tones add a bold and rich look to your fall decor, which also blends with both traditional and modern decor styles.
Purple and Burgundy
Considered regal colors, purple and burgundy add a bold color look to any room. While burgundy is often seen in fall floral displays, including stunning fall leaves, purple may not be a color necessarily associated with the season.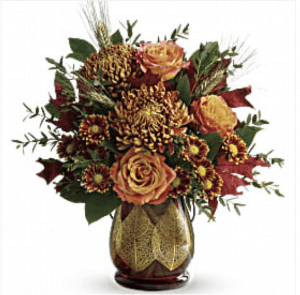 However, it's a color choice that is becoming increasingly popular as an alternative look. Plus, many Halloween displays now use purple and green along with the traditional orange and black look.
Now that more Halloween decorations are incorporating purple, it makes sense to add a purple-hued fall floral display as well.
Order Your Fall Decor
You can order in either of our Georgia flower shops located in Rome and Cedartown. Or, you can call us or use our website. Let us know if you plan to pick up your fall flowers or would like contactless delivery.