Bussey's Florist
Get-Well Soon Flowers are a popular choice for get-well gifts, and they come in a variety of colors. They are available with or without a vase, and they can be delivered same day. If you choose to send these to someone, we will include a card with your message of best wishes.
When you are feeling under the weather, it is nice to know that someone cares. No doubt, it can be hard to drag yourself out of bed when you are sick. However, there are other people in your life who want you to get well soon! Get-Well Flowers are a great way to show someone they have your thoughts and prayers during their time of recovery. If you need help finding the perfect get-well bouquet for someone in need this season, here are some ways we can help:
Flowers for Cancer Patients
When you are looking to brighten someone's day, flowers are an excellent way to do that. They can be given at home, in the hospital or at the funeral home. Flowers have a symbolic meaning that will mean something special to your loved one no matter what their situation may be.
Some examples of flowers that are appropriate for cancer patients include:
• Sunflowers-These bright yellow blooms represent optimism and strength as they face their diagnosis head-on with confidence and determination.
• Daffodils-These cheerful yellow flowers symbolize hope for a happy future. Lilies- Lilies are often given at funerals and represent purity and innocence.
• Poppy Flower Bouquet – The poppy flower bouquet is a great way to show someone you care. Poppies are beautiful flowers that come in many different colors and varieties, but they all have one thing in common: their orange color is symbolic of remembrance and healing, which makes them perfect for sending get-well flowers.
Sympathy Get Well Flowers
Sympathy flowers are a thoughtful way to show your support during this difficult time. Sympathy flowers can be delivered to the funeral home or home of the bereaved, or they can be delivered directly to the hospital or hospice where a loved one is receiving care. These flowers may include:
• Flowers in colors associated with mourning, such as white and black.
• A single rose for each year of life lost.
• A basket of fruit (apples symbolize immortality) accompanied by wine and breads baked in shapes that evoke memories.
• Flowers that are fragrant, such as lilies, roses, and carnations; Flowers in pastel colors to symbolize hope for a better tomorrow.
Flowers can be delivered to a funeral home, or even a home if someone has passed away. You can also send flowers when someone is sick or recovering from surgery in the hospital, especially if they have no one else who can visit them regularly. Also, Get-Well Flowers can be delivered to a nursing home, a prison or delivered to a retirement home. The most important thing to remember when you're delivering flowers is that the recipient should know they're coming. This can be done by calling ahead, sending a note with the flowers or even emailing them if possible. You do not want them to be surprised and wonder who sent them!
Love and Affection
Flowers are a great way to show someone you care. They are also a wonderful way to express your feelings, and they can be used to say "I love you" or tell someone that they are special. Flowers make the perfect get-well gift because they are so beautiful and fragrant, but they also have healing properties that will help the patient recover faster. Flowers are also a wonderful way to cheer someone up or say, "I'm sorry." You can send flowers for any occasion, including birthdays and anniversaries, but they're also great for showing your appreciation when someone has helped you out in some way–whether it's been more than five minutes since their last text message or not at all!
Conclusion
Get-Well Flowers of all types are the perfect way to show someone you care about them. They can cheer up a sick friend or family member, and they are also a thoughtful gift for anyone who has recently been discharged from the hospital. The best part about these flowers is that there are so many different types available–you can choose from bouquets with specific colors and shapes, or even individual stems that come in their own vases!
Bussey's Florist Same-Day Hospital Flower Delivery for Get-Well Flowers
We offer the best selection of beautiful Get-Well themed flowers, plants and gifts in town. Our firm provides same day and express flower delivery service to Cartersville Medical Center, Floyd Medical Center, Polk Medical Center and to Redmond Regional Medical Center. All of these hospitals and medical facilities are located just a few miles from our floral design centers. We delivery to these medical facilities 6 days a week.
Bussey's Florist is a local, family owned and operated floral design firm. We offer the best selection of beautiful, farm fresh flowers in town. We employ an award-winning floral design team. They create luxurious, upscale flower arrangements. Our firm also offers the best selection of green, flowering, and tropical plants in Floyd and Polk counties. We operate 2 flower shops in Cedartown and Rome, Georgia. Our firm provides same day and express flower delivery service 6 days a week to customers in Floyd and Polk counties. If you need to send flower outside of our local delivery area, we can accommodate that request. We provide nationwide same day flower delivery service to cover those situations.
We offer the best selection of beautiful farm fresh flowers in town. Our firm is one of the largest floral design firms operating in Floyd and Polk counties. Our size and capabilities provide great advantages for us and for our customers. One example being this. We purchase many of the flowers we sell direct from flower farms. The award-winning floral design staff at Bussey's is another great advantage our customers enjoy. These floral artisans are truly some of the very best in the industry. We would be remis if we didn't also mention the incredible delivery staff that we have as well. They are extremely professional, and laser focused on ensuring that we maintain our on-time delivery guarantee.
Buying fresh flowers direct from flower farms is a huge advantage. The time between when the flowers are cut at the farm and when they arrive here at our flower shop for use in arrangements is greatly reduced. That means the fresh cut flowers we use in our arrangements are the finest and freshest possible. Fresher flowers translate directly into longer vase life for the people who receive bouquets from us.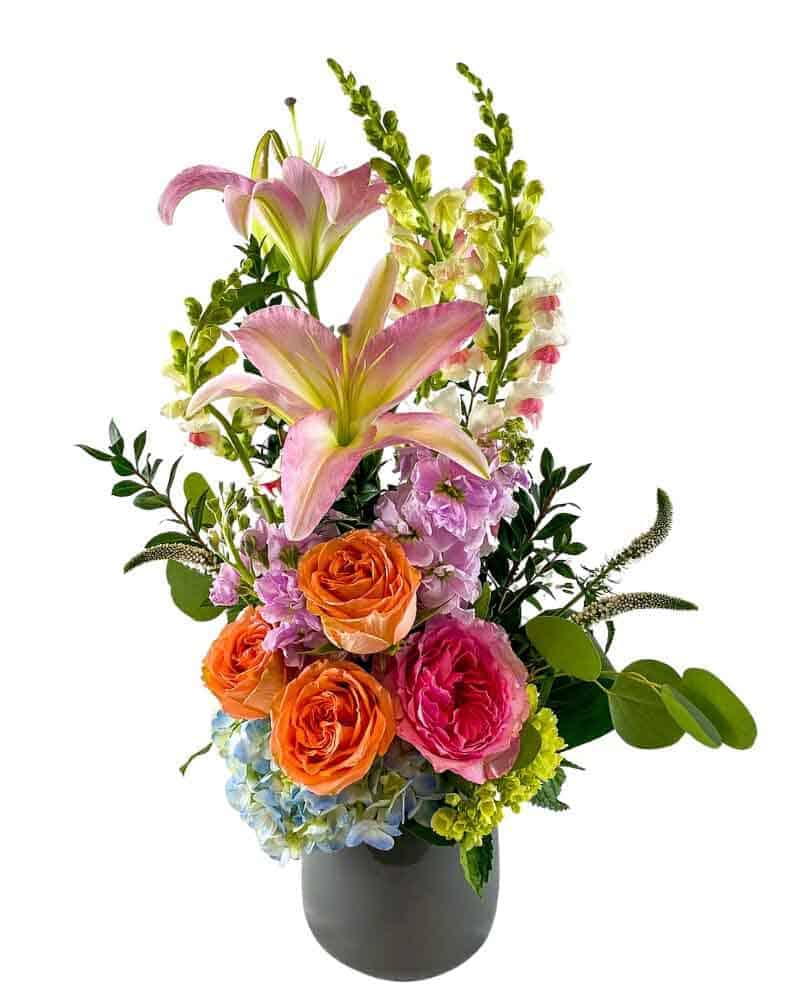 Pastel Statement
A tall and airy garden design featuring favorite pastel colors of delicate pinks, lavenders and whites including roses, hydrangea and fragrant stock with rich foliage in a chic glass vase. Bussey's arrangements are custom gifts designed by hand. Mother Nature changes our farm-fresh inventory every morning. To assure your gift is fresh and gorgeous, our designers may need to make substitutions but will capture the color & style of your selection to deliver a "WOW" for your recipient.
Locations
Bussey's Florist & Gifts Rome
500 East 2nd Avenue Suite 7
Rome, GA 30161
Bussey's Florist & Gifts Cedartown
302 Main Street Cedartown
Cedartown, GA 30125