The holiday season is here! Our Cedartown, Georgia flower shop and Rome, Georgia flower shops are brimming over with holiday flowers, plants, and gifts.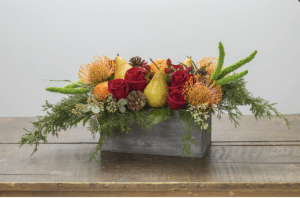 Come visit us to see how we have transformed our showrooms into holiday wonderlands, including Christmas centerpieces, Christmas wreaths, Christmas garlands, poinsettia plants and Christmas baskets, stocking stuffers, and more!
We have heartfelt and thoughtful gift options for family, friends, colleagues, service personnel, teachers, neighbors, and other special people in your life. Our Christmas collection, available in our showrooms and online through our website, have something for everyone.
Gift options come in all sizes, styles, and price points to help you get more holiday shopping done in one place!
Not sure what to get? Here are some ideas to help you!
Poinsettia plants are a great and portable gift for teachers and service personnel. We have red and white poinsettia plants as well as garden basket arrangements that feature a poinsettia along with a selection of indoor green plants.
Christmas centerpieces are thoughtful for friends, family members, and clients as they offer a beautiful addition to their holiday decor, helping them do and spend less to make their homes festive. We have so many beautiful centerpieces in styles that range from elegant with lantern candle holders to rustic, casual centerpieces displayed in homemade wood boxes.
Fruit and gift baskets are perfect gifts for colleagues, neighbors, and clients. These generous gifts overflow with tasty treats and gourmet goodies that can feed many. This holiday gift idea also works well for family members that you will not be able to see during the holiday season.
Don't forget to gift yourself with holiday decor! Our fresh wreaths and garlands add to the festive ambiance you want to create for your family during the season. We have many design styles and colors to choose from so you can match your overall Christmas decor.
We would love to welcome you to our flower shops here in Cedartown and Rome, Georgia.
Numerous precautions have been taken to maintain the highest standards of health and safety for you, our customers, as well as our staff.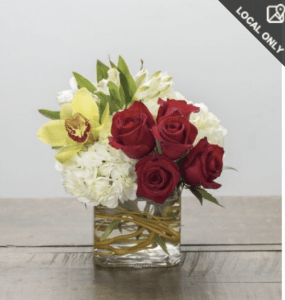 If you feel more comfortable shopping from home, be sure to check out all the holiday gift and decor options on our website. You can order there or call us! We continue to offer contactless delivery throughout the holiday season to all areas in and around Cedartown and Rome, Georgia.