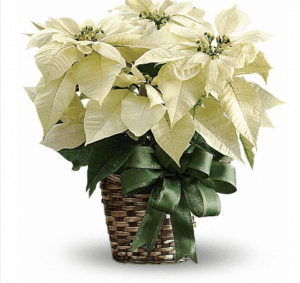 Poinsettia Day is this Saturday, December 12th. Each year, this holiday occasion is celebrated on December 12th.
As a long-treasured symbol of Christmas, the poinsettia plant offers a bright and cheerful way to decorate for the holidays or give a special gift to someone in your life.
In 2002, Congress made National Poinsettia Day official, recognizing the work that Paul Ecke, the founder of America's poinsettia industry, had done.
Before that, though, the poinsettia plant has had a long history of being used and shared, all the way back to the 1300s when the Aztecs used the flowers for making red dye.
Now, Poinsettia Day is more about recognizing this beautiful flowering plant and giving it others during the holiday season. Besides gifting the poinsettia plant and using it as part of your own holiday decor, there are other fun ways to make the most of Poinsettia Day.
Make Poinsettia Art
This is a particularly fun activity to do if you have kids. But, even as adults, you may enjoy this type of activity, which also provides a way to add more Christmas decor to your home.
Use available materials like construction paper or other items to make poinsettia ornaments for the Christmas tree or art to hang on the walls made from tissue paper, markers, and more. If you have certain hobbies,, you could even make a stained glass poinsettia or other similar item.
Visit Local Gardens
A botanical garden often puts on a holiday display during this time that features poinsettias. It's a great time to get outdoors and enjoy the fresh air and beautiful creations of nature.
Create a Poinsettia Punch
Offer up a refreshing drink on Poinsettia Day known as Poinsettia Punch,  which contains 14 ounces of cranberry juice, 20 ounces of ginger ale, and a splash of lemon juice.
More to Know about Poinsettia Plants
You may not realize it but there are actually 100 varieties of poinsettias in various colors beside red. These include colors like Gold Rush. They are perennial plants that can still bloom after the holiday season but require a lot of care and attention to do so.
Also, these plants are harmless and not poisonous. However, if your dog eats them, they may still get an upset stomach, so it's best to display poinsettia plants somewhere safe where your pets can't get at them.
Place your order for your poinsettia plants today to have them in time for Poinsettia Day!