Bussey's Florist
National Floral Design Day on February 28th is a sensational day to recognize the art of Floral Design. People who have a real appreciation for art know that designing a beautiful arrangement of fresh flowers takes skill, patience and artistry. For the most part, it is only these Floral Design artists that are able to create masterpieces that customers want to purchase.
Bussey's Florist employs people that have these unique talents. They know that flowers demonstrate a sense of caring which is the foundation for a great product. Floral Design Day actually began in 1995 when the Governor of Massachusetts proclaimed this National Floral Design Day.
Possessing a talent for artistry, the Floral Designers in the several billion-dollar floral industry space, are simply creative people. To become a Floral Designer, a person typically needs to be a high school graduate. Then there are numerous classes these individuals may take to further their knowledge and skill.  There is even a designation offered by The American Institute of Floral Designers for Certified Floral Designer.
Bussey's Florist Flowers for National Floral Design Day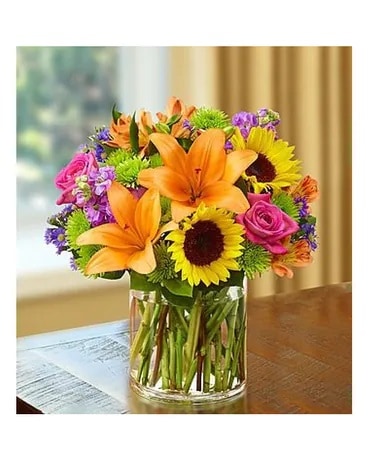 The Floral Design team at Bussey's Florist is one of the most talented you will find in the Floral Industry. The fundamental job description for these folks, and others in the industry, would require that the Floral Designer possess:
Sufficient knowledge of flowers and plants to educate customers on proper care. Such detail as proper watering, sunlight and room temperatures are important for customers to be educated on. In addition, being capable to set customer expectations for the expected life cycle of their flower or plant purchase is critical.
Some knowledge of the wholesale acquisition of product. Bussey's Florist buys products from different farms. The Floral Designers have to understand that process.
Above all, the Floral Designer must possess a strong passion for caring and pride in artistry when creating flower arrangements for customers.
Bussey's Florist is known for creating gorgeous fresh flower arrangements. We have been voted best florist in Rome & Cedartown on numerous occasions. This fresh flower arrangement includes gorgeous yellow sunflowers, orange lilies, pink roses, green poms and orange alstroemeria. Our designers then nestle all these gorgeous flowers into a beautiful cylindrical, clear glass vase. Bussey's arrangements are custom gifts designed by hand.
Mother Nature changes our farm-fresh inventory every morning, to assure your gift is fresh and gorgeous our designers may need to make substitutions but will capture the color & style of your selection to deliver a "WOW" for your recipient.
FIRST BAPTIST CHURCH
Bussey's Florist & Gifts is the premier florist in Cedartown, Georgia. Our firm was voted Best Local Florist in Floyd and Polk County Georgia. We are family owned and operated. We employ an expert team of delivery drivers. Our delivery staff provides same day and express flower delivery service to the First Baptist Church in Cedartown. The church is located at 101 N College St, Cedartown, GA 30125. The main phone number for the church is (770) 748-3120.
Our Cedartown floral design center is located at 302 Main Street, Cedartown, GA 30125. The driving distance from our flower shop to the church is literally less than 1 mile. It takes our drivers about 2 – 3 minutes to make the drive to the church. Given that we are so close, our team makes multiple delivery runs to First Baptist Church each day.
The award-winning floral design staff at Bussey's Florist creates all kinds of seasonal floral designs that we deliver to the church. We offer beautiful flowers for the alter. Tall pedestal flowers are also available. Bussey's also creates stunning holiday table centerpieces. In addition to all the gorgeous seasonal bouquets, we also deliver sympathy flowers to the church as well. Our sympathy flower collection is one of the best in Cedartown.
Our company was founded in 1976. We operate flower shops in Rome and Cedartown, Georgia. Our delivery staff provides local same day and express flower delivery service to our customers in Floyd and Polk counties. Bussey's Florist is the premier floral design center in Rome. We were voted Best Local Florist, by readers of the Rome News Tribune and the Journal-Standard.
Farm Fresh Flowers to Celebrate National Floral Design Day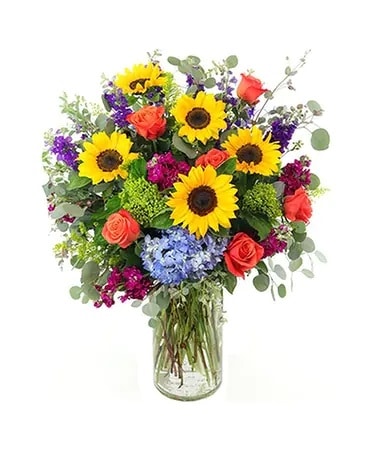 Many of the flowers we sell are purchased directly from floral farms. We buy for both domestic and international growers. Buying direct offers great advantages for us and for our customers. There are often significant cost savings when buying from the flower farms. We routinely pass along much of those savings to our customers. Buying direct also reduces the time between when the flowers are cut at the farms and when they arrive here in Rome and Cedartown. By reducing that time frame, we can ensure the flowers arrive fresher. Creating flower arrangements with fresher flowers, means our customers get to enjoy them longer.
Rome Sensation
Bussey's Florist is an award-winning floral design firm. We operate flower shops in Rome and Cedartown, Georgia. This bouquet is one of our featured designs from our Rome flower shop. We call it Rome Sensation. This fresh flower arrangement features sunflowers, cayenne roses, blue full bloom hydrangea, stock, larkspur and premium greens and textures. Definitely a very popular bouquet.
Bussey's Florist & Gifts
250 Broad Street Rome
Rome, GA 30161