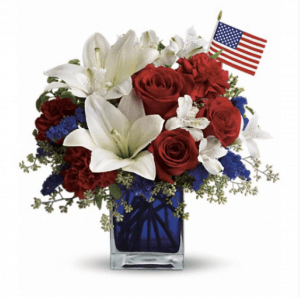 This year, Memorial Day is Monday, May 31st. With things beginning to open up, there is a greater likelihood that there will be local parades and festivities here in Cedartown and Rome, Georgia.
It will feel good to get back to public celebrations that honor those in the military that have helped preserve our freedoms as a country and as citizens. This is at time that we pay tribute and respect to all those we have lost in battle or even in old age who served us well as brave military personnel.
At our Cedartown and Rome, Georgia flower shops, we can help you commemorate all those lost whether they are family members, colleagues, or hometown heroes. Our Memorial Day collection offers patriotic flowers for gifts and events, including parades, parties, and graveside services.
Many of these flower arrangements come in red, white, and blue along with greenery and flag accents or patriotic ribbon. There are many styles and designs to choose from, which allows you to further personalize your Memorial Day flowers and find what fits your budget.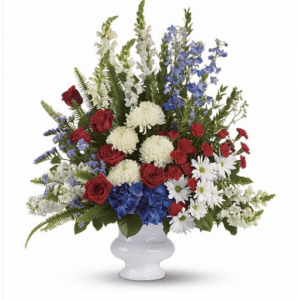 You can also work with our floral designers and event staff for a local Memorial Day event or special gift. This includes custom bouquets, flower arrangements, wreaths, and sprays. To order a custom Memorial Day floral design, please contact us to make an appointment with our floral design team.
We want to make sure we get everything just right for your exclusive floral gift or event decor. For all Memorial Day event floral decor, you will also need to schedule a time to meet with our event coordinators and floral designers.
You can shop and order online for Memorial Day or you can do it by phone or visit our Cedartown or Rome flower shop. We are happy to schedule a pickup at our florist locations or offer you contactless delivery for your Memorial Day flowers. We do deliver to residences and businesses should you need a larger floral display to be set up on-site.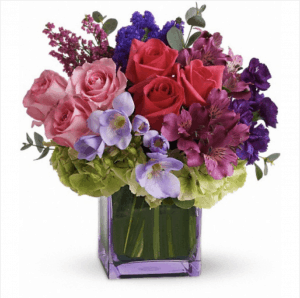 From all of us at Bussey's Florist, we would like to extend our respect and wishes to those who have lost a loved one in battle or anyone that has served in the military. We honor all those who have fallen this Memorial Day and celebrate their service to our country and all of us.