Bussey's Florist
The start of a new school year is a great time to give fresh Back to School Plant Gifts for a teacher, student, parent or the office. If your student has a desk, dorm room or office that could use some life and greenery, we have the best selection of plants for back to school.
SPECIAL DISCOUNT OFFERS – USE ON MAIN WEBSITE
Cactus Plants
If you are looking for a plant that will be easy to care for, cactus plants are a great option. Cacti are flowering plants that grow in dry climates, and they require little water or attention. They can live indoors or out, so they make great gifts for anyone who wants to try their hand at gardening–especially if that person doesn't have much experience with plants!
Cacti come in all shapes, sizes and colors (except blue). Some varieties have spines while others do not; some are tall while others stay short; some have long stems while others bloom from the top of the plant instead of having flowers growing directly off its sides or bottom surface area like most other flowering plants do…you get the idea: there's something here for everyone!
So, if you are shopping for a gift and need something that is easy to care for, consider a cactus plant. It is a great way to add some green to your loved one's life!
Succulents
Succulents are a great option for gifts because they are easy to care for and can be grown in hanging baskets, containers, or just about any spot in your home. Succulents are drought tolerant (so you do not have to water them as often), which makes them perfect for those who are busy or forgetful. They also come in so many different shapes and sizes that there's sure to be one that fits the style of the person receiving it! We have a wonderful selection of succulents and if you are giving succulents as a gift, we make sure to include instructions on how often and how much water the recipient should give it.
Indoor Flowering Plants
Indoor flowering plants are a great choice for back-to-school gifts. These plants have a long lifespan, so they can last for years and years. Indoor flowering plants also require little attention, so they are easy to care for. Not only are indoor flowering plants great for students, but they are also a wonderful gift for teachers. Flowering plants will brighten up any classroom and create a more welcoming environment. Flowering plants also make great gifts for office workers. Indoor flowering plants are a great way to brighten up an office and create a more welcoming environment. Flowering plants can be kept on desks or in common areas, like break rooms and lobbies.
Indoor flowering plants are also great gifts for homeowners.  Flowering plants are especially popular during the fall and winter months when they can add some color to rooms that may otherwise be bleak and boring. If you are looking for a gift that is easy on the eyes and budget, then indoor flowering plants are the perfect solution. Flowering plants are available in a variety of sizes, shapes, colors and styles. There are plenty of options to choose from so you can find something that suits any home or office decor.
Orchids
Orchids are a great gift for teachers, students and parents. They are easy to care for and come in many varieties. Orchid plants are the perfect way to say "I love you" without saying it at all. Orchids have been cultivated for thousands of years, making them one of the oldest flowers still grown today. There are over 20,000 types of orchids available on the market today! Orchids are some of the most beautiful flowers in the world. They come in a variety of colors and sizes, making them perfect for any occasion. Orchids are easy to care for, making them a great gift idea. They're also one of the most popular flowers due to their beauty and longevity. Orchids come in many different varieties, so you can choose the perfect one for your special someone.
Hanging Baskets and Containers
Hanging baskets and containers are easy to care for and will brighten up any room. They are also great for students who live in dorms, as they tend to be more portable than a potted plant. Hanging baskets can be hung on walls or windows, while containers can be placed on desks or shelves. This is a great gift for teachers as well! If you have kids who go back to school this year, try gifting them with something that will make them feel more at home when they are away from home (and let's face it–that's what school is). If you are looking for a gift that will make your child, feel more at home, try gifting them with a hanging basket or container plant. These gifts are especially great for teachers, as they can be placed in classrooms and hallways to liven up the space.
You can also choose to gift teachers with some of the supplies they need in order to maintain their classroom. If you know a teacher who is always running short on pens, markers or crayons for their students, try gifting them with some new supplies for their classroom. You can also try gifting them with something that will make their lives easier. Teachers spend a lot of time in their classrooms, so anything that will help them out would be greatly appreciated. If you know that your friend or family member has a big project coming up soon, try gifting them some mechanical pencils or pens so they can always have one on hand when inspiration strikes.
Conclusion
The best plants for back to school are cacti, succulents and flowering plants. Cacti are easy to care for and can be used in many different ways. Succulents are drought tolerant, so they are perfect if you have a small dorm room with no access to water or if you do not want to worry about keeping the plant alive while away at school.
Flowers are also an attractive addition to any dorm room because they add color that is lacking in most college settings! If you plan on traveling home often during breaks, consider getting flowers that last longer than one week (like roses or sunflowers). If you want to bring a plant into your dorm room, look for one that will fit in with your lifestyle and needs.
Whatever floral product you decide to send as a back-to-school gift, we have a wonderful selection and professional floral designers eager to assist!
Bussey's Florist Offers Back to School Green & Flowering Plant Gifts for Teachers, Students and Parents
Same Day Plant Delivery
We offer the best selection of plants in Floyd and Polk counties. Our firm sells beautiful live green plants. We also carry a great selection of flowering plants, dish gardens, tropical orchids and succulent plants. Bussey's Flowers is a local, family owned and operated floral design firm. We employ an award-winning floral design team. They create luxurious, upscale flower arrangements. Our firm also offers the best selection of green, flowering, and tropical plants in Floyd and Polk counties. We operate 2 flower shops in Cedartown and Rome, Georgia. Our firm provides same day and express flower delivery service 6 days a week to customers in Floyd and Polk counties. If you need to send flower outside of our local delivery area, we can accommodate that request. We provide nationwide same day flower delivery service to cover those situations.
Our firm is one of the largest floral design firms operating in Floyd and Polk counties. Our size and capabilities provide great advantages for us and for our customers. One example being this. We purchase many of the flowers and plants we sell direct from flower farms. The award-winning floral design staff at Bussey's is another great advantage our customers enjoy. These floral artisans are truly some of the very best in the industry. We would be remis if we didn't also mention the incredible delivery staff that we have as well. They are extremely professional, and laser focused on ensuring that we maintain our on-time delivery guarantee.
Buying fresh flowers direct from flower farms is a huge advantage. The time between when the flowers are cut at the farm and when they arrive here at our flower shop for use in arrangements is greatly reduced. That means the fresh cut flowers we use in our arrangements are the finest and freshest possible. Fresher flowers translate directly into longer vase life for the people who receive bouquets from us.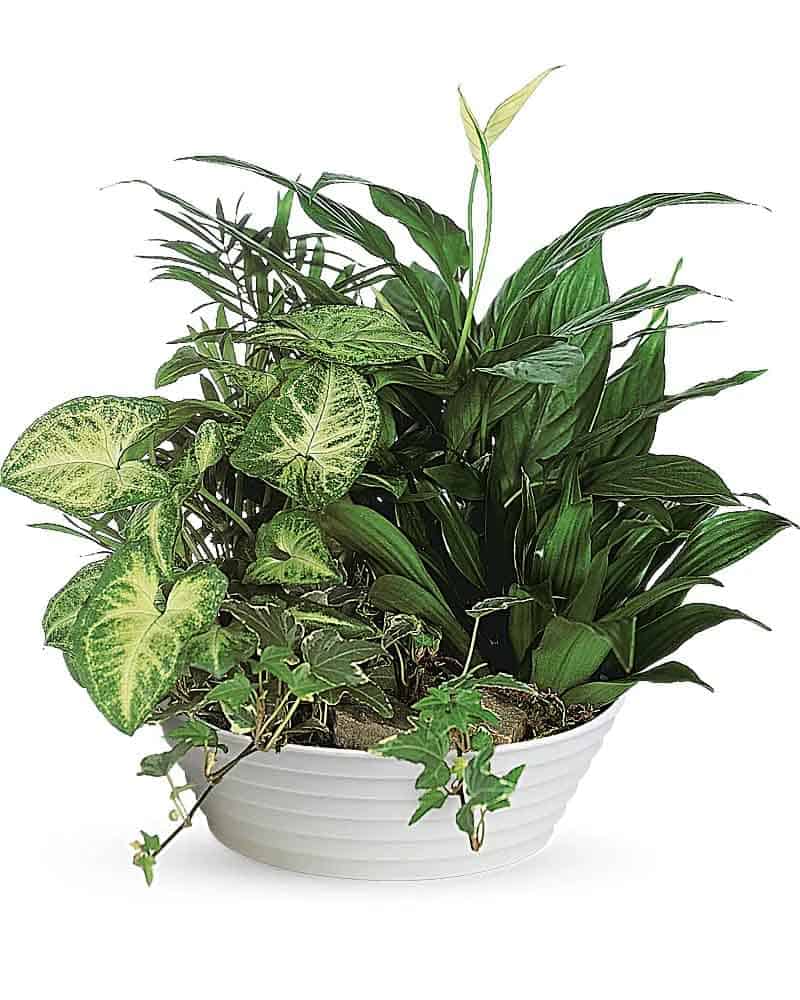 Medium Dish Garden
This low bowl filled with living plants will also carry comfort and compassion for many months to come. Perfect to send to the home or service.
One planter arrives filled with dracaena, ivy, palm, spathiphyllum and Syngonium plants.
Locations
Bussey's Florist & Gifts Rome
500 East 2nd Avenue Suite 7
Rome, GA 30161
Bussey's Florist & Gifts Cedartown
302 Main Street Cedartown
Cedartown, GA 30125