Bussey's Florist
Bussey's Florist & Gifts is a family owned and operated floral design firm. Our company was founded in 1976. We operate two flower shops in Floyd and Polk County Georgia. Our firm was voted Best Local Florist, by readers of the Rome News Tribune and the Journal-Standard. We provide local same day and express flower delivery anywhere in the Cartersville Georgia area.
The roses we sell are absolutely gorgeous. We buy many of the roses we sell direct from flower farms in Ecuador. Most of the farms raise their roses high in the mountains. The growing conditions in that environment are nearly perfect. In the mountains, the rose plants enjoy the perfect blend of sunlight, moisture and soil conditions. The farms we work with schedule several cuttings per year. We prefer to purchase when they are cutting the premium quality roses. These Premium Ecuadorian Roses are special. They are longer stemmed and have large, gorgeous blooms. We use the long stem varieties in many of our traditional designs. They also work great for tall table centerpieces.
Many of the flowers we sell are purchased directly from floral farms. We buy for both domestic and international growers. Buying direct offers great advantages for us and for our customers. There are often significant cost savings when buying from the flower farms. We routinely pass along much of those savings to our customers. Buying direct also reduces the time between when the flowers are cut at the farms and when they arrive at our floral design centers. Reducing that time frame is really a big deal. It ensures that our award-winning floral designers always have access to the finest and freshest flower varieties when making arrangements for our customers. Fresher flowers translate directly into longer vase life for our customers.
Bussey's Florist backs every flower purchase with our 100% customer satisfaction guarantee. If you are not happy with the design we have created for you, please contact one of our floral design centers. We will replace that arrangement with one of equal or greater value. Many of the flowers we purchase many of the flowers we sell direct from the farms. That ensures our clients always have access to the highest quality floral products available. We guarantee that your get-well flowers will be fresh and beautiful when they arrive.
Our delivery staff makes daily delivery runs to Polk Medical Center, Floyd Medical Center and to Redmond Regional Medical Center. We have years of experience delivering to these facilities. We know the best times to accomplish delivery at each facility. If you would like to send, get well flowers, a plant or gift to one of our area medical facilities, we are the best option for same day and express delivery service.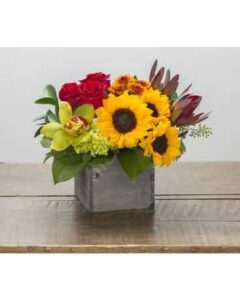 The delivery team at Bussey's arrives each day at around 8:00 am. We make every effort to complete all of our daily deliveries not later than 5:00 pm each day. Included in our daily deliver schedule are delivery runs to all local Cartersville area businesses, homes, schools, hospitals, churches, funeral homes, mortuaries and cemeteries. Customers located in Floyd and Polk County have the option of selecting local same day or express flower delivery service.
Bussey's Florist & Gifts is one of the very few florists in the area that offer local express flower delivery service. Every express delivery order comes with our 100% on-time arrival guarantee. When you place and order and opt for express delivery, we can normally create the arrangement, and delivery it within approximately 4 hours of the time you place your order. Express delivery service is only available in Floyd and Polk counties.
Spice in Cedartown
A perennial favorite – hydrangea, roses, and sunflowers are closely gathered in a beautiful seasonal bouquet. One is simply perfect for a smaller dining table. Two or three clustered together can be the start to an incredible tablescape.
Bussey's Florist Offers Beautiful and Fresh Cornucopia Arrangements to Decorate Your Home
The word Cornucopia is derived from Latin words Cornu meaning horn and Copia meaning Plenty. The Horn of Plenty symbolizes prosperity, wealth and abundance. It was introduced many centuries ago by the Greeks and Romans who believed that the gods and goddesses like Hercules, Fortuna and Demeter possessed Cornucopia. Then the traditional continued with the Christians in Europe to celebrate bountiful and productive crops.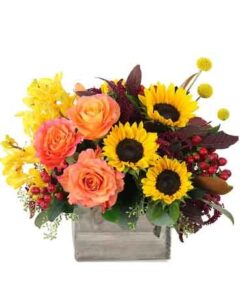 Today you find Cornucopia displayed frequently at Thanksgiving. It remains a symbol of an abundant harvest. Bussey's Florist would be honored to have our Fall Floral Flowers and Plants displayed in your home this Fall and Cornucopia for your Thanksgiving.
Shop at Bussey's Florist & Gifts for the best selection of beautiful, farm fresh Fall and Autumn themed flower arrangements in town. We also offer a wonderful collection of occasion themed gifts. Bussey's operates two floral design centers in Rome, GA and Cedartown, GA. Customers are able to enjoy the finest, freshest, highest quality floral products and same day or express flower delivery.
Our Fall and Autumn floral collections are gorgeous. We have all your favorites. The award-winning floral designers at Bussey's create gorgeous holiday table centerpieces, Fall cornucopia and lots of Autumn themed gifts and decor.
North Georgia Gold
The North Georgia Gold bouquet features Free Spirit roses, locally grown sunflowers, stunning yellow orchids and more are presented in a stylish wooden ceramic container.
250 Broad Street Rome
Rome, GA 30161