Bussey's Florist Open House 25% Off.  See Details Below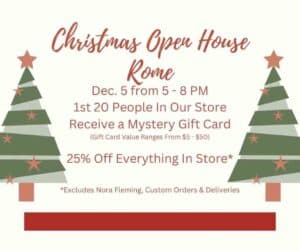 Bussey's Florist and Gift is a family owned and operated floral design firm. We offer the best selection of farm fresh flowers, plants and gifts in Floyd and Polk County. Our firm has been serving customers in Kingston since 1976. The award winning floral design team at Bussey's creates unique, luxurious, upscale floral arrangements. We also offer an extensive line of green plants, orchid plants, blooming plant baskets and beautiful high desert succulent gardens. All of our products are available to same day or express delivery in Kingston and throughout Floyd and Polk counties.
Getting ready to begin planning your wedding? Bussey's has years of experience with wedding and event flower design. We offer Free wedding consultations for all perspective brides. When you come in for your wedding consultation, we will begin by listening to your vision for the wedding flower package of your dreams. Once we understand your vision, our expert wedding planner will help you identify the perfect floral varieties, colors, design and presentation styles that best fit the venue you have selected. We will help you create a wedding to be remembered.
The Bussey's Flowers delivery team makes daily delivery runs to customers in Kingston, Georgia. The town of Kingston is approximately 14.5 miles from our Rome flower shop location. It takes our delivery drivers approximately 20 minutes to make the drive. Our delivery team is one of the best in North Georgia. We deliver to businesses, residential homes, churches, funeral homes and more.
Kingston Georgia Flower Delivery
Many of the flowers we sell are purchased directly from floral farms. We buy for both domestic and international growers. Buying direct offers great advantages for us and for our customers. There are often significant cost savings when buying from the flower farms. We routinely pass along much of those savings to our customers. Buying direct also reduces the time between when the flowers are cut at the farms and when they arrive here in Rome and Cedartown. By reducing that time frame, we can ensure the flowers arrive fresher. Creating flower arrangements with fresher flowers, means our customers get to enjoy them longer.
Bussey's Florist backs every flower purchase with our 100% customer satisfaction guarantee. If you are not happy with the design we have created for you, please contact one of our floral design centers. We will replace that arrangement with one of equal or greater value. Many of the flowers we purchase many of the flowers we sell direct from the farms. That ensures our clients always have access to the highest quality floral products available. We guarantee that your get well flowers will be fresh and beautiful when they arrive.
Our delivery staff makes daily delivery runs to Polk Medical Center, Floyd Medical Center and to Redmond Regional Medical Center. We have years of experience delivering to these facilities. We know the best times to accomplish delivery at each facility. If you would like to send, get well flowers, a plant or gift to one of our area medical facilities, we are the best option for same day and express delivery service.

Kingston Georgia Flower Delivery
Local Same Day Flower Delivery
The delivery team at Bussey's arrives each day at around 8:00 am. We make every effort to complete all of our daily deliveries not later than 5:00 pm each day. Included in our daily deliver schedule are delivery runs to all local Cedartown area businesses, homes, schools, hospitals, churches, funeral homes, mortuaries and cemeteries. Customers located in Floyd and Polk County have the option of selecting local same day or express flower delivery service.
For time when you need Get Well flowers to arrive by a specific time of day, we encourage you to select our express flower delivery option. With express delivery, we can usually design and delivery your flowers within approximately 4 hours of the time you order.
Winter Wonder
Bussey's award winning floral design team created this stunning holiday bouquet, Winter Wonder. This holiday table centerpiece features all sorts of succulents, air plants, and other fun holiday accents and textures, presented in two unique containers.
Bussey's Florist offers beautiful and fresh holiday and all occasion flowers
Kingston Georgia Flower Delivery
Christmas Holiday Decorations
There is an interesting history of displaying special Christmas decorations.  One of the first accounts of this dates back to the 15th century. In London there was a custom that every house and all the parish churches were to be decorated with various greenery.  It was said that the heart-shaped leaves of ivy symbolized Jesus coming to earth. Holly provided protection against witches and its thorns and red berries represented the Crown of Thorns worn by Jesus at the crucifixion.
Nativity scenes date back as far as the 10th-century in Rome. Saint Francis of Assisi brought more attention to them, and the tradition quickly spread. There are multiple variations of nativity scenes. Ranging from simple representations of the crib to more elaborate scenes designed to feature the manger and historical buildings in Poland. Some feature hand painted terracotta figurines called Santons. These are from southern France.
Christmas decorations are traditionally red, green and gold. Each color has a symbolic meaning. For example, red symbolizes the blood of Jesus that was shed by him during crucifixion. Green symbolizes eternal life. The evergreen tree does not lose its leaves in the winter. The first color associated with Christmas is gold. One of the three gifts of the Magi was gold and symbolizes royalty.
Hanukkah
This year the eight -day festival of Hanukkah begins at sunset on Sunday, December 18th when the first candle is lit on the Chanukiah (menorah).  The Hebrew calendar is based on the lunar cycle therefore the dates of Jewish holidays, according to the Gregorian calendar, change from year to year. Due to the changing dates, Hanukkah ranges from early November to late December.
There are volumes of data regarding the history and traditions associated with Hanukkah. In short, Hanukkah commemorates the re-dedication of the Temple in Jerusalem. This re-dedication was possible due to a group of Jewish warriors that defeated the Greek armies that were occupying the Temple. The festival of Hanukkah celebrates the triumph of light over darkness and of spirituality over materiality.
Our floral design team has created a great selection of Christmas Flowers and Hanukkah Flowers!
A Grinchy Christmas
Make their season bright with Bussey's Grinch Tree. Evergreens are molded into a whimsical tree adorned with festive ornaments and based with flowers and foliage. When you want to bring a smile to someone's face, this is a fantastic selection!
250 Broad Street Rome
Rome, GA 30161