Bussey's Florist
Bussey's Florist & Gifts was voted Best Florist in Rome, Georgia. We are family owned and operated. Our firm provides local same day and express flower delivery service to Georgia Highlands College. The college is located at 3175 Cedartown Hwy, Rome, GA 30161. The main phone number for the college is (706) 802-5000. Our Rome floral design center is located at 500 East 2nd Avenue, Suite 6, Rome, GA 30161. The driving distance from our flower shop to Georgia Highlands College is approximately 3.6 miles. It only takes our delivery staff about 10 minutes to make the drive to the school. Given that we are so close, our delivery staff is generally able to make multiple delivery runs to Georgia Highlands College each day. Georgia Highlands College is a public college. They operate multiple college locations. We deliver to the locations in Floyd County and Cartersville.
Our company was founded in 1976. We operate flower shops in Rome and Cedartown, Georgia. Our delivery staff provides local same day and express flower delivery service to our customers in Floyd and Polk counties. Bussey's Florist is the premier floral design center in Rome. We were voted Best Local Florist, by readers of the Rome News Tribune and the Journal-Standard.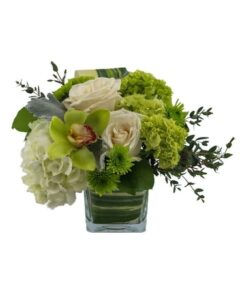 Many of the flowers we sell are purchased directly from floral farms. We buy for both domestic and international growers. Buying direct offers great advantages for us and for our customers. There are often significant cost savings when buying from the flower farms. We routinely pass along much of those savings to our customers. Buying direct also reduces the time between when the flowers are cut at the farms and when they arrive here in Rome and Cedartown. By reducing that time frame, we can ensure the flowers arrive fresher. Creating flower arrangements with fresher flowers, means our customers get to enjoy them longer.
Bussey's Florist backs every flower purchase with our 100% customer satisfaction guarantee. If you are not happy with the design we have created for you, please contact one of our floral design centers. We will replace that arrangement with one of equal or greater value. Many of the flowers we purchase many of the flowers we sell direct from the farms. That ensures our clients always have access to the highest quality floral products available. We guarantee that your get-well flowers will be fresh and beautiful when they arrive.
Petite Ivory Elegance
Elegant and understated, this arrangement features southern hydrangea and roses accented by a single Cymbidium orchid. Bussey's arrangements are custom gifts designed by hand. Mother Nature changes our farm-fresh inventory every morning. To assure your gift is fresh and gorgeous, our designers may need to make substitutions but will capture the color & style of your selection to deliver a "WOW" for your recipient.
Bussey's Florist has beautiful Flowers and Plants to honor World Teachers' Day
October 5 is recognized as World Teachers Day. Around the globe this is a day when teachers are honored for the great things, they do to educate young and old alike. World Teachers Day was officially created on October 5, 1994. However, the concept actually occurred earlier in 1966 when there was a conference in Paris with the United Nations Educational, Scientific and Cultural Organizations (UNESCO) and the International Labor Organization (ILO). These groups felt there was a need to better define teachers' rights, responsibilities and general areas of the teaching profession in all countries.
For teachers this is a great time to think back on a person who influenced them to choose teaching as a profession. What a great day to reach out to them and let them know how they so positively impacted your life. As a teacher ask your students to think back on the things that they value in a teacher and even name a few of their favorites. Make it fun by giving them paper and drawing utensils so they can create a poem, letter or thank you card expressing their gratitude.
If you are part of the school administration, make it a point to celebrate World Teachers Day. Your support for the teachers and encouragement for the parents and students to do the same can result in creative and meaningful memories. Using social media virtual school presentations will go a long way to motivate and keep teachers focused and digging deep to teach.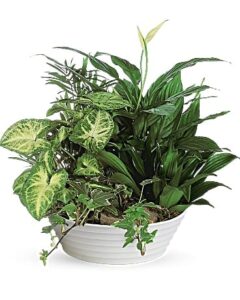 In the country of India for example, there are many remote regions where the number of female teachers is sparse. Basically, half the number of teachers in remote places. There is a disproportionate number of females to male teachers in pre-primary education verses in upper secondary education. Women tend to have higher numbers of being teachers for primary education in low-income countries than in higher income countries. About half the number. There are lots of other interesting facts surrounding the teaching profession like teachers are the third most trusted profession in the UK following doctors and nurses. Primary school teachers spend on average about 782 years per year teaching. There are over 100 countries that celebrate World Teachers Day.
Teachers play such a vital role in shaping our youth and our future. Show your teacher(s) how much you appreciate them by sending a beautiful floral gift from Bussey's Florist!
Medium Dish Garden
This low bowl filled with living plants will also carry comfort and compassion for many months to come. Perfect to send to the home or service.
One planter arrives filled with dracaena, ivy, palm, spathiphyllum and syngonium plants.
250 Broad Street Rome
Rome, GA 30161