Bussey's Florist backs every flower purchase with our 100% customer satisfaction guarantee
Bussey's Florist & Gifts is a family owned and operated floral design firm. Our company was founded in 1976. We operate two flower shops in Floyd and Polk County Georgia. Our firm was voted Best Local Florist, by readers of the Rome News Tribune and the Journal-Standard. We provide same day delivery to Armuchee.
The Bussey's Flowers delivery team makes daily delivery runs to customers in Armuchee, Georgia. The town of Armuchee is approximately 10.4 miles from our Rome flower shop location. It takes our delivery drivers approximately 17 minutes to make the drive. Our delivery team is one of the best in North Georgia. We deliver to businesses, residential homes, churches, funeral homes and more.
Farm Fresh Flowers
Many of the flowers we sell are purchased directly from floral farms. We buy for both domestic and international growers. Buying direct offers great advantages for us and for our customers. There are often significant cost savings when buying from the flower farms. We routinely pass along much of those savings to our customers. Buying direct also reduces the time between when the flowers are cut at the farms and when they arrive here in Rome and Cedartown. By reducing that time frame, we can ensure the flowers arrive fresher. Creating flower arrangements with fresher flowers, means our customers get to enjoy them longer.
100% Customer Satisfaction Guarantee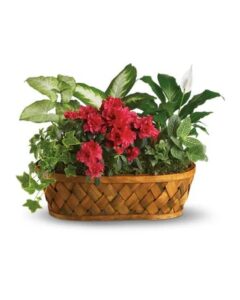 Bussey's Florist backs every flower purchase with our 100% customer satisfaction guarantee. If you are not happy with the design we have created for you, please contact one of our floral design centers. We will replace that arrangement with one of equal or greater value. Many of the flowers we purchase many of the flowers we sell direct from the farms. That ensures our clients always have access to the highest quality floral products available. We guarantee that your get-well flowers will be fresh and beautiful when they arrive.
Local Same Day Flower Delivery
The delivery team at Bussey's arrives each day at around 8:00 am. We make every effort to complete all of our daily deliveries not later than 5:00 pm each day. Included in our daily deliver schedule are delivery runs to all local Armuchee area businesses, homes, schools, hospitals, churches, funeral homes, mortuaries and cemeteries. Customers located in Floyd and Polk County have the option of selecting local same day or express flower delivery service.
Express Flower Delivery
For time when you need Get Well flowers to arrive by a specific time of day, we encourage you to select our express flower delivery option. With express delivery, we can usually design and delivery your flowers within approximately 4 hours of the time you order.
Plants Galore
You don't need a green thumb to love plants galore! Plants, plants and more plants are delivered in a handsome woodchip basket.
Bussey's Florist Back to School Plants and Flowers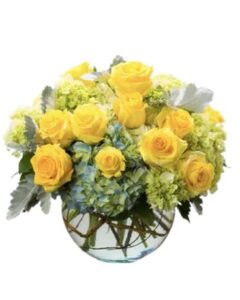 Kids are heading back to school this week in many places across the US. Back when I was a kid, there was not the concern of Covid, or Monkey Pox and definitely not school shootings. Back to school was an exciting time and while there was an element of nervousness due to the unknown, there were no immediate threats to health and safety. Some experts, child and adolescent psychiatrists, recommend that you let your children ask all the questions they need to with respect to their safety at school.
Professionals agree that answering honestly is important but not to add details that are extra scary for kids to deal with. One key is for the parent to not be anxious. If they are, they should speak to a school official about their concerns. It is critical for parents to not unload their anxiety on their children.
A really kind gesture to kick off the school year is to send a nice floral product to a teacher, student or a friend who may be a first time back to school parent. Bussey's Florist offers a great summer collection of gorgeous Plants and Flowers that anyone would love to receive. Another great thing to do is to send a bouquet or a nice plant to someone who provided summer care for your child. They also were generous with their time especially parents that volunteered at summer camps.
We would be honored to have you stop by a store and speak with one of our Floral Designers or shop conveniently online using our world class website www.busseysflorist.com.
250 Broad Street Rome
Rome, GA 30161