Bussey's Florist
Bussey's Florist & Gifts is the premier florist in Cedartown, Georgia. Our firm was voted Best Local Florist in Floyd and Polk County Georgia. We are family owned and operated. We employ an expert team of delivery drivers. Our delivery staff provides same day and express flower delivery service to the First Baptist Church in Cedartown. The church is located at 101 N College St, Cedartown, GA 30125. The main phone number for the church is (770) 748-3120. Our Cedartown floral design center is located at 302 Main Street, Cedartown, GA 30125. The driving distance from our flower shop to the church is literally less than 1 mile. It takes our drivers about 2 – 3 minutes to make the drive to the church. Given that we are so close, our team makes multiple delivery runs to First Baptist Church each day.
The award-winning floral design staff at Bussey's Florist creates all kinds of seasonal floral designs that we deliver to the church. We offer beautiful flowers for the alter. Tall pedestal flowers are also available. Bussey's also creates stunning holiday table centerpieces. In addition to all the gorgeous seasonal bouquets, we also deliver sympathy flowers to the church as well. Our sympathy flower collection is one of the best in Cedartown.
Our company was founded in 1976. We operate flower shops in Rome and Cedartown, Georgia. Our delivery staff provides local same day and express flower delivery service to our customers in Floyd and Polk counties. Bussey's Florist is the premier floral design center in Rome. We were voted Best Local Florist, by readers of the Rome News Tribune and the Journal-Standard.
Many of the flowers we sell are purchased directly from floral farms. We buy for both domestic and international growers. Buying direct offers great advantages for us and for our customers. There are often significant cost savings when buying from the flower farms. We routinely pass along much of those savings to our customers. Buying direct also reduces the time between when the flowers are cut at the farms and when they arrive here in Rome and Cedartown. By reducing that time frame, we can ensure the flowers arrive fresher. Creating flower arrangements with fresher flowers, means our customers get to enjoy them longer.
Bussey's Florist backs every flower purchase with our 100% customer satisfaction guarantee. If you are not happy with the design we have created for you, please contact one of our floral design centers. We will replace that arrangement with one of equal or greater value. Many of the flowers we purchase many of the flowers we sell direct from the farms. That ensures our clients always have access to the highest quality floral products available. We guarantee that your get-well flowers will be fresh and beautiful when they arrive.
We offer the best selection of farm fresh flowers in Floyd and Polk counties. Our seasonal floral collections are wonderful. We create flowers for Spring, Summer, Fall and Winter. Our team also creates gorgeous bouquets for Valentine's Day, Mother's Day, Thanksgiving and Christmas. During the Fall, Thanksgiving and Christmas holiday season, we create beautiful holiday floral table centerpieces that are simply stunning.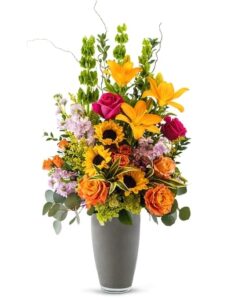 Bussey's Florist offers the best selection of sympathy flowers in Floyd and Polk counties. The design staff at Bussey's creates beautiful standing sympathy sprays, casket flowers, URN flowers and more. We offer heart shaped standing sprays, cross shaped standing sprays and traditional circular wreaths. Choose from either full casket sprays or half casket sprays. Our design team is one of the best in Georgia. We can custom design the exact sympathy flower bouquet you need.
The folks at the First Baptist Church in Cedartown generally accept flower deliveries 7 days a week. We usually attempt to deliver between the hours of 8:30 am to 5:30 pm. Our delivery team arrives each day. Normally in the shop by 8:00 am. We make every effort to complete all of our daily deliveries not later than 5:00 pm each day. If you need to send flowers to someone at the First Baptist Church and need those flowers to arrive by a specific time of day, we encourage you to utilize our express flower delivery service option. Normally with express delivery, we can design and deliver your arrangement within approximately 4 hours of the time you place the order.
Vibrant Expressions
Vibrant Expressions is a beautiful way to express your sentiments. Created from a breathtaking selection of vibrant blooms, the arrangement features sunflowers, roses, and stately Bells of Ireland. Bussey's arrangements are custom gifts designed by hand. Mother Nature changes our farm-fresh inventory every morning. To assure your gift is fresh and gorgeous, our designers may need to make substitutions but will capture the color & style of your selection to deliver a "WOW" for your recipient.
Bussey's Florist Offers Fresh and Caring Flowers and Plants to Honor Breast Cancer Awareness Month
October is designated as Breast Cancer Awareness Month. It is recognized across the world as a special time for the need to raise awareness of the disease and the importance of early detection. Every year some studies reflect an estimated 458,000 women die from Breast Cancer and 1.38 million new cases occur. Truly staggering numbers and an illness that strikes women in all countries whether developed or not. Bussey's Florist honors this special time, and our professional floral designers are committed to our mission.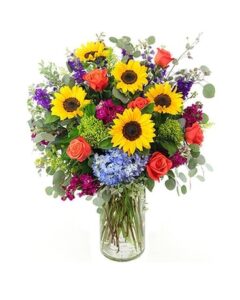 In the United States there are more than 245,000 women that are diagnosed with breast cancer each year. Over 40,000 women actually die from the disease each year. While Breast Cancer is largely a female illness, men also can be diagnosed with breast cancer but at a much lower rate of 1% of the male population. The majority of breast cancer cases in women occur at the age of 50 or older. Although an estimated 10% of all new cases in the United States occur with women that are under the age of 45.  Suffice it to say that breast cancer is relentless in its pursuit of stealing the health of many women across the globe.
The good news is while breast cancer death rates increased from 1975 to 1989 by 4%, rates have dropped rapidly since that time by 39%. Statistics reflect that nearly 322,600 breast cancer deaths have been prevented through 2015.  This was a positive trend in both older and younger women. Hopefully someday this merciless illness can be eradicated. Our professional floral designers are always eager to help you with a beautiful flower arrangement or gift guaranteed to lift the spirits of anyone close to you that may be suffering with breast cancer.
Rome Sensation
Bussey's Florist is an award-winning floral design firm. We operate flower shops in Rome and Cedartown, Georgia. This bouquet is one of our featured designs from our Rome flower shop. We call it Rome Sensation. This fresh flower arrangement features sunflowers, cayenne roses, blue full bloom hydrangea, stock, larkspur and premium greens and textures. Definitely a very popular bouquet.
250 Broad Street Rome
Rome, GA 30161