Bussey's Florist
Bussey's Florist is a family owned and operated floral design firm. We provide same day delivery to Polk County Medical. Our firm has been serving the greater Rome, Georgia area since 1976. We offer beautiful fresh cut flower arrangements, green and flowering plants and a wonderful selection of occasion themed gifts. Many of the flowers we sell come direct from international and domestic flower farms. Buying direct lowers the cost to purchase and reduces the time between when the flowers are cut at the farm, and when they can be in the hands of our customers. The cost savings are passed along to our customers. Fresher flowers equate to longer vase life, which means the recipient gets to enjoy the fresh flower arrangement a few days longer.
Delivery to Polk County Medical
The Bussey's Flowers delivery team makes daily delivery runs to the various facilities that make up the Polk County Medical group. The hospital is located at 2360 Rockmart Highway, Cedartown, GA 30125. That puts the hospital approximately 3.7 miles from our Cedartown, GA flower shop. It takes our delivery staff less than 10 minutes to drive from our floral design center to Polk Medical Center. Normally, we can make multiple delivery runs to the hospital each day. The medical center generally allows us to deliver between the hours of 9:00 am to 5:00 pm. We load our first deliveries around 8:00 am each day. The goal is to have of them completed by 4:00 pm each day. Bussey's provides local same day and express flower delivery service. The express delivery option is really popular with many customers in the Rome area. We guarantee all express deliveries for on-time arrival.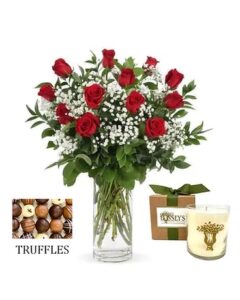 Polk County Medical Center was named a Top Rural Hospital by The Leapfrog Group. The hospital was recognized many accomplishments, including in the areas of patient safety and quality care. They serve customers from all over Polk and Floyd counties. The hospital has a number of different departments, such as the Breast Health Center, the Cardiology Group, Diabetes Care, Imaging, Infusion Therapy, Pediatrics, Surgical Services and they also have an Emergency Care facility.
Bussey's Florist backs every flower purchase with our 100% customer satisfaction guarantee. If you are not happy with the design we have created for you, please contact one of our floral design centers. We will replace that arrangement with one of equal or greater value. Many of the flowers we purchase many of the flowers we sell direct from the farms. That ensures our clients always have access to the highest quality floral products available. We guarantee that your get-well flowers will be fresh and beautiful when they arrive.
We create beautiful get well themed fresh flower bouquets. Our firm offers the best selection of Get-Well flowers, plants and gifts in the area. We provide daily flower delivery service to Polk Medical Center. Normally the hospital accepts Get Well flower deliveries between the hours of 9:00 am to 5:00 pm. If you need your Get-Well flowers to arrive by a specific time of day, we encourage you to use our express delivery service option.
Our primary delivery option for Polk Medical Center is the same day flower delivery service. The vast majority of our customers opt for this service. It is reliable and all same day delivery orders are guaranteed for on-time arrival.
For time when you need Get Well flowers to arrive by a specific time of day, we encourage you to select our express flower delivery option. With express delivery, we can usually design and delivery your flowers within approximately 4 hours of the time you order.
WOW Package
Our most popular selection, the award-winning floral design team at Bussey's Florist created a beautiful WOW Rose Package. It features one dozen red roses, a 20-hour signature candle, and a box of four Maggie Lyon gourmet chocolate truffles.
Send Bussey's Florist Plants and Flowers for Labor Day Celebrations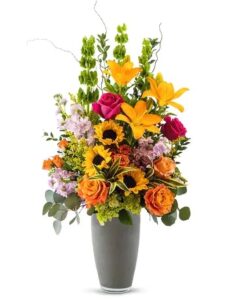 We have an excellent variety of fresh Plants and Flowers to help celebrate Labor Day. According to some historical accounts, Labor Day was first observed September 5, 1882, in New York. At that time, it was a thought there was a need to pay tribute to all working men and women. The concept continued to gain interest and support and then by 1894 it was officially celebrated in the United States and Canada.
In addition to being a well-deserved day off for most people it is also a day to think about hard working individual and their contribution to society. One nice quotation from former president of the American Federation of Labor summed it up appropriately. "Labor Day differs in every essential way from the other holidays of the year in any country. All other holidays are in a more or less degree connected with conflicts and battles of man's prowess over man, of strife and discord for greed and power, of glories achieved by one nation over another. Labor Day…is devoted to no man, living or dead, to no sect, race, or nation."
Vibrant Expressions
Vibrant Expressions is a beautiful way to express your sentiments. Created from a breathtaking selection of vibrant blooms, the arrangement features sunflowers, roses, and stately Bells of Ireland. Bussey's arrangements are custom gifts designed by hand. Mother Nature changes our farm-fresh inventory every morning. To assure your gift is fresh and gorgeous, our designers may need to make substitutions but will capture the color & style of your selection to deliver a "WOW" for your recipient.
250 Broad Street Rome
Rome, GA 30161