Bussey's Florist
December has been a popular wedding month for many Brides and Grooms across the country. People have come to the conclusion that there are a variety of positive benefits that make December weddings very beneficial. The professional and highly talented wedding consultants at Bussey's Florist are tops in the industry. We have a stellar track record with helping our clients plan and execute their dream wedding. While winter weddings are not as popular as other seasons like summer (June and August very popular) for example, people do opt for a winter wedding for the various benefits.
It is easier to book vendors in the Winter.
You will have more control over the weather as Winter weddings are typically indoor. Whereas outdoor summer weddings can be rained on.
Winter weddings are usually less expensive thus saving you thousands.
Winter weddings can be more convenient for guests as it may relieve the stress of choosing between numerous summer wedding invitations.
Winter weddings are many times more memorable due to the holidays.
In addition, December is one of the best winter months to plan a wedding as you have the Christmas Holiday to help create an atmosphere of winter splendor and holiday spirit. The decorations around the alter can be Christmas Trees and Poinsettias plus the food and décor can be holiday festive. There is so much added excitement and winter splendor with a December wedding!
There are some considerations to keep in mind with a December wedding. In most parts of the country, it will most likely be very cold outside. You will need to think about how long outdoor pictures may take so that the wedding party and photographers and others are able to contend with the cold temperature.  Also, days are shorter than in the winter months in terms of available daylight so this is an important factor to keep in mind.
The professional wedding consultation team at Bussey's Florist are experts at overcoming all obstacles and have successfully handled numerous weddings for our clients.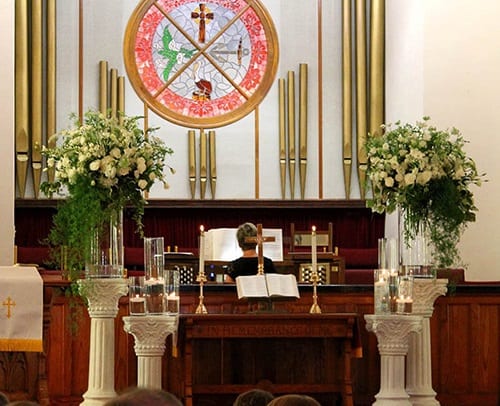 Chapel Flowers by Bussey's Florist
Bussey's Wedding Flowers
Beautiful Flowers for The Wedding Ceremony
At Bussey's we believe your big moment deserves the perfect ambience and backdrop. Our event team creates one-of-a-kind arrangements for your ceremony site. No matter the location or season, indoors or outdoors, we will deliver timeless beauty to your wedding ceremony.
We use only the finest and freshest blooms when creating ceremony floral arrangements. Our brides have many great options when it comes to floral varieties. Some of the most popular selections are garden roses, orchids, peonies, and ranunculus. Flowers for the wedding ceremony can be presented in a number of different styles to create a focal point all your guests will enjoy. We offer altar flowers, pedestal arrangements, floral archways or arbors, flowers for pews, and more.
Many of the flowers we purchase come directly from flower farms. Buying from our chosen growers offer many great advantages. First it helps to lower the cost of flowers, then we are able to share much of the cost savings with our customers. Secondly, buying direct also ensures that the flowers that we receive at the flower shop are fresh. Next, by eliminating the wholesaler, the time between when the flowers are cut at the farm and when they arrive at our flower shop is reduced. Finally, fresher flowers will translate into beautiful wedding flower arrangements for your special day.
The floral artisans at Bussey's Florist offer unparalleled personalized service to ensure your event is an enviable success. We will guide you through every step of the wedding flower and design process. Our expert team has years of experience creating gorgeous wedding and event flowers. Your Bussey's wedding consultant will help you define the exact presentation styles, flower varieties, and color scheme to fit perfectly within your overall floral budget.
At Bussey's we are committed to bringing beauty into all life's moments, and we will do that by creating a tangible representation of your vision. After working with us you will understand why our award-winning team is the preferred standard in Northwest Georgia.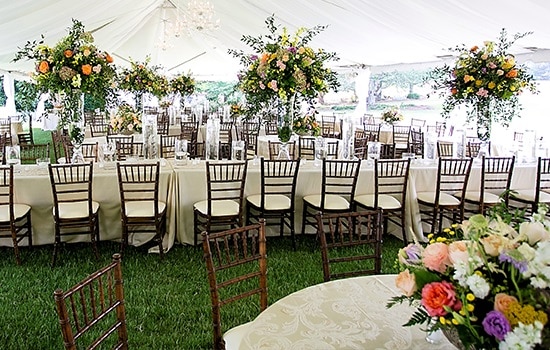 Bussey's Wedding Flowers
Bussey's Florist is one of the premier wedding flower specialists in Floyd and Polk counties. Our award-winning floral design staff creates luxurious, upscale wedding flowers. We have a wedding consultant available to meet with you. If you are getting ready to plan your special day, we encourage you to give us a call. We offer FREE wedding consultations. At your appointment, we will listen intently as you explain your vision for the perfect wedding floral package.
Once we understand the atmosphere and ambiance you are hoping to achieve, our wedding consultant will help you create the exact wedding package to meet those expectations. We offer affordably priced floral packages and are large enough to handle weddings and events of any size.
Bussey's Florist & Gifts
250 Broad Street Rome
Rome, GA 30161