Bussey's Florist
Whether you practice Christianity or just would enjoy some time off work and school, Easter is an opportunity to celebrate spring and the coming of warmer weather. One of the best ways to celebrate is with Easter Flowers. This tradition has been around for hundreds of years, and it shows no sign of fading! Although there are many different types of flowers that can be used for Easter arrangements, certain ones have become iconic symbols for the holiday over time.
SPECIAL DISCOUNT OFFERS – USE ON MAIN WEBSITE
About Easter
Easter is a Christian holiday, celebrating the resurrection of Jesus Christ. It's celebrated on the first Sunday after the full moon after the spring equinox, which can fall anywhere between March 22 and April 25. Easter flowers are thought to bring good luck and happiness, so if you're looking for some new blooms this season, we've got some ideas for your consideration!
Easter flowers are a wonderful way to celebrate the holiday, and we have some great ideas for how you can incorporate them into your celebration. If you're hosting an Easter party, consider buying a large centerpiece that includes Easter lilies and tulips in shades of yellow, white and pink.
Easter Lilies
Lilies are the most popular flowers for Easter. They symbolize purity and innocence, which makes them perfect for celebrating this religious holiday. Lilies come in white, yellow or pink and can be found in a range of sizes and prices. They can also be arranged in various ways to create unique bouquets for your loved ones!
The Easter lily is also known as the "Easter Lily" or simply "Lily." It is a type of plant that grows from bulbs and has long stems with white or yellow flowers. These plants can be found in many different varieties, including hybrids. They are often used to decorate Easter baskets for children because they symbolize purity and innocence.
You can also use other popular Easter flowers, such as tulips and daffodils. Tulips are a common spring flower that symbolizes new life and renewal after winter. Daffodils represent the return of springtime beauty after winter's harsh conditions, making them another traditional choice for Easter decorations. Hyacinths are a bright purple bulb plant that you might recognize from its sweet scent and often used in bouquets during this period as well. Daisies aren't usually associated with Easter but they're still great if you want something simple yet beautiful!
Popular Easter plants include ferns, orchids and hoya plants
If you're looking for some Easter plants, but aren't sure what to get, there are a few popular choices that make great gifts. The first is ferns. Ferns have been used as symbols of life and rebirth since ancient times because they look like new growth emerging from the ground after winter has passed. They're also easy to care for and can be kept indoors or out depending on where you live–so even if your recipient isn't an avid gardener, he or she will still be able to enjoy these beautiful plants!
Orchids are another popular choice for Easter gifts because they represent resurrection and new beginnings just like springtime does. Their flowers come in many colors and sizes (some as small as 1/4″ across!), so there's something for everyone here! Hoya plants are also good options if you want something different than ferns orchids; these tropical native plants produce clusters of fragrant blooms all summer long which makes them ideal additions to any garden.
All-white lilies are considered the most traditional choice for Easter arrangements. They symbolize purity and innocence, making them a natural fit for this spring holiday. Lilies have also been associated with springtime in many cultures, including China, where they're thought to represent renewal; in Japan, where they're associated with longevity (and also used in funerals); and in France, where they're associated with Joan of Arc's martyrdom on May 30th (the day after Easter).
If you'd like to add some color to your arrangement instead of going all white–or if you just want something different from what everyone else is doing–try pink roses or yellow tulips instead! If you're looking for something more creative than a traditional Easter arrangement, try making one with eggs. You can use real eggs or plastic ones as long as they're not too big; if they are, make sure to hide them behind other flowers so that guests can't see them.
A variety of flowers make beautiful arrangements for this festive holiday. When planning your Easter flowers, you can choose from a wide range of flowers, plants and orchids. You can even use seasonal flowers such as tulips and hyacinths to add color to your home. Easter flowers are a great way to celebrate the holiday. Whether you're sending them as gifts or using them to decorate your home, Easter flowers are sure to spread joy and happiness.
Conclusion
With so many beautiful flowers and plants to choose from, it can be difficult to decide what to put in your Easter basket. If you're looking for something simple, then consider choosing a few white lilies or daisies. If you want something more colorful or festive, then try combining tulips with some daffodils or hyacinths. Whatever type of flowers or plants you choose for this special day will surely add some springtime cheer!
Bussey's Florist Same Day Delivery Easter Flowers and Plants
Bussey's Florist & Gifts is a family owned and operated floral design firm. Our company was founded in 1976 and we are local to Cedartown. We operate multiple flower shops in Floyd and Polk county Georgia. Our firm was voted Best Local Florist, by readers of the Rome News Tribune and the Journal-Standard. We employ a very talented team of floral design professionals. These folks create luxurious, upscale floral arrangements. Bussey's offers the best selection of green plants, flowering baskets, succulent dish gardens and tropical plants in the area. We provide local same day and express flower delivery anywhere in the Cedartown Georgia area. The driving distance from our floral design center to downtown Cedartown is literally less than 1 mile. Our delivery staff makes multiple deliveries to business and residential customers in Cedartown everyday.
Birthday Flowers
Bussey's Florist offers a fantastic collection of birthday themed floral designs. We have birthday flower designs themed for her and designs themed for him. We even have a collection we call Milestone Birthdays, that include some of our most luxurious designs. Every birthday themed floral design we create is backed by our on-time delivery guarantee. Each arrangement is also backed by our 100% customer satisfaction guarantee. You won't find a florist that cares more about exceeding your expectations than Bussey's Florist & Gifts.
Anniversary Flowers
Bussey's is Cedartown's Favorite Florist. Our firm has years of experience in the floral design industry. We create exceptional flower arrangements that are guaranteed to generate a smile. Do you have an anniversary coming up soon? If so, we have some wonderful anniversary flower, plant and gift ideas for you. Take a look at the beautiful arrangement pictured to the right. We call it Floyd Country Sunrise. This luxurious floral design features orange Ecuadorian roses, full bloom hydrangea, gorgeous exotic cymbidium orchids, ferns, leaves and seasonal greenery. The award winning design team at Bussey's is known for creating unique, luxurious arrangements and this one really fits the reputation.
100% Customer Satisfaction Guarantee
Bussey's Florist backs every flower purchase with our 100% customer satisfaction guarantee. If you are not happy with the design we have created for you, please contact one of our floral design centers. We will replace that arrangement with one of equal or greater value. Many of the flowers we purchase many of the flowers we sell direct from the farms. That ensures our clients always have access to the highest quality floral products available. We guarantee that your get well flowers will be fresh and beautiful when they arrive.
Get Well Flowers
Bussey's Florist offers same day and express flower delivery to all Floyd and Polk county hospitals and medical centers. Our delivery staff makes daily delivery runs to Polk Medical Center, Floyd Medical Center and to Redmond Regional Medical Center. We have years of experience delivering to these facilities. We know the best times to accomplish delivery at each facility. If you would like to send get well flowers, a plant or gift to one of our area medical facilities, we are the best option for same day and express delivery service.
Local Same Day Flower Delivery
The delivery team at Bussey's arrives each day at around 8:00 am. We make every effort to complete all of our daily deliveries not later than 5:00 pm each day. Included in our daily deliver schedule are delivery runs to all local Cedartown area businesses, homes, schools, hospitals, churches, funeral homes, mortuaries and cemeteries. Customers located in Floyd and Polk county have the option of selecting local same day or express flower delivery service.
Express Flower Flower Delivery
Bussey's Florist & Gifts is one of the very few florists in the area that offer local express flower delivery service. Every express delivery order comes with our 100% on-time arrival guarantee. When you place and order and opt for express delivery, we can normally create the arrangement, and delivery it within approximately 4 hours of the time your placed your order. Express delivery service is only available in Floyd and Polk counties.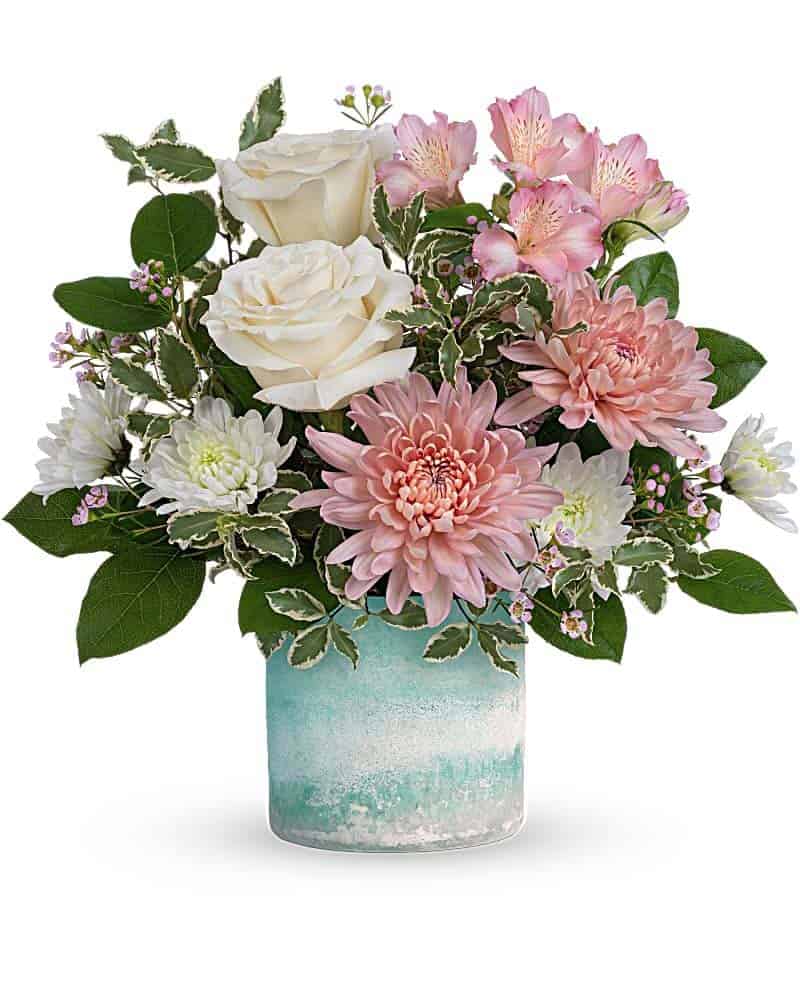 Teleflora's Sweetly You Bouquet
Send your sweetest wishes their way with this charming bouquet of cream and pink blooms, presented in a beautiful art glass vase that's sure to be a décor favorite.
Creme roses, pink alstroemeria, pink disbud chrysanthemums, white cushion spray chrysanthemums and pink waxflower are arranged with lemon leaf and pitta negra. Delivered in a Color Frost Art Glass cylinder.