Bussey's Florist
Bussey's Florist is a family owned and operated floral design firm. Our firm has been serving the greater Rome, Georgia area since 1976. The Bussey's Florist delivery team makes daily delivery runs to Advent Health Redmond Medical Center. We offer beautiful fresh cut flower arrangements, green and flowering plants and a wonderful selection of occasion themed gifts. Many of the flowers we sell come direct from international and domestic flower farms. Buying direct lowers the cost to purchase and reduces the time between when the flowers are cut at the farm, and when they can be in the hands of our customers. The cost savings are passed along to our customers. Fresher flowers equate to longer vase life, which means the recipient gets to enjoy the fresh flower arrangement a few days longer.
Advent Health Redmond Medical Center generally accepts flower delivers between 9:00 am to 5:00 pm. Our goal is generally to complete all floral deliveries to the hospital, not later than 4:00 pm each day. Bussey's provides local same day and express flower delivery service. The express delivery option is really popular with many customers in the Rome area. We guarantee all express deliveries for on-time arrival.
Advent Health Redmond Medical Center is one of the top medical centers in the greater Rome, Georgia area. They serve customers from all over Polk and Floyd counties. The hospital has a number of different departments, such as the Dr. Gerald McCormick Cancer Center. They also have a wonderful Cardiac Rehabilitation Center. Advent Health Redmond also offers Diabetes Care, Digestive Care and one of the top Emergency Care Facilities in the area.
Floyd Medical Center is located at 500 Redmond Road, Rome, GA 30165. That puts the hospital approximately 3.2 miles from our Rome flower shop. Given the short driving distance between the medical center and our flower shop, we are generally able to make multiple delivery runs to Redmond Regional each day.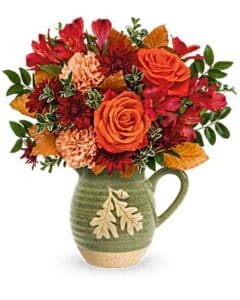 Bussey's Florist backs every flower purchase with our 100% customer satisfaction guarantee. If you are not happy with the design we have created for you, please contact one of our floral design centers. We will replace that arrangement with one of equal or greater value. Many of the flowers we purchase many of the flowers we sell direct from the farms. That ensures our clients always have access to the highest quality floral products available. We guarantee that your get-well flowers will be fresh and beautiful when they arrive.
We create beautiful get well themed fresh flower bouquets. Our firm offers the best selection of Get-Well flowers, plants and gifts in the area. We provide daily flower delivery service to Advent Health Redmond Medical Center. Normally the hospital accepts Get Well flower deliveries between the hours of 9:00 am to 5:00 pm. If you need your Get-Well flowers to arrive by a specific time of day, we encourage you to use our express delivery service option.
Our primary delivery option for Advent Health Redmond is the same day flower delivery service. The vast majority of our customers opt for this service. It is reliable and all same day delivery orders are guaranteed for on-time arrival.
For time when you need Get Well flowers to arrive by a specific time of day, we encourage you to select our express flower delivery option. With express delivery, we can usually design and delivery your flowers within approximately 4 hours of the time you order.
Teleflora's Charming Acorn Bouquet
Pour on the fall charm with this fabulous, food-safe stoneware pitcher, featuring an embossed acorn motif, gorgeous sage green glaze and a lush bouquet of autumnal flowers.
Orange roses, peach carnations, red alstroemeria, bronze cushion spray chrysanthemums and brown copper beech are arranged with huckleberry and oregonia. Delivered in a Charming Acorn Pitcher.
Bussey's Florist offers Flowers and Plants perfect for the International Day of Peace
In 1981, the International Day of Peace was created by the United Nations General Assembly.  Twenty years later, the General Assembly voted to designate this day as a time of worldwide peace. Their mission was to have a time of cease – fire. All nations are invited to participate in this day of observance. Then in 2013 the Secretary – General of the United Nations dedicated International Day of Peace as a day to focus on world peace. The awareness this day creates for peace is solely devoted to the hope that the occurrence of war can be reduced. It is observed annually on September 21.
Annually the Peace Bell of the United Nations is rung in New York City which is the UN official headquarters. The bell is made from coins that were donated from children across the globe in numerous continents. An inscription on the bell reads "Long live absolute world peace". The United Nations Association of Japan dedicated the bell as a gift and as symbol of the cost of human life caused by war.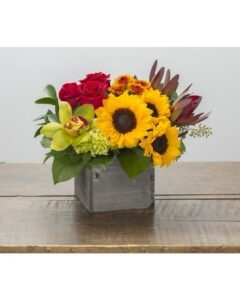 In addition to sending beautiful and thoughtful Bussey's Florist Plants and Flowers, there are several ways to recognize International Day of Peace.
Competition – A friendly sporting event creates goodwill. When teams compete against each other in a friendly game of some type, a good deal of fair play, camaraderie and peace can be created.
Team-Building Activities – Many companies host sales and team building sessions on a routine basis. Why not create one that has a theme of global peace or at least peace in the office.  This is great way to bring people together and have them let down their defense mechanisms for some friendly non-threatening enjoyment.
Poster for Peace – The United Nations publishes the International Day of Peace Poster. If you are a schoolteacher or Sunday school teacher, you can print the poster and use it as a discussion topic. What a great way to increase awareness.
Talk with Children – Teaching children the meaning of peace is critical to the future. As adult role models, parents, teachers, coaches and other older people have an obligation to help children grasp the meaning of a peaceful society and an appreciation for International Day of Peace. Since children are our future, educating them about peaceful relations can bring about positive change in the world.
Moment of Silence – As with many solemn occasions, International Day of Peace offers the opportunity for everyone around the globe to stop at noon for their region and be silent for one full minute. How you choose to spend that moment of silence is up to each individual. Some meditate, others pray for those that have given their lives in war and still others simply find joy in sharing the honor of such a day.
Spice
A perennial favorite – hydrangea, roses, and sunflowers are closely gathered in a beautiful seasonal bouquet. One is simply perfect for a smaller dining table. Two or three clustered together can be the start to an incredible tablescape.
250 Broad Street Rome
Rome, GA 30161