Bussey's Florist
Founded in 1976, Bussey's Florist & Gifts is family owned and operated. Voted Best Florist by readers of the Rome News Tribune and the Journal-Standard, Bussey's Florist & Gifts is a floral boutique known for its classical style, smartly updated with contemporary twists. Bussey's offers a wide variety of unique gifts, interior accessories, & plants along with beautiful fresh flowers for every occasion in your life including Birthday Flowers. With locations in Rome, GA and Cedartown, GA Bussey's delivers throughout the Cedar Valley region. Working with a hand-selected network of florists, Bussey's also offers national and international floral delivery.
Birthday Flowers and Plants
Do you know someone that is celebrating a birthday soon? If so, you need to consider the best way to wish your loved one a happy birthday. A great way to do this is by sending them flowers or plants. If you are looking for something special during this time, I highly recommend contacting a florist in your area for their help in selecting the perfect gift for that special person! Birthday flowers are the perfect way to celebrate. Whether you're sending a birthday gift or just expressing yourself, flowers can be an excellent way to show someone how much you care.
If your friend or family member has a birthday coming up, consider sending them some gorgeous blooms as a token of appreciation for all they do. It's also important not to forget about yourself! If your birthday falls during the summer months and it is too hot outside for anyone else but yourself (and maybe potted plants), then consider ordering online and having them delivered right onto your doorstep so that no one else knows what kind of surprise awaits them when they get home from work or school.
A few great reasons to select fresh cut flowers for your birthday celebration. You can order birthday flowers online, or you may be able to find a local florist that offers custom flower arrangements. Either way, these gifts are easy and convenient to send. You can also send your friend or loved one an email with a message attached that includes their name and age along with any other information they might want to share (for example, what they have been up to lately). This is another great way of showing how much you care about them!
The options are endless when it comes to selecting a birthday bouquet. The possibilities include flowers, plants and even fruit baskets. Flowers are a great gift for any occasion because they're inexpensive and can be customized to fit your budget. They also last longer than most gifts, so you don't have to worry about someone forgetting their special day or having the gift expire before they get around to opening it! Fresh flowers are beautiful, but some people prefer sending live plants instead because they tend not to die as fast as cut flowers do once removed from their original environment (that would be nature).
In addition, fresh herbs like basil or mint make excellent gifts if you know someone who enjoys cooking with them regularly. With so many product choices, you will be able to find the perfect fit. Whether you're looking for a gift that fits your budget or one that fits your style, we've got it. If you want to give someone something special and unique on their birthday, we have just what they need!
Conclusion
We hope that this blog post has inspired you to get creative with your birthday flowers and plants. If you have any questions, please feel free to reach out at any time! We're always happy to help.
Bussey's Florist Birthday Flowers & Gifts
Bussey's Florist has been designing and delivering gorgeous birthday flowers in Floyd and Polk counties for many years. We were voted Best Local Florist and are one of the premier florists operating in North Georgia. Our firm offers the best selection of birthday themed floral bouquets in town. Choose from all your favorites. We have birthday themed floral bouquets made with many different floral varieties.
We operate 2 floral design centers. Our Cedartown flower shop is located at 302 Main Street, Cedartown, GA 30125. The Rome lower shop is located at 500 East 2nd Avenue, Suite 6, Rome, GA 30161. Both of our floral design centers are open to the public for in-store shopping. Each is equipped with a big, beautiful walk-in cooler. The award winning floral design staff at Bussey's ensures that these walk-in coolers are always full of gorgeous, birthday themed floral bouquets each day.
The delivery staff at Bussey's Florist arrives early each morning. Normally by 8:45 am, our flower delivery vans are loaded a ready to make their first deliveries of the day. We provide local same day and express flower delivery service anywhere in Floyd or Polk county. If you need to send flowers outside of our local delivery area, we encourage you to opt for our nationwide same day flower delivery option when you check out.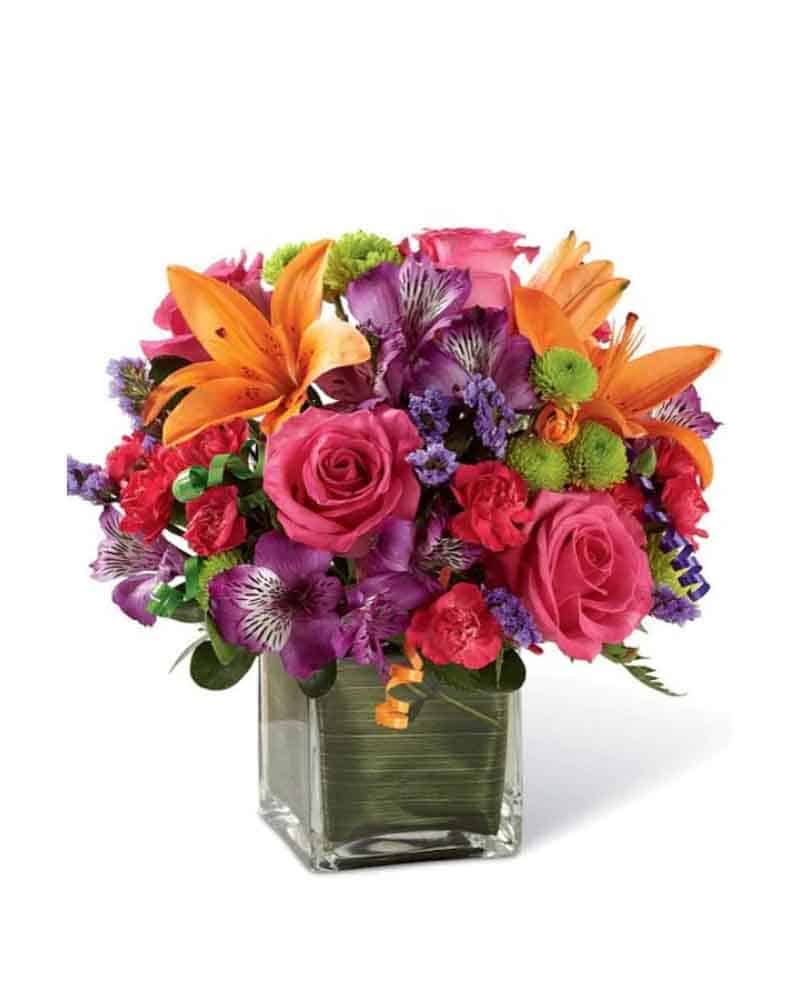 Celebrate Special Birthday Moments with our Celebrate Bouquet
Our floral design team at Bussey's Florist & Gifts created this beautiful arrangement. We call it "Bussey's Celebration", a colorful collection of the freshest blooms in our inventory and a festive addition to any celebration! Bussey's arrangements are custom gifts designed by hand. Mother Nature changes our farm-fresh inventory every morning. To assure your gift is fresh and gorgeous our designers may need to make substitutions but will capture the color & style of your selection to deliver a "WOW" for your recipient.
Locations
Bussey's Florist & Gifts Rome
500 East 2nd Avenue Suite 7
Rome, GA 30161
Bussey's Florist & Gifts Cedartown
302 Main Street Cedartown
Cedartown, GA 30125