Bussey's Florist
Bussey's Florist & Gifts was voted Best Florist in Rome, Georgia. We are family owned and operated. Our firm provides local same day and express flower delivery service to Rome High School in Rome, Georgia. The high school is located at 508 East Second Street, Rome, GA 30161. Our Rome floral design center is located at 500 East 2nd Avenue, Suite 6, Rome, GA 30161. The driving distance from our flower shop to the high school is approximately 4 miles. It only takes our delivery staff about 9 minutes to make the drive to the school. Given that we are so close, our delivery staff is generally able to make multiple delivery runs to Rome High School each day.
Our company was founded in 1976. We operate flower shops in Rome and Cedartown, Georgia. Our delivery staff provides local same day and express flower delivery service to our customers in Floyd and Polk counties. Bussey's Florist is the premier floral design center in Rome. We were voted Best Local Florist, by readers of the Rome News Tribune and the Journal-Standard.
Many of the flowers we sell are purchased directly from floral farms. We buy for both domestic and international growers. Buying direct offers great advantages for us and for our customers. There are often significant cost savings when buying from the flower farms. We routinely pass along much of those savings to our customers. Buying direct also reduces the time between when the flowers are cut at the farms and when they arrive here in Rome and Cedartown. By reducing that time frame, we can ensure the flowers arrive fresher. Creating flower arrangements with fresher flowers, means our customers get to enjoy them longer.
Rome High School Flower Delivery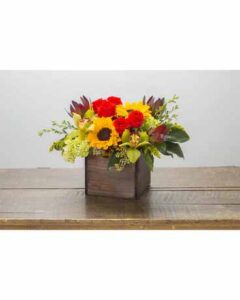 We offer the best selection of graduation themed floral bouquets in Rome. The award-winning floral design staff at Bussey's has created these beautiful graduation themed bouquets using many different floral varieties. Bussey's Florist creates gorgeous corsages. We have corsages themed for prom, homecoming, graduation and other social events held at the school. Corsages can be custom designed, using a wide array of floral varieties. The most popular corsages tend to be rose and orchid designs. The award-winning design staff at Bussey's creates handsome boutonnieres. These boutonnieres can be themed for prom, homecoming, graduation and other social events. Many of the couples we design corsages and boutonnieres for request custom matching designs. We can custom design pretty much any style that you need.
The folks at Rome High School normally allow deliveries between the hours of 8:30 am to 4:30 pm. delivery team at Bussey's arrives each day at around 8:00 am. We make every effort to complete all of our daily deliveries not later than 5:00 pm each day. If you need to send flowers to someone at Rome High School and need those flowers to arrive by a specific time of day, we encourage you to utilize our express flower delivery service option. Normally with express delivery, we can design and deliver your arrangement within approximately 4 hours of the time you place
Autumn Sunset
A lush, full arrangement created in our signature style, this arrangement features hydrangea, sunflowers, roses, & orchids in a design that can go from the dining table to the coffee table – perfectly versatile for holiday entertaining.
Celebrate Halloween with Bussey's Florist Festival Fall Flowers and Plants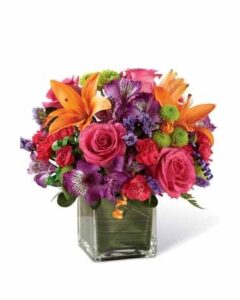 Fall is in the air in many parts of the country. One of the historically fun fall holidays is Halloween. It is kind of an ushering in of fall and a kickoff for the upcoming Thanksgiving, Christmas and Hannukah holidays. It is celebrated each year on October 31. This year Halloween occurs on Monday, October 31. The tradition of Halloween dates back to the ancient Celtic festival of Samhain. During this festival people would light bonfires and wear costumes in an effort to ward off ghosts. Today, Halloween has evolved into a day of activities like trick-or-treating, carving jack-o-lanterns, festive parties, wearing costumes and enjoying treats.
If you are hosting a Halloween party or attending one, a great addition is an arrangement of fresh and festive Fall Flowers or Plants from Bussey's Florist. We have the most beautiful and original floral arrangements to add a Fall atmosphere to any gathering. Our Floral Designers are extremely creative and are willing to make adjustments to arrangements to be sure you are receiving the exact arrangement you are looking for.
Bussey's Florist backs every flower purchase with our 100% customer satisfaction guarantee. If you are not happy with the design we have created for you, please contact one of our floral design centers. We will replace that arrangement with one of equal or greater value. Many of the flowers we purchase many of the flowers we sell direct from the farms. That ensures our clients always have access to the highest quality floral products available. We guarantee that your get-well flowers will be fresh and beautiful when they arrive.
Celebrate Bouquet
Our floral design team at Bussey's Florist & Gifts created this beautiful arrangement. We call it "Bussey's Celebration", a colorful collection of the freshest blooms in our inventory and a festive addition to any celebration! Bussey's arrangements are custom gifts designed by hand. Mother Nature changes our farm-fresh inventory every morning. To assure your gift is fresh and gorgeous our designers may need to make substitutions but will capture the color & style of your selection to deliver a "WOW" for your recipient.
250 Broad Street Rome
Rome, GA 30161