Bussey's Florist provides same day flower delivery service to the North Rome Church Of God in Rome, GA
Express your deep felt gratitude this Memorial Day 2022 on Monday May 30th with patriotic Memorial Day Flowers from Bussey's Florist.  This patriotic day of respect and tribute was officially designated as a federal holiday in 1971.  Before then, it was more commonly referred to as Decoration Day and started after the Civil War. People held many tributes to the heroic thousands of fallen American Soldiers that died in the Civil War. The tradition was to decorate graves with Memorial Day Flowers while also reciting prayers.
In modern times,  people attend or participate in parades and have family gatherings in addition to visiting memorials. There are many ways to reflect on our fallen heroes, including ceremonies, celebrations, and festive occasions that focus on patriotism and how much we value the freedom that we hold dear. These selfless warriors fought for us and now we must remember and honor them.
Memorial Day celebrations and remembrances often feature memorable and patriotic flowers. They are a great way to reflect the beauty and love represented in remembering these heroes, many of which were our loved ones. The skilled floral designers at Bussey's Florist will eagerly assist you with select a caring, thoughtful and patriot flower arrangement or green plant to honor a special military hero and members of his or her family.
Below are some of the more popular flowers to commemorate Memorial Day:
Gladiolus – These flowers have a unique shape which resembles a sword. They represent strength of character.
Red Roses – The most common and best known symbolism for the red rose is love, beauty and romance. However, they also can symbolize courage.
Carnations – In some countries like the Netherlands, Carnations symbolize remembrance for veterans'.
Red Poppy – This pretty flower has a history dating back to World War I. A Canadian soldier wrote a poem that referred to red poppies that grew between the graves of fallen military personnel. The flower symbolizes the blood of the soldiers who died but also symbolizes new life and hope. The name of the famous poem is "In Flanders Fields".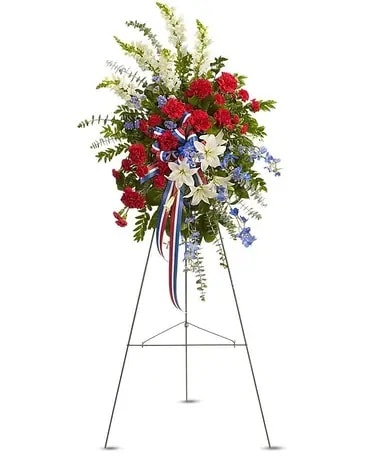 Daisies – Symbolizing new beginnings and fresh hopes, Daisy flowers close their petals at dawn and reopen them once again when the sun comes up.
Blue Delphinium -A blue delphinium flower represents dignity, grace, youth, new life, and remembrance. Blue is one of the few shades of this beautiful flower.
White Lilies -White lilies symbolize majesty and immortality. Very appropriate as we pay tribute on Memorial Day. In some cultures they are considered an image of purity, beauty, innocence, and salvation.
Blue Hydrangea – The Blue hydrangea flower typically symbolizes apology, regret, and forgiveness.
Sacred Duty Spray
Standing tall, proud and patriotic, this dazzling free-standing spray is like a fireworks display made of graceful flowers. Uniquely beautiful, it's a lovely way to honor a great loss.
A gorgeous selection of flowers such as white lilies and snapdragons, blue delphinium, red carnations and miniature carnations, eucalyptus and more create this all-American spray.
Bussey's Florist Memorial Day Flowers
Bussey's Florist & Gifts has been serving customers in Rome, Georgia for many years. We operate flower shops in Rome and Cedartown. Our firm was voted Best Florist in Rome Georgia on numerous occasions. We provide same day and express flower delivery in Floyd and Polk Counties. Bussey's Florist is family owned and operated.
Our delivery staff provides same day flower delivery service to the North Rome Church Of God in Rome, GA. North Rome Church Of God is a Christian based, multicultural church. This house of worship is located at 1929 N Broad St, Rome, GA 30161. The main phone number for the church is (706) 291-6687.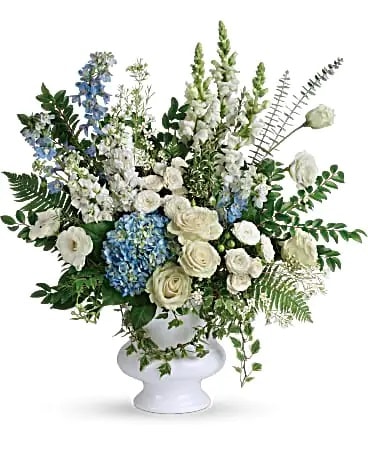 Our Rome floral design center is located at 500 East 2nd Avenue, Suite 6 Rome, GA 30161. The driving distance from our flower shop to the church is 2.1 miles. It takes our drivers about 5 minutes to make the drive to the church. Given that we are so close, our team makes multiple delivery runs to North Rome Church Of God each day.
The award winning floral design staff at Bussey's Florist creates all kinds of seasonal floral designs that we deliver to the church. We offer beautiful flowers for the alter. Tall pedestal flowers are also available. Bussey's also creates stunning holiday table centerpieces. In addition to all the gorgeous seasonal bouquets, we also deliver sympathy flowers to the church as well. Our sympathy flower collection is one of the best in Rome.
Our company was founded in 1976. We operate flower shops in Rome and Cedartown, Georgia. Our delivery staff provides local same day and express flower delivery service to our customers in Floyd and Polk counties. Bussey's Florist is the premier floral design center in Rome. We were voted Best Local Florist, by readers of the Rome News Tribune and the Journal-Standard.
Many of the flowers we sell are purchased directly from floral farms. We buy for both domestic and international growers. Buying direct offers great advantages for us and for our customers. There are often significant cost savings when buying from the flower farms.
We routinely pass along much of those savings to our customers. Buying direct also reduces the time between when the flowers are cut at the farms and when they arrive here in Rome and Cedartown. By reducing that time frame, we can ensure the flowers arrive fresher. Creating flower arrangements with fresher flowers, means our customers get to enjoy them longer.
Treasured and Beloved Bouquet
A treasured tribute to your beloved, this gorgeously grand bouquet of soft blue hydrangea and pure white roses is reminiscent of a clear sky, a hopeful reminder of life and love.
This beautiful bouquet of light blue hydrangea, white roses, white spray roses, white lisianthus, light blue delphinium, white snapdragons, white stock, and white waxflower is accented with huckleberry, variegated ivy, spiral eucalyptus, dagger fern, and lemon leaf. Delivered in a white designer urn.
Bussey's Florist & Gifts
250 Broad Street Rome
Rome, GA 30161