Bussey's Florist Has a New Design Center in Cartersville GA for Staging Deliveries into the Area
Easter is referred to as the "moveable feast" meaning that it is one Religious Holiday that moves from year to year. This year Easter falls on April 17th.  The reason for this change is that Easter always falls on the first Sunday after the first full moon following the spring equinox.  Easter, as with other holidays, ushers in a changing of the seasons. That season of course being Spring. Bussey's Florist invites you to visit us and begin shopping for Easter and Passover Flowers.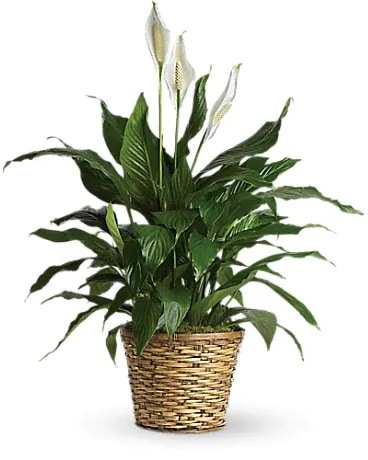 Spring is symbolic to the renewing of life as the plants and trees that have been dormant for the winter begin to blossom. Those of us in the Northern Hemisphere look forward to warmer weather and an increase in more daylight. This symbolism of the coming back to life is a correlation to the resurrection of Jesus.
In the Jewish faith, this time is referred to as Passover. The Hebrew Bible commemorates Passover as a festival which celebrates the liberation of the Jewish people from slavery in Egypt. This is referenced in the Book of Exodus. During the time of Jesus, Jewish pilgrims flocked to Jerusalem in hope that God would liberate them from the Romans. On one Passover, Jesus traveled to Jerusalem and the resulting disturbance in the Temple ultimately led to his crucifixion.
In early America, the Easter festival was more celebrated by Catholics than Protestants. The Puritans of New England considered both Easter and Christmas as festivals for heavy drinking and merrymaking. However, by the 19th century this belief had changed, and the holidays became a time to spend joyous moments with family. Today customary traditions of Easter Egg Hunting, Parades and the Easter Bunny have become the norm.
Bussey's Florist offers a wonderful selection of Easter flowers, Easter lilies, Easter themed flower arrangements and Easter Centerpieces. Our Easter Lilies are grown by local farmers and Easter Flowers come direct from the farm. This ensures that our flowers and plants are the highest quality and freshest available anywhere.
Simply Elegant Spathiphyllum
Known for its indoor beauty and ability to clear the air of contaminants, this brilliant green plant with dazzling white blossoms makes a perfect gift for almost any occasion. low-maintenance. High quality. Bet you never knew delivering elegance could be this simple.
This spathiphyllum comes in an 8″ woven wicker basket. It's a great medium for delivering vitality.
Bussey's Florist Easter and Passover Flowers
Bussey's Florist created a New Design Center in Cartersville GA for Staging Deliveries into the Area. We are a family owned and operated floral design firm that has been serving customers in Cartersville for many years. Our flower shops have been voted Best Local Florist on numerous occasions.
When you shop at Bussey's you do so knowing that we offer the best selection of beautiful, farm fresh flowers in Cartersville. The Bussey's Floral design team is one of the best in Georgia. These award-winning floral artisans create luxurious, upscale floral bouquets. Our firm also offers the best selection of green, flowering and tropical plants in Floyd and Polk counties.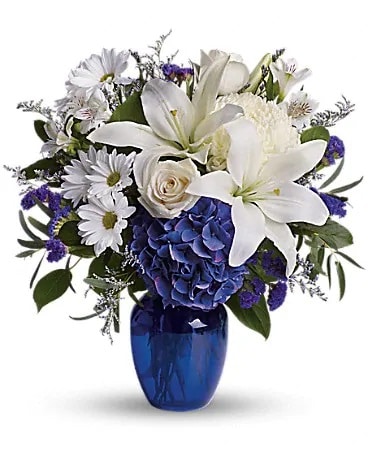 We provide local same day or express flower delivery service in Cartersville, Georgia. If a Cartersville customer needs to send flowers to a recipient outside of the area, we provide a nationwide same day flower delivery option. Our delivery team is a diligent group. They arrive early at our flower shops each morning. Normally by 8:30 am, they are fully loaded up ready to make their initial delivery runs in Cartersville.
We provide same day flower delivery to all Cartersville schools. Need to send sympathy flowers? We also provide same day sympathy flower delivery service for all Cartersville, GA area funeral homes, mortuaries, cemeteries and churches. Someone in the hospital? We deliver daily to Cartersville Medical Center, Polk Medical Center, Redmond Regional Medical Center, Rome Surgical Center and Floyd Medical Center.
Many of the flowers we sell are purchased directly from flower farms. We locally source floral products when possible. Our firm also buys from domestic and international growers. Buying direct offers lots of great advantages. It ensures that we can offer our customers the best selection of beautiful, farm fresh flowers in Cartersville. We secure those flowers at a lower cost. Much of that cost savings is passed along directly to our customers.
One huge advantage is that we reduce the time between when the flowers are cut at the farms, to when they arrive here at our flower shops for use in making arrangements. Fresher product translates directly into longer vase life for the people who receive arrangements created by the floral artisans at Bussey's Florist.
Our website will always have a great selection of beautiful, farm fresh bouquets to choose from. If you don't see exactly what you need, please contact one of our flower shops. The award winning floral design staff at Bussey's Florist can custom design a floral bouquet for your exact needs. We provide several contact numbers for your use. The main number for our flower shops is (706) 234-1040. We have several other phone lines, including; (706) 748-4055 and overflow lines (706) 243-1040 and (706) 407-4793.
Beautiful in Blue
In this arrangement, the serenity of the color blue along with the purity of intention symbolized by white combine to create a striking bouquet appropriate for many occasions. Bussey's arrangements are custom gifts designed by hand. Mother Nature changes our farm-fresh inventory every morning, to assure your gift is fresh and gorgeous our designers may need to make substitutions but will capture the color & style of your selection to deliver a "WOW" for your recipient.
Beautiful blooms such as blue hydrangea, crème roses, white lilies and alstroemeria along with yellow and white chrysanthemums, eucalyptus, Limonium and more are beautifully arranged in a dazzling cobalt blue vase.
Bussey's Florist Easter and Passover Flowers
250 Broad Street Rome
Rome, GA 30161