Bussey's Florist
Bussey's Florist & Gifts serves Cave Springs Georgia. We have been serving Cave Springs customers since 1976. We operate multiple flower shops in Floyd and Polk County Georgia. Our firm was voted Best Local Florist, by readers of the Rome News Tribune and the Journal-Standard. We provide local same day and express flower delivery to Cave Spring and throughout the Floyd and Polk County area. Our delivery team is one of the very best in the business. They make daily deliver runs to all area hospitals, delivering get well flower arrangements, get well plants and congratulatory gifts for couples of newborns. The town of Cave Spring is approximately 9 miles from our Cedartown, GA floral design center. Our delivery drivers can make the drive between the flower shop and downtown Cave Spring in less than 20 Minutes.
The roses we sell are absolutely gorgeous. We buy many of the roses we sell direct from flower farms in Ecuador. Most of the farms raise their roses high in the mountains. The growing conditions in that environment are nearly perfect. In the mountains, the rose plants enjoy the perfect blend of sunlight, moisture and soil conditions. The farms we work with schedule several cuttings per year. We prefer to purchase when they are cutting the premium quality roses. These Premium Ecuadorian Roses are special. They are longer stemmed and large, gorgeous blooms. We use the long stem varieties in many of our traditional designs. They also work great for tall table centerpieces.
Many of the flowers we sell are purchased directly from floral farms. We buy for both domestic and international growers. Buying direct offers great advantages for us and for our customers. There are often significant cost savings when buying from the flower farms. We routinely pass along much of those savings to our customers. Buying direct also reduces the time between when the flowers are cut at the farms and when they arrive at our floral design centers. Reducing that time frame is really a big deal. It ensures that our award winning floral designers always have access to the finest and freshest flower varieties when making arrangements for our customers. Fresher flowers translate directly into longer vase life for our customers.
Bussey's Florist backs every flower purchase with our 100% customer satisfaction guarantee. If you are not happy with the design we have created for you, please contact one of our floral design centers. We will replace that arrangement with one of equal or greater value. Many of the flowers we purchase many of the flowers we sell direct from the farms. That ensures our clients always have access to the highest quality floral products available. We guarantee that your get well flowers will be fresh and beautiful when they arrive.
Our delivery staff makes daily delivery runs to Polk Medical Center, Floyd Medical Center and to Redmond Regional Medical Center. We have years of experience delivering to these facilities. We know the best times to accomplish delivery at each facility. If you would like to send, get well flowers, a plant or gift to one of our area medical facilities, we are the best option for same day and express delivery service.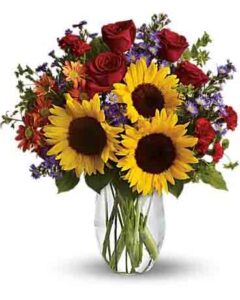 The delivery team at Bussey's arrives each day at around 8:00 am. We make every effort to complete all of our daily deliveries not later than 5:00 pm each day. Included in our daily deliver schedule are delivery runs to all local Cave Spring area businesses, homes, schools, hospitals, churches, funeral homes, mortuaries and cemeteries. Customers located in Floyd and Polk County have the option of selecting local same day or express flower delivery service.
Bussey's Florist & Gifts is one of the very few florists in the area that offer local express flower delivery service. Every express delivery order comes with our 100% on-time arrival guarantee. When you place and order and opt for express delivery, we can normally create the arrangement, and delivery it within approximately 4 hours of the time you place your order. Express delivery service is only available in Floyd and Polk counties.
Pure Happiness
Pure happiness is what this pretty bouquet delivers – whether you're sending it for a fall birthday, Thanksgiving, thank you, or simply just because. Surely, no one can be in the presence of something so inherently happy and not smile. Sunny sunflowers, red roses and miniature carnations, bronze daisy spray chrysanthemums, large lavender monte cassino asters and autumn greens are beautifully arranged in a clear glass vase.
Bussey's Florist Offers Wonderful Flowers and Plants to Honor Veterans Day
On November 11th we celebrate Veterans Day. The reason for this date is that in 1918 on the 11th hour of the 11th day of the 11th month, all major hostilities of World War I were formally ended.  The day was originally termed Armistice Day and was created to celebrate the service of all U.S. military veterans. President Woodrow Wilson gave an eloquent speech in 1919 during which he commended the men and women of the United States military.
A brief excerpt from his speech goes as follows "To us in America the reflections of Armistice Day will be filled with solemn pride in the heroism of those who died in the country's service, and with gratitude for the victory, both because of the thing from which it has freed us and because of the opportunity it has given America to show her sympathy with peace and justice in the councils of nations".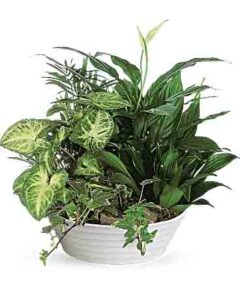 Armistice Day and Remembrance Day are celebrated in other countries as a remembrance to the end of World War I. However, in 1954, Veterans Day became the official name for our United States Day to honor our military men and women. Veterans Day differs from Memorial Day. While both days honor our military, Memorial Day is designated to honor those who died while fighting for our country. Veterans Day is designated to honor all of the military folks who have served our country.
In case you are looking for some other things you can do for a veteran, after a little research below are just a few ideas:
Donate Money – There are several organizations that support veterans, and they can always use private donations.
Volunteer your skills – If you have knowledge of a trade or financial planning etc., veterans can benefit from your volunteer teaching.
Veteran Speaker – Many veterans have wonderful and inspirational stories of overcoming adversity and never giving up. Find one that enjoys speaking to other veterans.
Hire a veteran – If you own a small business or are in a hiring position at a company, perhaps hire a veteran who is anxious to get out into the working world.
Hire a veteran's caregiver – Offering support to veteran's families is so valuable. Plus, many of these folks are incredible employees.
Do business with a veteran-owned company – Astonishingly there are an estimated 27 million veteran owned small businesses in the U.S. These companies are run by the fine men and women that defended our country. You will find some of the most trustworthy services and quality products.
Medium Dish Garden
This low bowl filled with living plants will also carry comfort and compassion for many months to come. Perfect to send to the home or service.
One planter arrives filled with dracaena, ivy, palm, spathiphyllum and Syngonium plants.
250 Broad Street Rome
Rome, GA 30161