Bussey's Florist
Voted Best Florist by readers of the Rome News Tribune and the Journal-Standard.  Bussey's Florist & Gifts sells great Christmas Centerpieces. In adition,  Bussey's offers a wide variety of unique gifts, interior accessories, & plants along with beautiful fresh flowers for every occasion in your life.
With locations in Rome, GA and Cedartown, GA Bussey's delivers throughout the Cedar Valley region. Working with a hand-selected network of florists, Bussey's also offers national and international floral delivery.
Founded in 1976, Bussey's Florist & Gifts is family owned and operated.
The professional and multi-talented floral designers at Bussey's Florist have carefully designed thoughtful and sparkling Christmas centerpieces to make your holiday dinner table so charming. We invite you to visit us conveniently online or in person and see our fabulous Christmas Holiday centerpieces. We know at Bussey's Florist that Christmas centerpieces are a nice addition to all holiday celebrations. A beautiful table centerpiece will add so much festive ambiance to any dinner table and delight your guests.
Decorating Christmas dinner tables is not just a modern time concept but rather has been a tradition dating back for many centuries. Bussey's Florist designers will work diligently to help you find the right centerpiece to fit your table. There are many reasons people used centerpieces ranging from displaying wealth, power, prosperity and to ensure good fortune for those we love. Whatever your reason may be today, the Bussey's Florist team is prepared and eager to assist.
Christmas Decorations
The various flowers, decorations and evergreen that make up most centerpieces have symbolic meaning. For example, the evergreen, which is so common as a decoration, represents eternal life for those of the Christian faith. Evergreens are hardy and grow year-round even in the dead of winter. This representation is associated with the strength of Jesus and all that he endured.
Often Christmas centerpieces are adorned with colorful decorations as well as evergreen and candles. The traditional selection of red, green and gold decorations is purposeful also. Gold is one of the first colors associated with Christmas. It symbolizes royalty as it was one of the three gifts of the Wise Men. Red symbolizes the blood of Jesus shed during crucifixion.
When you shop for that perfect Christmas centerpiece to add holiday spirit and beauty to your holiday dinner table, please be sure to visit Bussey's Florist conveniently online or in person to see the best centerpieces in town. Your family and friends will be in awe as they gather with at your table for that wonderful holiday meal.  To give you an idea of some of our wonderful selections, below are a few examples of our stunning selections which show the quality and beauty of our Christmas centerpieces.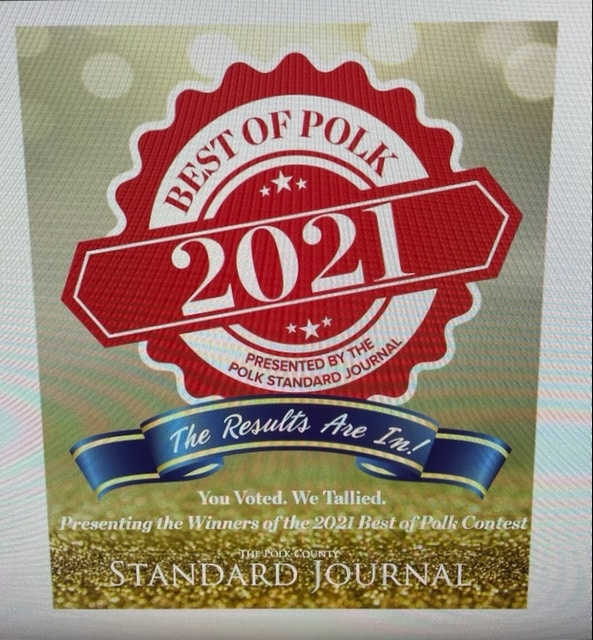 LINDALE FLOWER DELIVERY
LOCAL SAME DAY & EXPRESS DELIVERY
Bussey's Florist and Gifts is a family owned and operated floral design firm. We offer the finest, farm fresh floral products in Floyd and Polk counties. Many of the flowers and plants we sell are purchased directly from the flower farms. Buying direct ensures that we can always offer great variety, at the best possible price. We guarantee that the flowers you receive will be expertly designed and farm fresh.
We design flowers for all occasions. Our sympathy flower collection is the best in the area. We create beautiful standing sprays. These sprays come in a variety of presentation styles. Our traditional standing sprays are displayed on either a green wire or white wood easel. Standing sprays can be designed as circular wreaths, floral cross sprays or heart shaped sprays. We also create beautiful casket flowers. The casket sprays are available in either full or half casket styles.
The Bussey's Flowers delivery team makes daily delivery runs to customers in Lindale, Georgia. The town of Lindale is approximately 4.4 miles from our Rome flower shop location. It takes our delivery drivers approximately 9 minutes to make the drive. Our delivery team is one of the best in North Georgia. We deliver to businesses, residential homes, churches, funeral homes and more.
Farm Fresh Flowers
Many of the flowers we sell are purchased directly from floral farms. We buy for both domestic and international growers. Buying direct offers great advantages for us and for our customers. There are often significant cost savings when buying from the flower farms.
We routinely pass along much of those savings to our customers. Buying direct also reduces the time between when the flowers are cut at the farms and when they arrive here in Rome and Cedartown. By reducing that time frame, we can ensure the flowers arrive fresher. Creating flower arrangements with fresher flowers, means our customers get to enjoy them longer.
Winter Warmth – The award-winning floral design created this stunning holiday bouquet. We call it Winter Warmth. This fresh flower bouquet can be used as a table centerpiece or a coffee table piece. It features red roses and winter textures made extra special by the addition of tropical orchid blooms and exotic protea.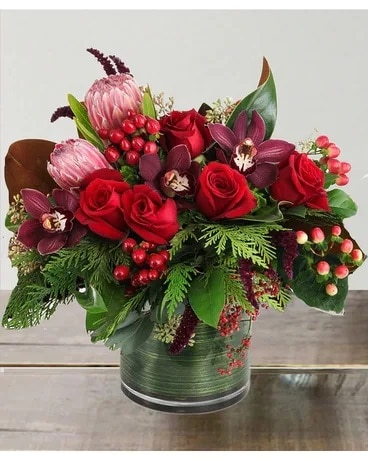 Winter Warmth
Bussey's Florist & Gifts
250 Broad Street Rome
Rome, GA 30161